Books

Featured Books

smt007 Magazine

Latest Issues

Current Issue

Chips Don't Float

In Europe and the U.S., legislation is under way to revitalize PCB fabrication and packaging. What is the status of this work, and how specifically does this change the industry landscape for EMS companies? What will help keep us afloat?

Flying High With Digital Twin

The opportunity to use manufacturing simulation as a test bed for job planning and process optimization brings continuous improvement into the modern age. This may be an all-or-nothing type of project, but it's worth the investment.

Artificial Intelligence

In this issue, we (and AI) explored how and when artificial intelligence plays a role in manufacturing today. Whether on the factory floor, or in the front office, AI applications are emerging and changing how we approach planning, processes and problem solving.

Columns

Latest Columns

||| MENU
ESCATEC Expands Global Production Footprint
June 6, 2023 | ESCATEC
Estimated reading time: 2 minutes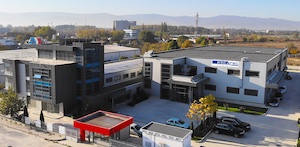 Requests to nearshore cost-effective production in Europe has prompted electronics manufacturing services (EMS) provider ESCATEC, which has been in rapid expansion mode the past several years, to establish a new production facility in Bulgaria. Located in the city of Plovdiv, the new site will be ESCATEC's ninth production complex globally and further strengthens the Group's reputation for going the extra mile to meet the needs of its customers.
The 4000m² facility in Bulgaria is already operational with the necessary equipment, processes, and skilled workforce, to vertically integrate plastic moulding and electronics assembly, and has begun to support ESCATEC's production commitments in Europe. The Group has signaled its willingness and ability to rapidly expand capacity and capabilities at this new facility as order volumes pick up.
"ESCATEC Bulgaria is an important new site in ESCATEC's portfolio as we move to complete our global manufacturing footprint. Customers of ESCATEC can expect that we deliver a best-value solution, regardless of region, as we continue to harness the benefits of our multi-site strategy," said Charles-Alexandre Albin, ESCATEC's Executive Director and Director of Strategic Development.
ESCATEC's customer base largely comprise of major OEM brands based in Europe and North America. Headquartered in Penang Island, Malaysia, the Group's production network now comprises of two facilities each in Penang and Johor Bahru, Malaysia; two in Chomutov in the Czech Republic; one in Lutterworth in the United Kingdom; an advanced production facility in Heerbrugg, Switzerland; and this latest facility in Bulgaria. In addition, the Group operates a Design & Development (D&D) Centre in Switzerland and has strategic partnerships in Croatia and the United States.
Albin notes that, over the long-term, ESCATEC Bulgaria could well become the Group's main production facility in Europe for plastic moulding and electronics assembly, due to Bulgaria's membership in the European Union and Plovdiv's strategic location, sizeable population, its large industrial base, and its transport links providing convenient access to the wider European market.
"ESCATEC remains committed to expanding its global production footprint and capabilities to cater to customers that are in the process of bringing new technologies and products to market," added Albin. "Across the Group, ESCATEC offers a complete and integrated value chain of EMS services, from D&D to product certification to mass manufacturing and after-sales services, ranging across electronics, electro-mechanical, MOEMS, box build, and plastic moulding." 
ESCATEC also firmly believes in the importance of continuous training and providing career pathways for its employees, with Albin attributing the Group's rapid growth to its committed and highly skilled workforce. "We continue to grow and build more opportunities for our staff and are eager to see people take up international challenges and build their careers in new and exciting ways," he concluded.
---
Suggested Items
09/21/2023 | KIC
KIC, a renowned pioneer in thermal process and temperature measurement solutions for electronics manufacturing, is thrilled to announce its participation in the upcoming SMTA Guadalajara Expo & Tech Forum.
09/21/2023 | Dymax
Dymax, a leading manufacturer of light-curing materials and equipment, will exhibit in booth 1526 at SMTA International 2023 in Minneapolis, MN, from October 10-11.
09/21/2023 | Altus Group
Altus Group, a leading supplier of capital equipment and services to the electronics manufacturing industry, has signed an agreement with SMT Thermal Discoveries to distribute its advanced reflow soldering and thermal technology solutions in Ireland.
09/21/2023 |
Intraratio, a provider of enterprise software solutions, is pleased to announce that Ryan Gamble, CEO and Founder of Intraratio, will deliver an informative keynote presentation at SMTA International 2023. T
09/20/2023 | PRNewswire
ICZOOM Group Inc., a B2B electronic component products e-commerce platform, provided details on the Company's accelerated growth and steady market expansion strategy, as the Company leverages its strengthened balance sheet and fortified global brand following its successful listing on Nasdaq earlier this year.