Books

Featured Books

smt007 Magazine

Latest Issues

Current Issue

Chips Don't Float

In Europe and the U.S., legislation is under way to revitalize PCB fabrication and packaging. What is the status of this work, and how specifically does this change the industry landscape for EMS companies? What will help keep us afloat?

Flying High With Digital Twin

The opportunity to use manufacturing simulation as a test bed for job planning and process optimization brings continuous improvement into the modern age. This may be an all-or-nothing type of project, but it's worth the investment.

Artificial Intelligence

In this issue, we (and AI) explored how and when artificial intelligence plays a role in manufacturing today. Whether on the factory floor, or in the front office, AI applications are emerging and changing how we approach planning, processes and problem solving.

Columns

Latest Columns

||| MENU
Cetec ERP Shows Industry-Leading Manufacturing Software Solutions at the Advanced Mfg Expo
June 7, 2023 | Cetec ERP
Estimated reading time: 1 minute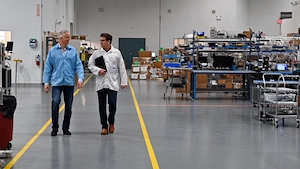 Cetec ERP is excited to announce its participation in the upcoming Advanced Manufacturing Expo (AME) 2023, scheduled to take place on August 9-10, 2023. The event, known for bringing together top industry professionals and showcasing cutting-edge technologies, will be held at the DeVos Place Grand Rapids, Michigan.
As a trusted name in the manufacturing software industry, Cetec ERP is dedicated to empowering manufacturers with advanced solutions that streamline operations, optimize productivity, and enhance overall business performance. With their extensive expertise and innovative cloud-based platform, Cetec ERP enables manufacturers to achieve operational excellence and maintain a competitive edge in the dynamic manufacturing landscape.
During AME, attendees will have the opportunity to connect with the Cetec ERP team at booth 217 and explore the comprehensive range of software solutions tailored to meet the unique needs of modern manufacturers. Whether it's inventory management, production planning, quality control, customer relationship management, or financial management, Cetec ERP offers a fully integrated system that centralizes critical business processes, eliminating inefficiencies and providing real-time insights.
"This event provides an excellent platform for us to engage with manufacturing professionals, understand their specific needs, and demonstrate how Cetec ERP can revolutionize their operations," said Scott Ryan, Cetec ERP Senior Consultant. "We are developing a local approach to marketing in the western Michigan region to deliver exceptional customer experiences."
By leveraging the power of cloud technology, Cetec ERP allows manufacturers to access vital business information anytime, anywhere, from any device. The intuitive user interface, combined with robust features such as real-time analytics, demand planning, and supply chain management, enables companies to make data-driven decisions and respond quickly to market demands.
"We invite all attendees to visit our booth and discover the transformative potential of Cetec ERP," added Ryan. "Our local consultant will be available to provide personalized demonstrations, answer questions, and discuss how our software solutions can help businesses achieve operational excellence, drive growth, and succeed in the ever-evolving manufacturing industry."
---
Suggested Items
09/22/2023 | GlobalFoundries
The U.S. Department of Defense (DoD) has awarded GlobalFoundries (Nasdaq: GFS) (GF) a new 10-year contract for a supply of securely manufactured, U.S.-made semiconductors for use across a wide range of critical aerospace and defense applications. 
09/22/2023 | Happy Holden, I-Connect007
Ever since high density interconnect (HDI) was created in 1982 by Hewlett-Packard to package its first 32-bit computer powered by a single chip, it has continued to evolve and provide the solutions for miniaturized products. The leading edge of HDI technology became the process used for organic flip-chip packaging for the semiconductor industry. The two distinct markets—IC substrates and product-system integration—are now colliding and utilizing the same ultra-HDI manufacturing processes.
09/21/2023 | KIC
KIC, a renowned pioneer in thermal process and temperature measurement solutions for electronics manufacturing, is thrilled to announce its participation in the upcoming SMTA Guadalajara Expo & Tech Forum.
09/21/2023 | Intraratio
Intraratio, a provider of enterprise software solutions, is pleased to announce its participation in the SMTA Guadalajara Expo and Tech Forum 2023.
09/21/2023 | SEMI
The SEMI Semiconductor Climate Consortium (SCC) issued its first report of the semiconductor ecosystem's greenhouse gas (GHG) emissions profile, an in-depth analysis of the semiconductor value chain's carbon footprint and priority-ranked carbon emission sources for the industry to address.