Books

Featured Books

smt007 Magazine

Latest Issues

Current Issue

Chips Don't Float

In Europe and the U.S., legislation is under way to revitalize PCB fabrication and packaging. What is the status of this work, and how specifically does this change the industry landscape for EMS companies? What will help keep us afloat?

Flying High With Digital Twin

The opportunity to use manufacturing simulation as a test bed for job planning and process optimization brings continuous improvement into the modern age. This may be an all-or-nothing type of project, but it's worth the investment.

Artificial Intelligence

In this issue, we (and AI) explored how and when artificial intelligence plays a role in manufacturing today. Whether on the factory floor, or in the front office, AI applications are emerging and changing how we approach planning, processes and problem solving.

Columns

Latest Columns

||| MENU
Flexible Temperature Profile for Reflow Soldering: The TCS for the Vision Series by Rehm Thermal Systems
June 7, 2023 | Rehm Thermal Systems
Estimated reading time: 2 minutes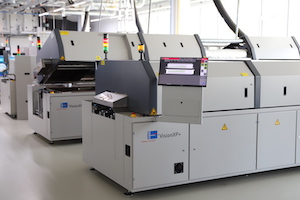 The ideal temperature profile required for soldering an electronic assembly is subject to a number of factors, including the soldering paste, the components, the circuit board as well as specific production conditions. Sophisticated circuit boards in particular benefit from having a greater degree of flexibility provided by temperature variations between the heating zones. Rehm Thermal Systems offers just this with its specially developed temperature control system for the convection soldering of the Vision series.
Stable reflow soldering procedures with Rehm's Vision series
Heating zones which can be regulated separately, a reproducible temperature profile, stable processes at the lowest temperature differences or homogenous heat input provided by special nozzle holes: the Vision series' convection soldering systems by Rehm Thermal Systems provide the basis for the best soldering results with their optimum heat transfer properties and enable simple and reproducible profiling, including in the form of a saddle profile or linear profile. While a linear profile assembly is heated with exactly the same linear temperature increase, the saddle profile is gradually heated to the desired temperature according to predefined temperature ranges.
From temperature profile to temperature control system
In order to achieve the best soldering result, this temperature profile specifies how much and when thermal energy must be supplied to the respective assembly in accordance with a precisely defined schedule. The maximum temperature difference between the temperature levels in the adjacent zones is bound to technical and physical limits here. The systems also have increasingly better insulation to counteract rising energy costs so that less heat is released into the environment and instead remains in the system. While this usually isn't a problem with a linear profile, it can be much more challenging to create saddle profiles. 
The Vision series' convection soldering systems by Rehm are therefore equipped with their own temperature control system that can be used to cool individual zones based on requirements. This makes it possible to achieve larger temperature differences between temperature levels. The respective zones in the preheating and peak range can thus be cooled to the desired temperature in an energy-neutral way by recirculating indoor air through a pipe system. This not only ensures exact temperature stability in the respective zone, but dramatically reduces the thermal influence from adjacent zones and ensures the optimum division of zones at the same time. The connection to system software is TCS's major advantage. The indoor air supply is automatically regulated – instead of having to control the system manually, there is no extra work for the operator apart from having to set the temperature profiles. Cooling is thus based on actual requirements so that only as much cooling as is required is used.
Convection soldering with the Vision series
The Vision series' convection soldering systems are efficient, powerful and – depending on the respective version – suitable for different batch sizes in the automotive, consumer electronics or power electronics sectors, as well as many other fields. They don't only feature increased process stability, but also focus greatly on energy efficiency, reduced emissions and operating costs with the help of integrated EC motors. A vacuum module makes it possible to carry out negative-pressure convection soldering processes in just one process: entrapped gas is reliably removed directly after the soldering process. There is no need for complex machining of the assembly by an external vacuum system; instead, the workpieces are transferred from the peak zones directly into the integrated vacuum process. The Vision series' high-end system also effectively manages residue by using pyrolysis in the preheating zone, and has minimal downtimes, low maintenance requirements and intelligent traceability solutions.
---
Suggested Items
09/19/2023 | Andy Shaughnessy, Design007
Rigid-flex assembly brings its own set of issues, but designers can do quite a bit to make things easier on their downstream brethren. We asked IPC instructor Kris Moyer to give us the lowdown on DFA for rigid-flex circuitry.
09/07/2023 | Emerald EMS
Emerald EMS, an innovative solutions provider, is pleased to announce plans to exhibit in Booth #3815 at MD&M Minneapolis, scheduled to take place Oct. 10-11, 2023, at the Minneapolis Convention Center in Minneapolis, MN.
09/06/2023 | Yamaha Robotics
Yamaha Robotics will display the latest-generation 1 STOP SMART SOLUTION at A3.323 at Productronica 2023, bringing together the complete set of new YR series printers, surface-mounters and inspection machines.
09/06/2023 | ViTrox
ViTrox, which aims to be the world's most trusted technology company, is excited to announce that we will be participating in SMTA International (SMTAi), at Hall B, Booth #1316 at the Minneapolis Convention Center, MN, USA. SMTAi, the Midwest's Largest Electronics Manufacturing Event, will take place on the 10th and 11th of October 2023.
08/29/2023 | MacDermid Alpha
MacDermid Alpha Electronic Solutions, a leader in integrated technologies and materials for the electronics industry, will present and showcase their advanced solutions for die, package, and die top-side attach at PCIM Asia, held at Shanghai New International Expo Center - SNIEC, 29 - 31 August 2023.