Vuzix Smart Glasses Support the Expanding Use of AI Healthcare Applications
June 8, 2023 | PRNewswire
Estimated reading time: 1 minute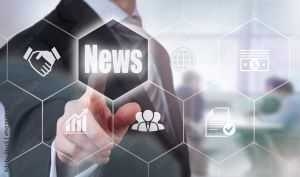 Vuzix Corporation, a leading supplier of Smart Glasses and Augmented Reality (AR) technology and products, highlights the potential and expanding use of Vuzix smart glasses within healthcare using AI applications. Separately, the Company announced that its M400 smart glasses are being demoed by partners Ohana One and TeleVU at the AIMed Global Summit being held this week in San Diego, CA.
As the de-facto hardware component in a variety of innovative new healthcare applications, Vuzix is providing a platform for companies like TeleVU to develop AI-based applications for healthcare for use on smart glasses in a multitude of game-changing medical use cases. These include simple security/privacy measures such as a blurring algorithm, which can selectively blur the faces of anyone who has not consented to be pictured, thereby allowing physicians to broadcast or share surgeries while maintaining requested patient privacy and confidentiality. In wound care, AI can be used to identify the perimeter of the wound, which can then be used to calculate the surface area of the damage, as physicians measure healing by the size of surface area. These calculations are accurate and standardized, not relying on the physician's viewing angle or the estimation to manually calculate it. On the imaging side, AI -enabled smart glasses can assist in the identification of key body organs on x-rays. AR smart glasses using AI can automate all these and many other processes. 
"The combination of AR and AI have the potential to revolutionize the healthcare industry," said Paul Travers, President and CEO of Vuzix. "Applications such as those being developed by TeleVU and implemented by healthcare innovators like Ohana One can make patient treatment simpler, faster and more accurate. Vuzix is proud to be a supplier to such a critical element in the future of medical practice."
---
Suggested Items
11/30/2023 | Keysight Technologies, Inc.
Keysight Technologies, Inc. announces that Arbe has selected the E8719A Radar Target Solution (RTS) to test the Arbe 4D imaging radar chipset for automotive applications.
11/14/2023 | Ucamco
Ucamco is proud to introduce LeVina to the European market. LeVina is the perfect Direct Imaging solution for next-gen packaging substrates. 
10/03/2023 | Nolan Johnson, PCB007 Magazine
Automation is everywhere, and nowhere is that more evident than the machines from Schmoll used in the new captive facility for Schweitzer Engineering Laboratories. Schmoll Maschinen GmbH Executive Director Stephan Kunz, and Evan Howard, service manager for Schmoll products, Burkle North America, discuss how their machines are perfectly suited for SEL's production lines.
09/15/2023 | STARTEAM GLOBAL
STARTEAM GLOBAL, a leading manufacturer of Printed Circuit Boards (PCB), technology and service solutions, is pleased to announce the opening of our new PCB manufacturing factory in Prachinburi, Thailand, on Wednesday 27 September 2023.
09/14/2023 | Vern Solberg -- Column: Designer's Notebook
Flexible circuit applications can be as basic as furnishing electrical interconnect between two conventional circuit board assemblies, or to prove a platform for placing and interconnecting electronic components. During the planning and pre-design phase of the flexible circuit, there will be several material and process related questions that need to be addressed. Most flexible circuit fabricators welcome the opportunity to discuss their customers' flexible circuit objectives prior to beginning the actual design process.