Jameco Electronics, MEAN WELL Power Up African Youth with STEMpower Donation
June 9, 2023 | PRNewswire
Estimated reading time: 1 minute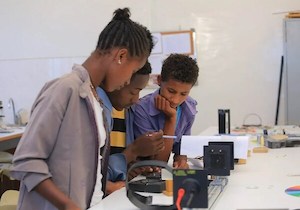 Jameco Electronics, a trusted source for electronic components around the world, is teaming up with power partner MEAN WELL to power up African youth with a $56,000 donation to STEMpower. STEMpower is a nonprofit organization dedicated to providing educational opportunities in science, technology, engineering, and mathematics (STEM) to disadvantaged youth in Africa.
We're thrilled to join forces with MEAN WELL to bring quality STEM education to students in Africa
Jameco, founded in 1973, is an authorized distributor for hundreds of leading electronic component brands and is well-known for its price-alternative house brand products. MEAN WELL, a leading provider of power supplies for industrial automation, medical and other industries, has supported Jameco's initiatives since 2018.
As leaders in the electronic components industry, both organizations share a deep commitment to giving back. By joining forces with STEMpower, they are helping young people in Africa gain the education and skills needed to pursue careers in STEM fields.
"Our team members are passionate about empowering youth to make the world a better place, and we're thrilled to join forces with MEAN WELL to bring quality STEM education to students in Africa," said Jameco CEO James Farrey. "We believe that increased access to resources and opportunities will enable the youth of Africa to develop their skills and pursue STEM-related fields."
The donation will fund the purchase of STEM-focused classroom equipment such as computers, tools, and learning materials, as well as the building of STEM-focused classrooms in parts of Africa.
---
Suggested Items
09/28/2023 | KYZEN'
KYZEN, the global leader in innovative environmentally friendly cleaning chemistries, is proud to announce that it is sponsoring the Women's Leadership Program Connection Reception to be held at SMTA International.
09/28/2023 | Nolan Johnson, I-Connect007
The practical question around CHIPS Act development and electronics assembly is, "Will this change how we do business?" Indium Corporation's Dr. Andy Mackie sat down with Nolan Johnson to share what he sees as emerging answers to that question from his perspective as an expert in electronics assembly and packaging, and as a participant in standards development through IPC, JEDEC, and SEMI.
09/28/2023 | ZESTRON
ZESTRON is happy to announce that Senior Application Engineer, Ravi Parthasarathy, will be presenting "Revolutionizing PCB Assembly Cleaning:
09/28/2023 | IPC
IPC continues to collaborate with the electronics manufacturing industry to meet their current and future workforce training needs.
09/28/2023 | IPC
Though product demand weakened this month with Orders and Backlog Indexes slipping, overall electronics industry operations remain healthy per IPC's September 2023 Global Sentiment of the Electronics Supply Chain Report.