KP Performance Antennas Launches New Line of RET Antennas
June 9, 2023 | KP Performance Antennas
Estimated reading time: 1 minute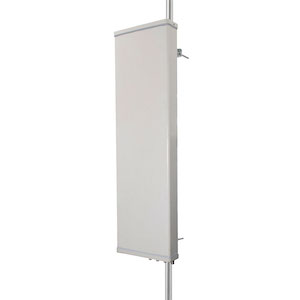 KP Performance Antennas, an Infinite Electronics brand and a manufacturer of wireless network antennas, has announced the launch of a new line of remote electrical tilt (RET) antennas for wireless communication networks.
The new RET antennas are designed to provide enhanced network coverage and capacity while reducing maintenance costs. They are ideal for use in LTE, 5G and other cellular networks.
KP's new RET antennas feature AISG 2.0 remote electrical tilt technology, available in 2° to 12° or 0° to 10° options, that allows for precise antenna adjustments. With this capability, network operators can adjust the tilt of the antenna remotely. This helps to optimize the coverage and capacity of the network, which is particularly useful in areas with varying terrain or high interference. Being able to remotely control the coverage also enables antenna adjustments without costly tower climbs or network downtime.
The RET antennas have options for two, four or six connector ports. This allows for multiple frequencies to be covered with one antenna and reduces the need for additional hardware.
The new antennas have 4.3-10 female connectors and offer low passive intermodulation, ensuring that the signal quality remains high and stable. 
Additionally, KP's RET antennas are designed to cover global 5G bands in 1710-2690 MHz or 694-960 MHz omni, making them ideal for use in a wide range of applications.
"Our new RET antennas offer real-time adjustments to the antenna's radiation pattern, enabling network operators to optimize network performance. These products can withstand harsh weather and offer high-gain performance, making them suitable for a wide range of applications," said Kevin Hietpas, Antenna Product Line Manager.
---
Suggested Items
11/30/2023 | BUSINESS WIRE
Nordson Electronics Solutions, a global leader in electronics manufacturing technologies, is pleased to announce the release of the new ASYMTEK Select Coat® SL-1040 conformal coating system.
11/30/2023 | PRNewswire
Hyundai Mobis is poised to secure new orders for premium vehicle displays, characterized by large screens, high definition, and slim design, using a fusion of innovative technologies targeting global automakers.
11/27/2023 | Intel
Intel Granulate, Intel's flagship software performance offering, announced a new collaboration with Databricks to merge Intel Granulate's autonomous, continuous optimization solutions with Databricks' robust Data Intelligence Platform under the Databricks Partner Program.
11/22/2023 | TrendForce
TrendForce reports a significant 8.9% decrease in shipments of smartphone camera modules in 2023, totaling around 4.065 billion units.
11/10/2023 | BUSINESS WIRE
Keysight Technologies, Inc. collaborated with Metanoia Communications Inc. to verify the low physical layer 5G Open Radio Unit (O-RU) JURA Platform using the end-to-end Keysight Open RAN Studio solution.