Books

Featured Books

pcb007 Magazine

Latest Issues

Current Issue

Finding Ultra

New demands on PCB fabrication, namely advanced packaging, ultra high density interconnect (UHDI), and new specialty materials, are converging, changing the landscape of our business. Is it time to start paying close attention to this convergence?

Developing a Strategy

A solid strategy is a critical part of success. This month, we asked some of the top industry leaders and business strategy "gurus" to share their thoughts on developing strategies.

Winning With TQM

In this issue, we explore how TQM has entered the DNA of continuous improvement disciplines, and the role leadership transformation plays in this. If you've ever competed against a TQM company, you understand their winning advantage.

Columns

Latest Columns

||| MENU
I-Connect007 Editor's Choice: Five Must-Reads for the Week
June 9, 2023 | Andy Shaughnessy
Estimated reading time: 2 minutes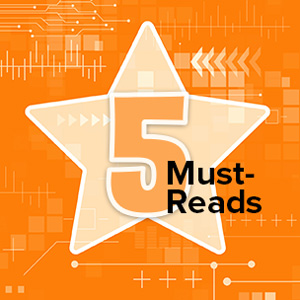 It's summertime, but the industry is staying pretty busy. This week, we have news about our industry putting pressure on our elected officials to provide funding for U.S. companies under the CHIPS Act, and a counterfeit parts symposium presented by SMTA in Maryland next month. We also bring you articles about ultra HDI design and material selection, and our most recent On the Line with… podcast with Zac Elliott of Siemens.
Next week, it looks like San Diego is the place to be as the International Microwave Symposium kicks off June 11 at the San Diego Convention Center. Our own Barry Matties and Nolan Johnson will be at the show all week, and our good friends Ventec, American Standard Circuits, Rogers and more will be exhibiting there. Don't miss out.
Electronics Industry Leaders Call on Congress to Support $100M in PCB Sector Funding
Published June 6
Sure, the CHIPS Act is a step in the right direction, but we as an industry have to hold Congress's feet to the fire. This letter from executives from 26 electronics manufacturers across the U.S. is a step in the right direction. It's an election year, so our senators and representatives might be more amenable to our ideas than during an off year.
NASA to Keynote the Symposium on Counterfeit Parts & Materials
Published June 6
Counterfeit parts are a continuing problem in our industry. SMTA is hosting the Counterfeit Parts & Materials Symposium June 27–29 near my hometown in Hyattsville, Maryland, and NASA's Dr. Peter Majewicz is presenting the keynote. If you're in the defense sector, this is right in your wheelhouse.
Sustainability in Logistics Discussion Continues
Published June 7
This week, we dropped a new "pod," as the kids say, continuing our conversation with Siemens Technical Marketing Engineer Zac Elliott. In this installment, Zac explains how logistics, done improperly, can create waste downstream in a variety of ways. Managing Editor Nolan Johnson has proven to be the breakout podcast star.
A Focus on Ultra HDI
Published June 5
John Johnson just joined American Standard Circuits, and he's bringing along his expertise in ultra HDI. In this interview with Barry Matties, he shares his thoughts on these tiny traces and his plans for moving ASC forward in the ultra HDI realm.
Slash Sheets: Don't Fall Into the Trap
Published June 8
When you're selecting materials for a design, what documents do you consult? In this article from Geoffrey Hazelett, he explains why designers shouldn't use IPC slash sheets in their material selection process, and he offers his thoughts on the best way to find the right laminate for your job.
---
Suggested Items
09/25/2023 | HyRel
HyRel Technologies, a global provider of quick turn semiconductor modification solutions, proudly announces that it earned the prestigious AS9100 certification.
09/25/2023 | StenTech
StenTech Inc., the leading multinational SMT Printing Solutions company, is pleased to announce plans to exhibit at the SMTA Guadalajara Expo, scheduled to take place Oct. 25-26, 2023 at the Expo Guadalajara in Guadalajara, Jalisco, Mexico.
09/25/2023 | Camtek
Camtek Ltd., together with FormFactor, Inc., are pleased to announce that they have entered into an agreement for the acquisition by Camtek of FormFactor, Inc.'s FRT Metrology business for $100 million in cash, subject to customary purchase price adjustments.
09/22/2023 | IPC
Join fellow EMS leaders in the region on Oct 5, 2023, 4:30 - 8:00pm EDT, to share industry pain points and solutions. Our focus for this meeting is how companies profitably reach the next level of revenue. Following a presentation on the current EMS market and revenue tiers in the industry, participants will discuss how to reach the next level and grow their business. Discussion will pull from direct experience, questions, and ideas. From there, the conversation goes where you, the leaders, take it. Every roundtable ends in unique takeaways.  
09/21/2023 | Intraratio
Intraratio, a provider of enterprise software solutions, is pleased to announce its participation in the SMTA Guadalajara Expo and Tech Forum 2023.