Books

Featured Books

pcb007 Magazine

Latest Issues

Current Issue

The Registration Sweet Spot

Registration is underrated and underappreciated. The key is to ensure proper registration from layer to layer across the entire printed circuit board. It's a holistic process requiring anticipation, prediction, precise attention at each step, and detailed data tracking and monitoring.

High-reliability Fabrication

In this month's issue, our expert contributors discuss the latest in technologies, trends, complexities and resources regarding high-reliability fabrication.

Finding Ultra

New demands on PCB fabrication, namely advanced packaging, ultra high density interconnect (UHDI), and new specialty materials, are converging, changing the landscape of our business. Is it time to start paying close attention to this convergence?

Columns

Latest Columns

||| MENU
I-Connect007 Editor's Choice: Five Must-Reads for the Week
August 18, 2023 | Andy Shaughnessy, I-Connect007
Estimated reading time: 2 minutes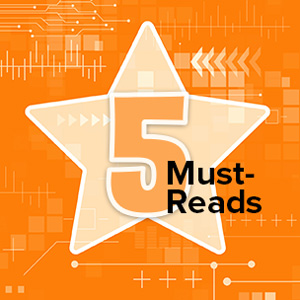 Summer is almost over; it seems like it just started. But I got in some much-needed beach time last week, so I'm happy. Have you taken any vacation time this summer?
The news and innovations in our industry haven't really slowed down during the summer months, as evidenced by this week's Top Five. This week, we have an article about flex-hybrid electronics, which the military and aerospace folks are following closely. We have an article about the digital twin and what it is—and what it's not. 
We have 10 outside-the-box ideas for closing the deal—be sure to forward this to your sales team. John Perry brings us an interview with a father/son team of IPC volunteers. (Would you want your children to work in this industry?) Finally, John Watson discusses AI, simulation and SPICE, and what they have to offer for PCB designers.
I'll talk to you all soon!
Flexible Thinking: Growth of Flex and Flex-hybrid Electronics in Mil-Aero Applications
Published August 15
Technologists working with flexible circuits seem to come up with new, innovative ideas almost weekly. One of the latest is flex-hybrid electronics, which have shown plenty of promise in the mil-aero community. Joe Fjelstad explains what FHE could do for our industry, and the warfighter of the future as well.
Drilling Down on Digital Twin
Published August 16
In this interview, Phil Voglewede, director of the Omron Advanced Automation Lab at Marquette, breaks down the relationship between digital twin and automation. As he points out, it's not just simulation. Ask not what you can do for digital twin; ask what digital twin can do for you!
It's Only Common Sense: My 10 Favorite Creative Sales Tactics
Published August 14
It's tough making a sale these days, and your sales team need every advantage. This week, Dan Beaulieu shares 10 of his favorite sales tactics that are a little off the beaten path, including nostalgia and "gamification." Check it out.
From Father to Son: A Story of Generational Volunteerism
Published August 16
Would you want your children (or grandchildren) to get into this industry? IPC's John Perry has a great interview with Scott Bowles and his son Steven, who both work for Lockheed Martin and serve as IPC volunteers. Do they talk about solder mask during Thanksgiving dinner?
Elementary, Mr. Watson: Circuit Simulation, SPICE, and AI
Published August 15
There's been a lot of talk about AI lately. But what does it mean for our industry? In this column, John Watson explains how PCB designers and design engineers can benefit from utilizing AI, and how circuit simulation and SPICE are somewhat related to AI. Interesting stuff.
---
Suggested Items
11/27/2023 | Real Time with...productronica
Koh Young's Harald Eppinger talks about the company's technology for the semiconductor and advanced packaging market and how they address the challenges introduced by reflective components and micro solder deposits.
11/27/2023 | HyRel
HyRel Technologies, a global provider of quick turn semiconductor modification solutions, announces the achievement of International Traffic in Arms Regulations (ITAR) registration.
11/24/2023 | Mek (Marantz Electronics)
Mek (Marantz Electronics), a leader in Automated Optical Inspection (AOI) solutions, used last weeks' Productronica show in Munich to proudly introduce the SpectorBOX X series, a modular full 3D AOI system for THT solder joints and THT components.
11/21/2023 | Pete Starkey, I-Connect007
Productronica 2023 played host to the IPC World Hand Soldering Competition, bringing talented regional solder champions from all over the globe to compete for the title of World Champion. Each competitor was given sixty minutes to assemble a complex printed circuit board with their performance judged in accordance with IPC-A-610 Class 3 criteria. Each competitor's efforts were rated on the merits of the results achieved, scored on the quality of the assembly process, the electrical functionality of the assembly and the speed at which the assembly was produced.
11/21/2023 | MacDermid Alpha
MacDermid Alpha Electronics Solutions, a leader in integrated materials and technologies for the electronics industry, introduces ALPHA® SF828-MBB.