Books

Featured Books

pcb007 Magazine

Latest Issues

Current Issue

The Registration Sweet Spot

Registration is underrated and underappreciated. The key is to ensure proper registration from layer to layer across the entire printed circuit board. It's a holistic process requiring anticipation, prediction, precise attention at each step, and detailed data tracking and monitoring.

High-reliability Fabrication

In this month's issue, our expert contributors discuss the latest in technologies, trends, complexities and resources regarding high-reliability fabrication.

Finding Ultra

New demands on PCB fabrication, namely advanced packaging, ultra high density interconnect (UHDI), and new specialty materials, are converging, changing the landscape of our business. Is it time to start paying close attention to this convergence?

Columns

Latest Columns

||| MENU
I-Connect007 Editor's Choice: Five Must-Reads for the Week
September 8, 2023 | Nolan Johnson, I-Connect007
Estimated reading time: 3 minutes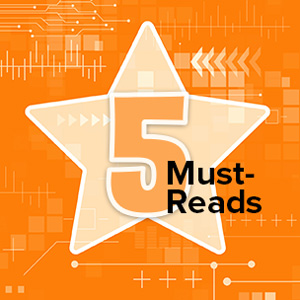 This week in history seemed to include quite a few "firsts." Here's a sampling:
Michelangelo's the David was unveiled in Florence in 1504. The sculpture is widely considered an icon of the European Renaissance.
In 1664, on the American continent, the future King James II captured the city of New Amsterdam and changed its name to New York.
British Actor Peter Sellers was born in 1925.
In 1966, the first episode of Star Trek aired on American television.
U.S. President Gerald Ford pardoned his predecessor, Richard Nixon following his resignation.
One year ago today, British queen, Elizabeth II, died at the age of 96.
I think it's an interesting correlation as there happened to be quite a few "firsts" in electronics news this past week. As I looked over the news and stories of the week, I saw firsts from Insulectro and Lockheed Martin, plus a historic transition in leadership at Foxconn. There's also financial health from KLA, and upbeat market data from IPC. With the start of a new school year, and often a fiscal year, September brings a sense of newness and change for many of us.
Foxconn Founder Terry Gou Steps Down as Director
Published September 7
Though Gou, founder of the company that now goes by Foxconn, the largest EMS company in the world, passed leadership to a professional manager four years ago, it has been announced that he will be resigning due to "personal reasons." There are more details about the transition here.
Insulectro Begins Selling EMC & Arlon Laminates Today
Published September 5
"Today is the day," announced Insulectro COO Ken Parent. "We are officially taking orders for Arlon and EMC high-performance laminates." Learn more in the article here.
KLA Corporation Announces Increase in Quarterly Dividend Level
Published September 5
Entirely my opinion, but this announcement by KLA, and the comments included by company representatives, is the sort of news we should be hearing over time from the manufacturers of IC and printed circuit capital equipment manufacturers as a result of any additional manufacturing investment outside of Asia. The additional investment in North America and Europe, especially, are in addition to ongoing Asian investment. That just means more call for capital equipment, and healthier balance sheets with companies like KLA.
Electronics Industry Supply Chains Look Healthy; Inventories Expand
Published September 1
Regarding this report, IPC Chief Economist Shawn Dubravac says, "Over the next six months, electronics manufacturers expect to see continued increase in both labor and material costs, although to a lesser extent than current conditions. Conversely, while backlogs and profit margins are expected to improve, ease of recruitment is likely to remain challenging." Read the details here.
Lockheed Martin Delivers Initial 5G Testbed to U.S. Marine Corps and Begins Mobile Network Experimentation
Published September 1
We usually think of the military as using super-sophisticated technology generations ahead of what's available commercially; GPS systems come to mind. That may not always be the case, however. From the press release: "The Lockheed Martin-led team, in close partnership with the U.S. Marine Corps has proven that quickly evolving 5G commercial technology can be leveraged in near real-time to solve current and emergent mission challenges," said Deon Viergutz, vice president, Lockheed Martin Spectrum Convergence. The implications of this sort of development are interesting on a number of levels, from manufacturing chain to ITAR to design practices.
---
Suggested Items
11/29/2023 | TT Electronics
TT Electronics, a global provider of custom power solutions and engineered technologies, has announced that its Power and Control business has officially opened its new state-of-the-art research, development and manufacturing facility.
11/27/2023 | IPC
IPC welcomes the actions outlined today by the U.S. Government "to strengthen supply chains critical to America's economic and national security."
11/27/2023 | GOEPEL Electronics
The US branch of GÖPEL electronic is proud to announce the addition of David Kalaidjian as the new National Sales Development Manager.
11/27/2023 | Wurth Elektronik
HyPerStripes project partners will create a technology platform including manufacturing techniques for roll-to-roll (R2R) processing as well as the integration of electronic components onto very long ("endless"), flexible and stretchable printed circuit boards.
11/24/2023 | Messe München
Messe München's electronics network with the world's leading trade fairs electronica and productronica is expanding its partnership with SEMI, the global semiconductor industry association, in India.