Intel to Sell Minority Stake in IMS Nanofabrication Business to TSMC
September 13, 2023 | Intel
Estimated reading time: 2 minutes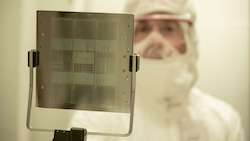 Intel Corporation announced that it has agreed to sell an approximately 10% stake in the IMS Nanofabrication business to TSMC. TSMC's investment values IMS at approximately $4.3 billion, consistent with the valuation of the recent stake sale to Bain Capital Special Situations. Intel will retain majority ownership of IMS, which will continue to operate as a standalone subsidiary under the leadership of CEO Dr. Elmar Platzgummer. The transaction is expected to close in the fourth quarter of 2023.
IMS is the established industry leader in multi-beam mask writing tools required to develop advanced extreme ultraviolet lithography (EUV), which is broadly adopted in leading-edge technology nodes that enable the most demanding computing applications, such as artificial intelligence (AI) and mobile. Together, Bain Capital and TSMC's investments provide IMS with increased independence and reinforce confidence in the significant opportunity ahead of IMS. This added autonomy will help IMS accelerate its growth and drive the next phase of lithography technology innovation to enable the industry's transition into new patterning systems, such as high-numerical-aperture (high-NA) EUV.
Matt Poirier, senior vice president of Corporate Development at Intel, said, "This investment demonstrates the deep industry collaboration IMS is pioneering to advance critical lithography technology for leading-edge nodes, which will benefit the entire semiconductor manufacturing ecosystem. With enhanced independence, IMS will be well positioned to address the significant growth opportunity for multi-beam mask writing tools over the next decade and beyond."
Platzgummer said, "We are delighted to bring in new investors to help us build on IMS' leadership in multi-beam mask writing, which is the backbone of innovation in leading-edge semiconductor technologies. This is a testament to IMS' expertise and leadership position in this integral technology. Together with our partners, we look forward to continuing to support innovation of next-generation technologies and deliver value across the semiconductor ecosystem."
Dr. Kevin Zhang, senior vice president of Business Development at TSMC, said, "TSMC has been working with IMS since 2012 on the development of multi-beam mask writers for advanced technology nodes. This investment continues the long-term partnership between TSMC and IMS to accelerate innovation and enable deeper cross-industry collaboration."
IMS plays a critical role in enabling the growth and advancement of the semiconductor industry in an era of ever more demanding applications. Global semiconductor demand continues to grow fueled by five superpowers: AI, pervasive connectivity, ubiquitous computing, cloud-to-edge infrastructure and sensing. The market is expected to reach $1 trillion by 2030. A key enabler of this growth is advances in lithography technology, such as EUV, which is essential for the leading-edge nodes that enable these demanding applications. These lithographic advances rely on sophisticated mask writing tools, which make IMS' leadership technology central to innovation across the ecosystem.
Intel initially invested in IMS in 2009 and ultimately acquired the remaining stakes in 2015. Since the acquisition, IMS has delivered a significant return on investment to Intel while growing IMS' workforce and production capacity by four times and delivering three additional product generations. In June 2023, Intel announced an agreement to sell an approximately 20% stake in IMS to Bain Capital.
---
Suggested Items
09/28/2023 | Anaya Vardya, American Standard Circuits
There has always been pressure to reduce line and space as we have seen the bleeding edge technology go from 8 mils to 5 mils and then to 3 mils. The difference between "then" and "now" is that the prior advancements, for the most part, used the same processes, chemistry and equipment going from 8 mils to 3 mils. But going from 3 mil to sub 1 mil trace and space is a quantum leap in printed circuit board (PCB) technology that requires a whole new set of processes and materials.
09/28/2023 | PNNL
Pacific Northwest National Laboratory is collaborating with leading technology companies Microsoft Corp. and Micron Technology to make computational chemistry—a challenging subject but one with far-reaching significance for our lives—broadly available to applied researchers and industrial users.
09/28/2023 | SIA
The Semiconductor Industry Association (SIA) announced Geoff Martha, chairman and CEO of healthcare technology leader Medtronic, will be the keynote presenter at the 2023 SIA Awards Dinner on Thursday, Nov. 16 in San Jose, Calif.
09/26/2023 | Kirk Thompson, Isola Group
Despite being a leader in R&D investment in semiconductors and packaging with greater than $50 billion per year, the U.S. has seen its market share decrease to less than 3% in areas like advanced packaging and advanced substrates. The cause for this market share erosion was a laser focus in Asian countries to attract semiconductors and advanced packaging investment through ecosystem development and incentives. If the U.S. is serious about changing the momentum to onshore advanced packaging and advanced substrates, an ecosystem approach to innovation and manufacturing incentives must be employed. It is not enough to have the most innovative technology if the supply chain and manufacturing economics do not deliver competitive commercial opportunities.
09/25/2023 | StenTech
StenTech Inc., the leading multinational SMT Printing Solutions company, is pleased to announce plans to exhibit at the SMTA Guadalajara Expo, scheduled to take place Oct. 25-26, 2023 at the Expo Guadalajara in Guadalajara, Jalisco, Mexico.