Books

Featured Books

smt007 Magazine

Latest Issues

Current Issue

Economic Headwinds

This issue takes stock of the current economic outlook and how companies are using current conditions to move themselves through technological evolutions, workforce shifts, and financial changes. Even with these headwinds, there's forward progress to be made.

Attracting New Talent

To get different results in staffing, you must change how you define, promote and recruit your job opportunities. How do you become magnetic to high-quality early-career candidates?

Test and Inspection

Test and inspection methods are undergoing rapid change. In this issue, we consider the influence of AOI, AI, and human eyes. How exactly are these pieces of the puzzle changing the role of test and inspection?

Columns

Latest Columns

||| MENU
Rework Challenges for Smartphones and Tablets
November 19, 2014 |
Estimated reading time: 1 minute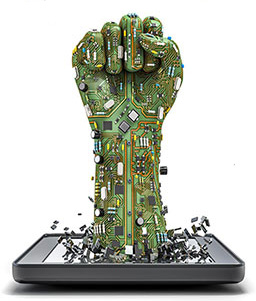 Smartphones are complex, costly devices and therefore need to be reworked correctly the first time.
To meet the ever-growing demand for performance, the complexity of mobile devices has increased immensely, with 70% more packages now found inside a mobile device than just a few years ago. For instance, a 1080P HD camera with video capabilities is now available on most high-end smartphones or tablet computers, making their production more elaborate and expensive.
The printed circuit boards for these devices are no longer considered disposable goods, and their bill of materials start from $150, with higher-end smartphones going up to $238, and tablets well over $300.
The implementation of surface mount devices is crucial for smartphone manufacturers, offering increased component density and improved performance. For example, the newer style DDR memory integrated components use less power and work at twice the speed of former versions. It is not surprising that most component manufacturers now produce these surface mount devices as small as 1 mm square.
Mobile products generally use an epoxy underfill to adhere components to the printed circuit board to meet the mechanical strength requirements of a drop test. Reworking glued components is the most difficult application in the electronics industry, and must be addressed as a process.
Rework Challenges
The removal of a glued component from a PCB assembly requires a specific order of operations. The first step is to remove the glue fillet located between the component and the circuit board. Mobile products generally have many types of components glued to the PCB in order to meet the industry standards outlined in JESD22-B111 Board Level Drop Test Method of Components for Handheld Electronic Devices and JESD22-B110 Subassembly Mechanical Shock. The epoxy is applied to the components to prevent the common failure modes of cracks in the laminate, cracks near the intermetallic, and cracks in the bulk solder. The addition of the epoxy increases the robustness of the design and enhances reliability for the user.

Read the full article here.


Editor's Note: This article originally appeared in the November 2014 issue of SMT Magazine.
---
Suggested Items
11/30/2023 | Chris Young, Young Engineering Services
There are many ways, dozens to be sure, and most likely many more, to streamline a PCB design. My goal here is to pick a single-digit number of rules to abide by, that can be reasonably adhered to, and provide some bang for the buck. These rules are meant to reduce design scope creep, avoid PCB respins, and improve production yields.
11/29/2023 | Dana Korf -- Column: Dana on Data
November's issue of Design007 Magazine had an excellent theme that evolved around design simplification. There were exceptionally good articles about how to reduce over-constrained or needlessly complex designs. One significant time-consuming category is the creation of many design files and drawings which lead to lengthy creation and interpretation time along with the considerable time to resolve conflicting or erroneous information.
11/28/2023 | Preeya Kuray -- Column: Material Insight
On May 11, 2023, Reps. Blake Moore (R-UT) and Anna Eshoo (D-CA) introduced the Protecting Circuit Boards and Substrates (PCB) Act to Congress. In October, I had the great pleasure of discussing the bipartisan Protecting Circuit Boards and Substrates Act with Congressman Moore, who represents Utah's First Congressional District. He shared his thoughts on how supporting and investing in the domestic PCB industry can help bolster American security.
11/27/2023 | Andrew Kelley, XACTPCB LTD
While previous industrial revolutions have introduced factories, mass production, and computer-controlled systems, the advent of Industry 4.0 and the concept of the Smart factory have ushered in a new era in PCB manufacturing. For the PCB industry it is a very ambitious and aspirational objective to evolve from disconnected processes to an integrated system with automated data capture, real-time data analysis, process visualization, autonomous control, and self-correcting processes. 
11/23/2023 | IPC
IPC announced the October 2023 findings from its North American Printed Circuit Board (PCB) Statistical Program. The book-to-bill ratio stands at 0.97.