Books

Featured Books

smt007 Magazine

Latest Issues

Current Issue

Chips Don't Float

In Europe and the U.S., legislation is under way to revitalize PCB fabrication and packaging. What is the status of this work, and how specifically does this change the industry landscape for EMS companies? What will help keep us afloat?

Flying High With Digital Twin

The opportunity to use manufacturing simulation as a test bed for job planning and process optimization brings continuous improvement into the modern age. This may be an all-or-nothing type of project, but it's worth the investment.

Artificial Intelligence

In this issue, we (and AI) explored how and when artificial intelligence plays a role in manufacturing today. Whether on the factory floor, or in the front office, AI applications are emerging and changing how we approach planning, processes and problem solving.

Columns

Latest Columns

||| MENU
Rework Challenges for Smartphones and Tablets
November 19, 2014 |
Estimated reading time: 1 minute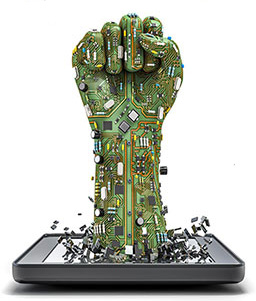 Smartphones are complex, costly devices and therefore need to be reworked correctly the first time.
To meet the ever-growing demand for performance, the complexity of mobile devices has increased immensely, with 70% more packages now found inside a mobile device than just a few years ago. For instance, a 1080P HD camera with video capabilities is now available on most high-end smartphones or tablet computers, making their production more elaborate and expensive.
The printed circuit boards for these devices are no longer considered disposable goods, and their bill of materials start from $150, with higher-end smartphones going up to $238, and tablets well over $300.
The implementation of surface mount devices is crucial for smartphone manufacturers, offering increased component density and improved performance. For example, the newer style DDR memory integrated components use less power and work at twice the speed of former versions. It is not surprising that most component manufacturers now produce these surface mount devices as small as 1 mm square.
Mobile products generally use an epoxy underfill to adhere components to the printed circuit board to meet the mechanical strength requirements of a drop test. Reworking glued components is the most difficult application in the electronics industry, and must be addressed as a process.
Rework Challenges
The removal of a glued component from a PCB assembly requires a specific order of operations. The first step is to remove the glue fillet located between the component and the circuit board. Mobile products generally have many types of components glued to the PCB in order to meet the industry standards outlined in JESD22-B111 Board Level Drop Test Method of Components for Handheld Electronic Devices and JESD22-B110 Subassembly Mechanical Shock. The epoxy is applied to the components to prevent the common failure modes of cracks in the laminate, cracks near the intermetallic, and cracks in the bulk solder. The addition of the epoxy increases the robustness of the design and enhances reliability for the user.

Read the full article here.


Editor's Note: This article originally appeared in the November 2014 issue of SMT Magazine.
---
Suggested Items
09/21/2023 | Andy Shaughnessy, I-Connect007
The weather couldn't have been better for PCB West, and PCB designers and manufacturers packed the show floor for much of the exhibition on Wednesday, Sept. 20 in Santa Clara, California. The show floor was sold out, and it was great seeing old friends and meeting new ones.
09/21/2023 | Matt Stevenson -- Column: Connect the Dots
PCB prototyping is a critical juncture during an electronic device's journey from concept to reality. Regardless of a project's complexity, the process of transforming a design into a working board is often enlightening in terms of how a design can be improved before a PCB is ready for full production.
09/20/2023 | Seika Machinery, Inc.
Seika Machinery, Inc., a leading provider of advanced machinery, materials and engineering services, is excited to announce its participation at SMTA Guadalajara, scheduled to take place on Wednesday, Oct. 25, 2023 at Expo Guadalajara in Guadalajara, Jalisco.
09/20/2023 | I-Connect007 Editorial Team
Panasonic's Darren Hitchcock spoke with the I-Connect007 Editorial Team on the complexities of moving toward ultra HDI manufacturing. As we learn in this conversation, the number of shifting constraints relative to traditional PCB fabrication is quite large and can sometimes conflict with each other.
09/20/2023 | I-Connect007 Editorial Team
In chapter 5 of 'The Printed Circuit Designer's Guide to... Manufacturing Driven Design', the author, Max Clark, looks at transparent collaboration and examines the adoption of cloud-based platforms. He writes, "If the electronics manufacturing industry focuses on formats alone, they are looking backwards, resolving the problems of yesterday and limiting industry advancement in this fundamental area."