Books

Featured Books

smt007 Magazine

Latest Issues

Current Issue

Chips Don't Float

In Europe and the U.S., legislation is under way to revitalize PCB fabrication and packaging. What is the status of this work, and how specifically does this change the industry landscape for EMS companies? What will help keep us afloat?

Flying High With Digital Twin

The opportunity to use manufacturing simulation as a test bed for job planning and process optimization brings continuous improvement into the modern age. This may be an all-or-nothing type of project, but it's worth the investment.

Artificial Intelligence

In this issue, we (and AI) explored how and when artificial intelligence plays a role in manufacturing today. Whether on the factory floor, or in the front office, AI applications are emerging and changing how we approach planning, processes and problem solving.

Columns

Latest Columns

||| MENU
JOT Automates Final Testing of Smart Wearables
February 12, 2015 | JOT Automation
Estimated reading time: 1 minute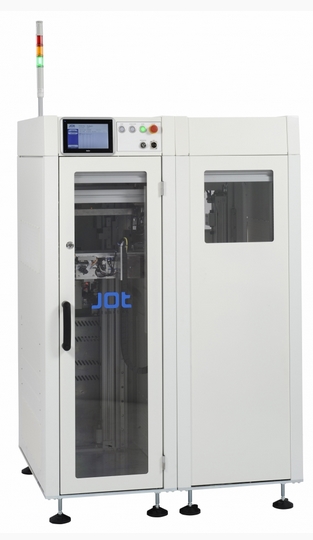 JOT Automation, the leading supplier of test and production solutions, automates the final testing of smart wearables for an enriched end-user experience and shortens the time-to-market in the highly competitive market. JOT G3, known as an all-in-one final tester for smartphones, also enables fully automatic tests on wearables like smartwatches in a repeatable and reliable environment.
JOT G3 executes multiple tests in a single platform. The solution with a compact footprint is capable of running all the required DUT interface tests on, for example, RF, electrics, mechanics, touch screen, buttons, audio, and plug-in connections.
Wearable products have been on the markets for a long time, but only recently has the offering become fashionable. Juniper Research has predicted that smart wearables hardware revenue will reach 19 billion USD globally by 2018.
"We might witness even greater market potential. The cake will be big but there will be many takers. The market will be crowded with competition. Winners will have the capability to increase the speed of the product development process and the quality of its output," said Mika Mämmelä, Business Line Director at JOT Automation.
"Consumers expect small devices with multiple functionalities and robust reliability at an affordable price.  We believe that billions of performance and design driven wearables won't be shipped in the time-to-market with satisfactory precision, quality and cost without flexible automation."
The company is showcasing the key features of the JOT G3 all-in-one final tester at the Mobile World Congress in Barcelona on March 2-5. Visit JOT Automation at Hall 5 Stand 5D36.
About JOT Automation
JOT Automation leads the robotics revolution for a better user experience. JOT creates the smartest value with automated test and assembly solutions for smart devices. JOT offers customizable production solutions based on the best applications and modules to enable ultimate designs and performance in minimal forms. The company is a global partner for the industry giants manufacturing smart phones and wearables powered by all the major mobile operating systems. www.jotautomation.com
---
Suggested Items
09/27/2023 | IFR
The new World Robotics report recorded 553,052 industrial robot installations in factories around the world – a growth rate of 5% in 2022, year-on-year.
09/26/2023 | Kirk Thompson, Isola Group
Despite being a leader in R&D investment in semiconductors and packaging with greater than $50 billion per year, the U.S. has seen its market share decrease to less than 3% in areas like advanced packaging and advanced substrates. The cause for this market share erosion was a laser focus in Asian countries to attract semiconductors and advanced packaging investment through ecosystem development and incentives. If the U.S. is serious about changing the momentum to onshore advanced packaging and advanced substrates, an ecosystem approach to innovation and manufacturing incentives must be employed. It is not enough to have the most innovative technology if the supply chain and manufacturing economics do not deliver competitive commercial opportunities.
09/26/2023 | IDC
The global PC monitor market remained steadfast in its efforts to manage inventory levels amidst a significant drop in demand during the second quarter of 2023 (2Q23).
09/26/2023 | GlobalFoundries
GlobalFoundries (GF) announced it has applied for U.S. CHIPS and Science Act Funding, with two full applications submitted to the CHIPS Program Office of the U.S. Department of Commerce.
09/26/2023 | TrendForce
The latest "Automotive Display Market Analysis" from TrendForce indicates that the overall demand for automotive display panels (automotive panels) is gradually stabilizing and shows an upward trend as the automotive market as a whole slowly recovers, and promotional activities related to smart cockpits continue to expand.