Books

Featured Books

smt007 Magazine

Latest Issues

Current Issue

Economic Headwinds

This issue takes stock of the current economic outlook and how companies are using current conditions to move themselves through technological evolutions, workforce shifts, and financial changes. Even with these headwinds, there's forward progress to be made.

Attracting New Talent

To get different results in staffing, you must change how you define, promote and recruit your job opportunities. How do you become magnetic to high-quality early-career candidates?

Test and Inspection

Test and inspection methods are undergoing rapid change. In this issue, we consider the influence of AOI, AI, and human eyes. How exactly are these pieces of the puzzle changing the role of test and inspection?

Columns

Latest Columns

||| MENU
JOT Automates Final Testing of Smart Wearables
February 12, 2015 | JOT Automation
Estimated reading time: 1 minute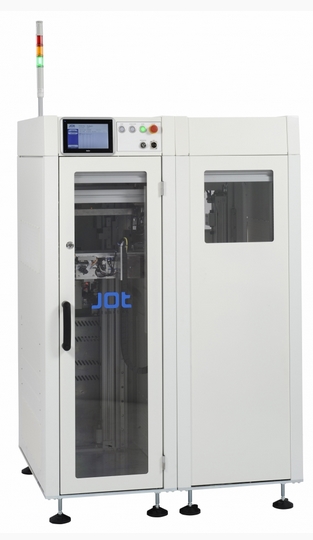 JOT Automation, the leading supplier of test and production solutions, automates the final testing of smart wearables for an enriched end-user experience and shortens the time-to-market in the highly competitive market. JOT G3, known as an all-in-one final tester for smartphones, also enables fully automatic tests on wearables like smartwatches in a repeatable and reliable environment.
JOT G3 executes multiple tests in a single platform. The solution with a compact footprint is capable of running all the required DUT interface tests on, for example, RF, electrics, mechanics, touch screen, buttons, audio, and plug-in connections.
Wearable products have been on the markets for a long time, but only recently has the offering become fashionable. Juniper Research has predicted that smart wearables hardware revenue will reach 19 billion USD globally by 2018.
"We might witness even greater market potential. The cake will be big but there will be many takers. The market will be crowded with competition. Winners will have the capability to increase the speed of the product development process and the quality of its output," said Mika Mämmelä, Business Line Director at JOT Automation.
"Consumers expect small devices with multiple functionalities and robust reliability at an affordable price.  We believe that billions of performance and design driven wearables won't be shipped in the time-to-market with satisfactory precision, quality and cost without flexible automation."
The company is showcasing the key features of the JOT G3 all-in-one final tester at the Mobile World Congress in Barcelona on March 2-5. Visit JOT Automation at Hall 5 Stand 5D36.
About JOT Automation
JOT Automation leads the robotics revolution for a better user experience. JOT creates the smartest value with automated test and assembly solutions for smart devices. JOT offers customizable production solutions based on the best applications and modules to enable ultimate designs and performance in minimal forms. The company is a global partner for the industry giants manufacturing smart phones and wearables powered by all the major mobile operating systems. www.jotautomation.com
---
Suggested Items
12/01/2023 | SEMI
Global semiconductor equipment billings contracted 11% year-over-year to US$25.6 billion in the third quarter of 2023, while quarter-over-quarter billings slipped 1% during the same period, SEMI announced today in its Worldwide Semiconductor Equipment Market Statistics (WWSEMS) Report.
12/01/2023 | SEMI
Aiming to reduce global semiconductor ecosystem carbon emissions, SEMI and the Semiconductor Climate Consortium (SCC) have created the Energy Collaborative (EC) to understand and clear roadblocks to the installation of low-carbon energy sources in the Asia-Pacific region.
11/30/2023 | PRNewswire
Hyundai Mobis is poised to secure new orders for premium vehicle displays, characterized by large screens, high definition, and slim design, using a fusion of innovative technologies targeting global automakers.
11/30/2023 | PRNewswire
Hi Sharp, a leading maker of video surveillance systems, is globally announcing its expansion into AI and cloud-based technologies for video capture.
11/29/2023 | TrendForce
TrendForce's latest research indicates that despite a decrease in the CPI in Europe and the US this year, consumer budgets are still constrained due to the current high-interest-rate environment, and the real estate bubble in China has suppressed TV demand. Moreover, a significant increase in TV panel prices this year has led brands to scale down promotional events.