Reading time ( words)
Recently, I was invited to cover Congressman Mike Honda's visit to Hunter Technology Corp, in Santa Clara, CA, which was arranged through the IPC's "Meet the Policymakers" program. The Congressman spent several hours touring the facility, meeting the employees of Hunter Technology, and answering their questions.
After the tour, I sat down with Congressman Honda, who represents District 17 in the Silicon Valley, and talked with him about American manufacturing, infrastructure, education and some of the current thinking in America.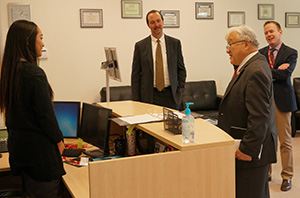 I also invited IPC Vice President of Governmental Relations, John Hasselmann, and Joe O'Neil, president of Hunter Technology, to share a few thoughts about the program.
John Hasselmann, Vice President of Government Relations, IPC[1]:
"IPC places a high priority on government relations because it is directly related to helping its members thrive in a global marketplace. IPC advocates for policy initiatives that promote innovation and advanced manufacturing and provide broad-based economic growth and competitiveness.
"One of IPC's advocacy strategies is to cultivate relationships between IPC members and their elected officials. IPC does this through its "Meet the Policymakers" program, in which IPC government relations staff arranges opportunities for IPC members to host elected officials at company locations. This program provides the opportunity for elected officials to hear how the policies they are considering will help or harm businesses and their employees in their states and districts. In 2014, IPC coordinated the visits of 12 members of Congress to IPC member companies all across the country.
Share
Suggested Items
06/07/2022 | I-Connect007 Editorial Team
Solder defects in surface-mount technology (SMT) assembly have been an issue for decades. Further, the combined challenges of Pb-free soldering and ever-increasing miniaturization have resulted in new or exacerbated defects in electronics assembly, but there are proven ways to avoid defects. This book will be especially beneficial to PCB assemblers in improving their assembly processes and the reliability of the end-product, eliminating field failures, and reducing costs.
05/09/2022 | I-Connect007 Editorial Team
Nolan Johnson and Barry Matties talked with Axiom's Rob Rowland and Kevin Bennett about current challenges facing EMS manufacturing. During this conversation, the pair discuss the impact of data file formats on pricing, manufacturing, and quality. As they explain, the use of intelligent data formats such as IPC-2581 and ODB++ can speed up the data import process compared to Gerber.
04/27/2022 | Andy Shaughnessy, I-Connect007
I attended SMTA Atlanta Expo and Tech Forum last week, and it's safe to say that this industry is definitely back in business in the Peach State. The aisles were busy all day, and the presentations were well attended.