Reading time ( words)
Recently, I was invited to cover Congressman Mike Honda's visit to Hunter Technology Corp, in Santa Clara, CA, which was arranged through the IPC's "Meet the Policymakers" program. The Congressman spent several hours touring the facility, meeting the employees of Hunter Technology, and answering their questions.
After the tour, I sat down with Congressman Honda, who represents District 17 in the Silicon Valley, and talked with him about American manufacturing, infrastructure, education and some of the current thinking in America.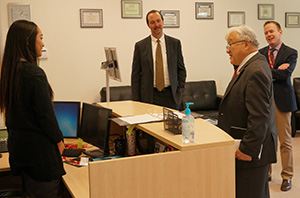 I also invited IPC Vice President of Governmental Relations, John Hasselmann, and Joe O'Neil, president of Hunter Technology, to share a few thoughts about the program.
John Hasselmann, Vice President of Government Relations, IPC[1]:
"IPC places a high priority on government relations because it is directly related to helping its members thrive in a global marketplace. IPC advocates for policy initiatives that promote innovation and advanced manufacturing and provide broad-based economic growth and competitiveness.
"One of IPC's advocacy strategies is to cultivate relationships between IPC members and their elected officials. IPC does this through its "Meet the Policymakers" program, in which IPC government relations staff arranges opportunities for IPC members to host elected officials at company locations. This program provides the opportunity for elected officials to hear how the policies they are considering will help or harm businesses and their employees in their states and districts. In 2014, IPC coordinated the visits of 12 members of Congress to IPC member companies all across the country.
Share
Suggested Items
03/21/2023 | Tracy Riggan, IPC
The EMS Leadership Summit at IPC APEX EXPO 2023 welcomed over 60 EMS provider and contract manufacturing professionals, many of whom were first-time attendees, with a compelling agenda that provided an opportunity to discuss and solve business problems, build business networks, and share insights about how to do business better.
03/20/2023 | Nolan Johnson, I-Connect007
When Canadian artificial intelligence company Darwin AI was founded in 2017, machine learning and deep learning were still relatively new terms. In the past five years, CEO Sheldon Fernandez and his team have been working with this technology to develop some foundational IP to simplify implementation. About a year ago, Sheldon took a "part happenstance, part deliberate" opportunity to develop a vertical offering for EMS manufacturing. Here's what happened.
03/15/2023 | Mark Laing, Siemens Digital Industries Software
We recently heard President Biden's State of the Union address, and it got me thinking that perhaps now is a good time to look at our own post-pandemic "state of the union" in the electronics manufacturing services industry. I will describe several key issues that our customers around the world are facing as we move forward into a new normal.