Reading time ( words)
Thomas Kunz, at the helm of Schmoll Maschinen, GmbH as president since 1993, discusses the company's lengthy history, current scope, and what he sees as a steady progression in directions that make sense to customers.
Barry Matties: What year did you start your business?
Thomas Kunz: Schmoll is a company with long tradition in mechanical engineering, founded in 1943. I took it over in '93. Ever since, we try to be a good, reliable and owner-driven enterprise. Basically we are marketing world-wide. All together, we have 10,000+ installations in the market and every year we add another 500 to 600.
We entered the Asian market in the late '90s and had to build up an image there, and we also built up our own marketing force. Unlike many other companies, we supply direct service, maintenance, installation, project management, and sales with about 200 people on our payroll.
Matties: When you started your organization primarily with drilling equipment, yes?
Kunz: Yes, that's our main business—drilling and routing.
Matties: Now you're bringing some direct imaging equipment to the market. Have you been working on this for some time?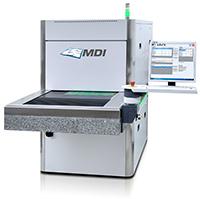 Kunz: It is part of a bigger plan, where we set up a new department for optical technologies, which also includes laser drilling and cutting equipment.
We can see that the market for drilling and routing is nice, but we see developments happening much faster in other areas. We understand ourselves as a registration company, which today includes drilling, routing, X-ray, post-etch punch and before said laser machines.
We see the laser direct imaging as a natural follow-up of that, especially considering that we have quite some experience in the imaging part, as represented by Bacher, which is part of our group.
LDI requires different machines than traditional ones. We decided to develop these machines in Schmoll, and we took advantage of the guys that had application knowledge in Bacher, and so we put it together.
Matties: Is automation an issue for you in China?
Share
Print
Suggested Items
04/26/2021 | Pete Starkey, I-Connect007
EIPC's seventh Technical Snapshot webinar on April 14 was timely and appropriate. In the context of current supply chain issues and material price pressures facing the PCB industry, particularly in Europe, the EIPC team brought together an outstanding group of experts—each a leading authority in his field—to analyse and comment upon the areas of concern and to respond to questions raised by a capacity audience. As Alun Morgan said, "If you don't use the European supply chain, you won't have it anymore!"
04/13/2021 | KJ McCann and Brian Zirlin, Aurora Circuits
Worldwide research and development of the automotive industry began as early as the 17th century and since then has taken several different design paths, with each country forging its own innovative trail and hundreds of prototypes emerging into the market. Vehicles—with steam-powered, electric, and combustion engines—began to play a major role, not only in the Industrial Revolution, but in everyday life. Although many believe that electric vehicles (EVs) are relatively new to the market, they have actually been around since 1832.
01/22/2021 | Nolan Johnson, I-Connect007
This week's news gave off every indicator that we've started a new calendar year. The news channels were busy with changes in leadership—both corporate and governmental—and changes in ownership. Changes in representation, too. Honestly, it was hard to sort out the news to just five top items. Be that as it may, here are five things we think you ought to read, even if you read nothing else about the electronics manufacturing industry this week: tradeshow coverage, strategic acquisitions, market discussion, and governmental advocacy.