Books

Featured Books

smt007 Magazine

Latest Issues

Current Issue

Chips Don't Float

In Europe and the U.S., legislation is under way to revitalize PCB fabrication and packaging. What is the status of this work, and how specifically does this change the industry landscape for EMS companies? What will help keep us afloat?

Flying High With Digital Twin

The opportunity to use manufacturing simulation as a test bed for job planning and process optimization brings continuous improvement into the modern age. This may be an all-or-nothing type of project, but it's worth the investment.

Artificial Intelligence

In this issue, we (and AI) explored how and when artificial intelligence plays a role in manufacturing today. Whether on the factory floor, or in the front office, AI applications are emerging and changing how we approach planning, processes and problem solving.

Columns

Latest Columns

||| MENU
Japan's Thermosetting Plastics Association Represents at IPC APEX EXPO 2015
March 19, 2015 | Pete Starkey, I-Connect007
Estimated reading time: 2 minutes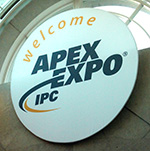 At the International Reception, held opening night of IPC APEX EXPO 2015, I-Connect Technical Editor Pete Starkey made the rounds and found some visitors from Japan, namely, Kazutaka Masaoka, from Thermosetting Plastics Association (JTPIA). In this brief interview conducted amongst the reception attendees, Masaoka-san and Starkey discuss Japanese vs. North American circuit board quality and business trends.
Pete Starkey: Masaoka-san, it's a pleasure to meet you here.
Kazutaka Masaoka: Nice to meet you.
Starkey: Could you give me what brings you to San Diego for IPC APEX EXPO, and also some idea of your first impressions?
Masaoka: Yes, thank you. Originally, I'm from Hitachi Chemical. I was 60 years old when I retired, and then I moved to the Association. Before that, I worked in R&D, on the development of dry film photoresist—for a long time.  So I've been interested in this kind of exhibition for many years, and I've enjoyed seeing the technical trends moving and changing year by year, generation by generation. For example, at the start of developing my product, the focus was how many lines can fit between through-holes? When I started to work, in terms of that, it was just two lines between through-holes, but the technology today is changing so much. It's very impressive.
Starkey:  We have always looked to Japan for the leading edge in technology. How do you see the comparison between the technical capability now in Japan and the technical capability now in North America?
Masaoka: Basically, previous circuit boards in the West were based on the military application. They were known for their polymer substrate, and you know that type of substrate has to have high temperature resistance and be of very high quality. But at that moment, 20 or 30 years ago, the U.S. technology level was very high, and our Japanese quality of the previous circuit board not. Since then, the Japanese people have made a lot of effort to improve the capabilities of their circuit boards. But the U.S. is moving as well, and changing and developing year by year. So perhaps quality of the previous Japanese circuit board is very close to yours, but still competing. I think we need to have some impact or stimulation from technology or market or people.
Starkey:  So what would you say is your main purpose coming here to this convention?
Masaoka: To look at the typical trends and observe the markets.
Starkey: Masaoka-san, thanks for your time and best of luck this week.
Masaoka: Thank you.
---
Suggested Items
09/26/2023 | Kirk Thompson, Isola Group
Despite being a leader in R&D investment in semiconductors and packaging with greater than $50 billion per year, the U.S. has seen its market share decrease to less than 3% in areas like advanced packaging and advanced substrates. The cause for this market share erosion was a laser focus in Asian countries to attract semiconductors and advanced packaging investment through ecosystem development and incentives. If the U.S. is serious about changing the momentum to onshore advanced packaging and advanced substrates, an ecosystem approach to innovation and manufacturing incentives must be employed. It is not enough to have the most innovative technology if the supply chain and manufacturing economics do not deliver competitive commercial opportunities.
09/25/2023 | StenTech
StenTech Inc., the leading multinational SMT Printing Solutions company, is pleased to announce plans to exhibit at the SMTA Guadalajara Expo, scheduled to take place Oct. 25-26, 2023 at the Expo Guadalajara in Guadalajara, Jalisco, Mexico.
09/22/2023 | ACN Newswire
Nanofiber Quantum Technologies Inc. raised $8.5m from leading venture capital investors. Phoenix Venture Partners (PvP) in the US, and Japan's JAFCO Group Co Ltd, SPARX Group Co Ltd, Keio Innovation Initiative, Inc. (KII), and Waseda University Ventures (WUV) financed the round through convertible notes.
09/26/2023 | Joe Fjelstad -- Column: Flexible Thinking
Despite what some seem to believe, rigid-flex circuits are not a new technology. In fact, they are more than a half-century old. At the time of the invention, my friend Thomas Sterns was working at Sanders Associates, the pioneering flex circuit manufacturer. Like many products in the first decades of printed circuit technology, they were working on a military application. The objective was to provide a reliable method for reducing the size, bulk, weight, and questionable reliability of wire harness assemblies while simultaneously reducing cost and assuring that human error might be minimized. These were all vitally important concerns for military and aerospace products.
09/21/2023 | ViTrox
ViTrox, which aims to be the world's most trusted technology company, is pleased to announce the addition of Hayden Dalton to our team as a Field Support Engineer who based in Milwaukee, WI, effective August 21, 2023.