Books

Featured Books

pcb007 Magazine

Latest Issues

Current Issue

The Registration Sweet Spot

Registration is underrated and underappreciated. The key is to ensure proper registration from layer to layer across the entire printed circuit board. It's a holistic process requiring anticipation, prediction, precise attention at each step, and detailed data tracking and monitoring.

High-reliability Fabrication

In this month's issue, our expert contributors discuss the latest in technologies, trends, complexities and resources regarding high-reliability fabrication.

Finding Ultra

New demands on PCB fabrication, namely advanced packaging, ultra high density interconnect (UHDI), and new specialty materials, are converging, changing the landscape of our business. Is it time to start paying close attention to this convergence?

Columns

Latest Columns

||| MENU
Are There Advantages to Changing Your Registration System?
March 22, 2015 | Barry Matties, I-Connect007
Estimated reading time: 9 minutes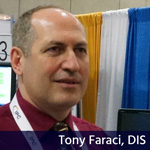 I recently had a conversation with DIS's Tony Faraci at IPC APEX EXPO 2015, to learn more about their pinless registration system. What was most interesting to me are the  potential advantages a pinless system offers and if so, why the process has not been widely adopted.
Barry Matties: Hello, Tony. Thanks for sitting down with me today. Could you please tell us about the DIS pinless registration system?
Tony Faraci: Yes, thanks, Barry. What is happening with this type of a system, as opposed to a conventional pin lamination technology, is that we are optically aligning all the internal layers of a panel. Conventional wisdom used to be that you would post-etch punch all your cores and then pin. Now, you are eliminating that whole process. You are eliminating pinning, you're eliminating all of that punching and all of that pin tooling and now we are optically aligning all the layers and tack bonding them together.
By optically aligning, all those mechanical pin tolerances are eliminated, and of course you are not limited to certain panel sizes. The layers are aligned optically and then we use an induction bonding system that actually bonds the layers together. The advantage here is that the registration can be checked before lamination, which really can't be done with any type of pinning system.
You can kind of do it with a riveting system, let's say, or eyelets, but with this type of system, now you can check your registration before going into the lamination press, then you laminate the panel, come out, and now you can again check the registration of that panel. Having the data immediately before and after lamination can show what's happening inside the press.
Besides this valuable data set, this is also telling you what our system is doing. It's giving you an overall view at different points of the process which they've never been able to do before. You can kind of do it with a riveting system but you're not going to do such high layer counts and it will not be repeatable. So DIS pinless technology is the next step up from pin because it eliminates all those mechanical problems.
Matties: For those who already have a pin system in place, are there any special processes or changes that they have to make?
Faraci: It changes a little bit in the process. What you're doing is using similar targets like they do on a punching machine, but now they are adding these welding coupons. They are just a quarter-inch by three-quarter-inch solid copper pads at four points on the panel that we'll use to tack bond.
Where it really changes is the reduced handling and lay-up. The machine is basically an optical lay-up machine, so instead of handling the panel once at post-etch punch and then going through oxide or oxide alternative, where there is some more stretching of the layer, and then laying up on mechanical pins, where most of the bulk error is, we're only handling it once, at optical lay-up.
We're not selling a product that's competing against the post-etch punch; it's a process change. It eliminates that pin-up process and instead is optically aligning the layers; this really is the biggest change.
It's a little bit different in the process, so there is a learning curve. But the benefit for the customer is great, because now they can start looking at what's happening in the press. Today, most high-end shops work with pins, so what do they do, they lay up a book and you don't know if there's a shift -did it happen at lay-up, did it happen in the press, did it happen at transport?
So, that's one of the biggest changes. Another product that we developed about six years ago was a multi-camera system that allows us to check the layers front to back, in order to figure out where the best fit positions are for that layer. That also works well with our systems, because that data gets captured and it goes into our alignment systems.
Matties: How does that benefit?
Faraci: Let's say a customer is running higher-end boards. They can, if they have an LDI process for example, print a 2D bar code on every layer, serialize the core, and then our multi-camera system can actually measure that core and capture the positional data. And of course it's tied to that serial number.
Then when it gets to our alignment machines, they read that barcode and they know the positional data of that core, based on the eight targets, and now we can process the panel. So it enables all our existing two-camera machines—for example, what they have at DSG—once customers buy this unit, they're able to have it work like an eight-camera system. Or you could use it off line just to measure panels to make sure that the layers are within tolerance before you use them at lay-up.
Matties: So, with your system the border is now smaller?Page 1 of 2
---
Suggested Items
11/13/2023 | Global Newswire
The "Global Copper Clad Laminates Market (by Type, Application, Reinforcement Material, & Region): Insights and Forecast with Potential Impact of COVID-19 (2023-2028)" report has been added to ResearchAndMarkets.com's offering.
11/07/2023 | SCHMID Group
The SCHMID Group, a global solution provider for the high-tech electronics, photovoltaics, glass and energy systems industries, will be exhibiting at productronica in Munich from November 14 – 17, 2023.
11/01/2023 | Alex Stepinski, Stepinski Group
The topic of intrinsic copper structure has been largely neglected in discussions regarding the PCB fabrication quality control process. At face value, this seems especially strange considering that copper has been the primary conductor in all wiring boards and substrates since they were first invented. IPC and other standards almost exclusively address copper thickness with some mild attention being paid to surface structure for signal loss-mitigation/coarse properties. 
10/26/2023 | Andy Shaughnessy, Design007
At PCB West, I sat down for an interview with John Andresakis, the director of business development for Quantic Ohmega. I asked John to update us on the company's newest materials, trends in advanced materials, and the integration of Ticer Technologies, which Quantic acquired in 2021. As John explains, much of the excitement in materials focuses on laminates with lower and lower dielectric constants.
10/25/2023 | Preeya Kuray -- Column: Material Insight
Printed circuit board (PCB) reliability testing is generally performed by exposing the board to various mechanical, electrical, and/or thermal stimuli delineated by IPC standards, and then evaluating any resulting failure modes. Thermal shock testing is one type of reliability test that involves repeatedly exposing the PCB test board to a 288°C pot of molten solder for a specific time (typically 10 seconds) and measuring the number of cycles it takes for a board's copper layer to separate from the organic dielectric layer. If there is no delamination, fabricators can rest assured that the board will perform within expected temperature tolerances in the real world.