Books

Featured Books

smt007 Magazine

Latest Issues

Current Issue

Test and Inspection

Test and inspection methods are undergoing rapid change. In this issue, we consider the influence of AOI, AI, and human eyes. How exactly are these pieces of the puzzle changing the role of test and inspection?

Chips Don't Float

In Europe and the U.S., legislation is under way to revitalize PCB fabrication and packaging. What is the status of this work, and how specifically does this change the industry landscape for EMS companies? What will help keep us afloat?

Flying High With Digital Twin

The opportunity to use manufacturing simulation as a test bed for job planning and process optimization brings continuous improvement into the modern age. This may be an all-or-nothing type of project, but it's worth the investment.

Columns

Latest Columns

||| MENU
NEPCON China Showcases Latest Manufacturing Tech in Asia
April 22, 2015 | Real Time with... NEPCON China
Estimated reading time: 6 minutes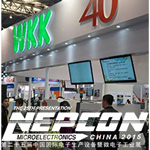 NEPCON China 2015 opened to great fanfare at the Shanghai World Expo Exhibition & Convention Center on 21 April. Considered Asia's biggest, most influential SMT and electronics manufacturing event, NEPCON China 2015 attracted over 450 leading brands from 22 countries, who are showcasing this week their latest electronics manufacturing technologies and products.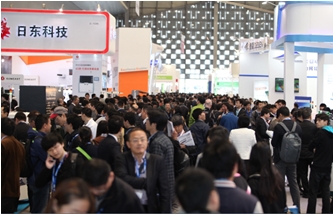 Covering the whole electronics manufacturing industry chain, NEPCON China 2015 serves traditional electronics manufacturing equipment and technologies, and is a key industry barometer that highlights the year's newest industry offerings. The range of side activities includes forums and seminars dealing with automotive electronics, new electronics materials, telecommunication electronics, smart wearable devices, smart factory, printing electronics and flexible electronics.
NEPCON China will also feature a ceremony celebrating the 30th anniversary of SMT's introduction to China.
Industry Leaders Impress Visitors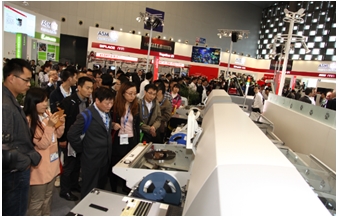 A successful event depends on major support by leading companies. The NEPCON China platform offers top products and technologies to buyers and industry professionals who are attracted to the core competitiveness behind them. The SMT zone, a major event highlight, features top companies like ASM, Europlacer, Fuji Machine, Mycronic, Panasonic, Samsung Techwin, Tokyo Juki, WKK and Yamaha.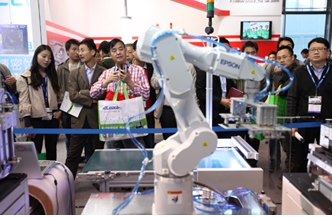 Exhibitors who focus on automation system integration serve as a key bridge between equipment providers and end users. These exhibitors demonstrate smart applications featuring electronics manufacturing automation and system integration. Unlike other automation equipment shows, NEPCON China is the only event in China to focus on end-use electronic equipment makers and electronics manufacturing equipment providers. The show is a business and procurement platform that helps local electronics makers move from simple manufacturing to smart factories.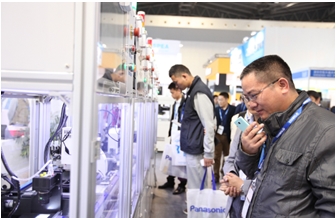 Apart from the exhibitors who have been coming to the event for many years, there were also a lot of new comers who joined NEPCON China 2015. First-time participants include Autoconn, Great Power, Muji, Tujiu Commerce and Robo Technik. These emerging players' offerings include industrial robotics, motion control, machine vision and sensing, system integration and automation, providing high-tech benefits to end users.
State-of-the-Art Products on Display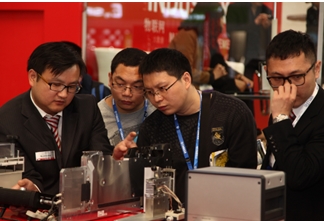 China has surpassed the US as the world's biggest SMT application user, but still lags behind in terms of cutting edge electronics manufacturing technologies. Chinese companies often struggle to cope with challenges posed by their foreign counterparts in the fields of new materials, processing and automation technologies.
Against the backdrop of the new economic norm in China and the global economic situation, NEPCON China 2015 features a comprehensive array of new products, meeting industry demand by fully covering electronics manufacturing and its related sectors. The event highlights the best of Chinese industry and gives a better understanding of the outlook for the global electronics manufacturing trade.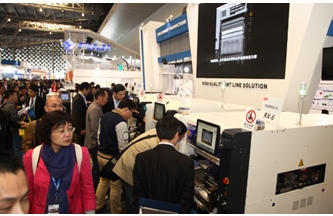 Panasonic demonstrated its NPM-W2 on Day 1 of the show, a device that features high productivity and precision. Intelligent Automation, maker of smart measurement equipment, demonstrated its ABS-10. Dongguan Sumida Automation featured its small-size porter robotics, which embodied the power of automation. Leading brand names like Viscom and Shimadzu also demonstrated automatic optics measurement equipment, one of the biggest highlights of the event.
Leading local and international brand names gave a good showing at NEPCON China 2015, contributing to huge optimism about China's booming electronics manufacturing industry. Visitors on the opening day were amazed by the many impressive demos of automation equipment, industrial robotics and much more.  
Page 1 of 2
---
Suggested Items
10/02/2023 | Gen3
Gen3, Global leader in SIR, CAF, Solderability, Ionic Contamination & process optimisation equipment, is pleased to announce the appointment of John Barraclough as the Head of Business Development.
10/02/2023 | KYZEN'
KYZEN, the global leader in innovative environmentally friendly cleaning chemistries, announced that Debbie Carboni, Global Product Line Manager - Electronics, will present as part of the Electric Vehicle (EV) panel during the IPC High Reliability Forum.
10/02/2023 | Mycronic AB
Mycronic AB has received the first order for upgrades of already installed display mask writers from gas laser to solid state laser from SK Electronics in Japan.
09/29/2023 | Dixon
Dixon wholly owned subsidiary- Padget Electronics Private Limited enters into an Agreement with Xiaomi to carry out manufacturing of smart phones and other related products for Xiaomi.
09/29/2023 | USPAE
In a major initiative to innovate how the Department of Defense (DoD) spurs commercial technology development, the U.S. Partnership for Assured Electronics (USPAE) and DoD launched a Defense Business Accelerator (DBX) to open doors for industrial base growth and stimulate private investment.