Books

Featured Books

smt007 Magazine

Latest Issues

Current Issue

Economic Headwinds

This issue takes stock of the current economic outlook and how companies are using current conditions to move themselves through technological evolutions, workforce shifts, and financial changes. Even with these headwinds, there's forward progress to be made.

Attracting New Talent

To get different results in staffing, you must change how you define, promote and recruit your job opportunities. How do you become magnetic to high-quality early-career candidates?

Test and Inspection

Test and inspection methods are undergoing rapid change. In this issue, we consider the influence of AOI, AI, and human eyes. How exactly are these pieces of the puzzle changing the role of test and inspection?

Columns

Latest Columns

||| MENU
Solder Jet Printing: Is It the Right Time?
May 11, 2015 | Barry Matties, I-Connect007
Estimated reading time: 9 minutes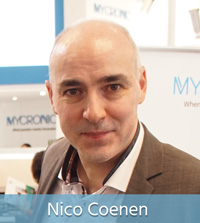 I stopped by the Mycronic booth at Nepcon China 2015 and spoke with Sales Director Nico Coenen. He updated me on the company's new solder jet printing system, a technology that Mycronic has been developing and pioneering for 10 years. The company now believes that now is the time for it to gain real traction. One thing is certain: solder jet printing certainly has advanced and could make a big difference in process and quality.
Barry Matties: Nico, what is Mycronic doing in jet printing?
Nico Coenen: Jet printing in general has been around a while in the industry, but we are unique in that we are pioneering solder-based jet printing. It's a very difficult media to jet.
I've been working for many dispense companies, so I know how challenging it is. Mycronic has developed a unique, patented technology to actually make this process quite mature. We've been running in production for about 10 years with this. We are starting to see some competition popping up, which is good, because that means there is more demand for the technology itself.
Matties: It validates what you're doing. What does your typical customer look like?
Coenen: Traditionally, the Mycronic customer would have small- to medium-batch sizes, a lot of changeovers during the day, and they would need a flexible production environment. I would say the first 300–350 systems typically went to these kinds of customers. There were a lot of military, aerospace, and medical customers.
However, we have recently seen a lot of interest from high-volume guys. Not to replace the screen printer, but to have an add-on tool. We have seen that doing fine pitch by itself is not the issue. Having fine pitch and larger components on the same board is where people get into more difficulties.
Typical mobile phone manufacturers have an add-on process where they do screen printing and then a dispense or jet process afterwards.
Matties: Is speed the roadblock for the volume customer?
Coenen: We have a speed issue for volume customers. Let's say a mobile phone today takes about 15 to 20 seconds, max. That's your cycle time. With a screen printer you can do that, no problem. For us, speed is dependent on board size and how many deposits we have to do, so there is quite a bit of variation.
Although we have cranked up the speed 50% from our previous model, we're still not in line with that kind of speed.
Matties: And that is where you need to be to compete with screen printing. Do you see a day when that might happen?
Coenen: Yes, there are people that really would like to have a stencil-free factory for a number of reasons.
Matties: If you go stencil-free you eliminate multiple steps to the process. Preparing the stencil, managing it, painting it—even ordering it.
Coenen: Yes. Basically we are software driven, so something like high-volume mobile phone manufacturing still will have some small variance. Some might have 32 memory, the other 64, and with a stencil, that is a physical change. With jet printing you can do any batch size, and then switch over to the other in seconds.
Matties: I take it your R&D team is focused on increasing speed and breaking the speed barrier? How many jets are in your printer currently?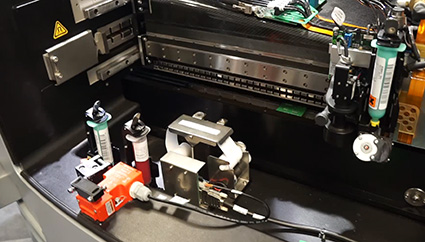 Coenen: Currently there is one jet. There are options to do four heads in one system, or to go for a modular system where you have up to five. That's all on the table. It looks like we're heading in that direction so that we can offer any capability or any speed, and that would bring us into a whole different league.
Matties: One of the common defects that I hear about is head-in-pillow. Is there an advantage to solving that through a jet system?
Coenen: One of the great benefits of the jet system is that we put down exactly the amount of solder per component because we can program it by piece, by single path, etc. All our initial customers more or less bought this for quality improvements for head-in-pillow and solder balling, which are typical problems you have in the screen printing process.
Matties: What is the most prevalent problem that you see in that process?
Coenen: There are a few. We mentioned head-in-pillow and solder balling; another is handling QFP devices. These are challenging components. Besides that, there are new kinds of problems where you have cavities in boards, flex ridges, and all kinds of different combinations, which make traditional screen printing more complicated. One of the big advantages is that we don't touch. We shoot from a distance, so we're less sensitive to height variations, and so on. Basically, the software can shoot here at this height, or follow by laser, topography, etc.
The system itself has a large opportunity window. We have identified that there is going to be a huge focus on this technology going forward, because there are so many demands on the current technology.
Matties: What do you think is the limit for screen printing? What's the deciding factor where they say screen just isn't what we can use any more?
Coenen: At a certain point, let's say, if your screen is only going to be maybe 50 microns, it would go to 03015. There's only a certain amount of thickness that you can put down, such as 50 microns of solder, and there is a limit on what type of component you can add to that. Again, it's a combination.
There are solutions like step stencils and so on, but again there are some design limitations as to where you can put small components, big components and so on.
Matties: What is the important thing that you think the market should know about this technology? What have we left out?Page 1 of 2
---
Suggested Items
11/30/2023 | AIM
AIM Solder, a leading global manufacturer of solder assembly materials for the electronics industry, is pleased to announce its new NC259FPA Ultrafine No Clean Solder Paste, which it revealed recently during the Productronica Germany trade show.
11/27/2023 | Real Time with...productronica
Koh Young's Harald Eppinger talks about the company's technology for the semiconductor and advanced packaging market and how they address the challenges introduced by reflective components and micro solder deposits.
11/27/2023 | HyRel
HyRel Technologies, a global provider of quick turn semiconductor modification solutions, announces the achievement of International Traffic in Arms Regulations (ITAR) registration.
11/24/2023 | Mek (Marantz Electronics)
Mek (Marantz Electronics), a leader in Automated Optical Inspection (AOI) solutions, used last weeks' Productronica show in Munich to proudly introduce the SpectorBOX X series, a modular full 3D AOI system for THT solder joints and THT components.
11/21/2023 | Pete Starkey, I-Connect007
Productronica 2023 played host to the IPC World Hand Soldering Competition, bringing talented regional solder champions from all over the globe to compete for the title of World Champion. Each competitor was given sixty minutes to assemble a complex printed circuit board with their performance judged in accordance with IPC-A-610 Class 3 criteria. Each competitor's efforts were rated on the merits of the results achieved, scored on the quality of the assembly process, the electrical functionality of the assembly and the speed at which the assembly was produced.