Books

Featured Books

smt007 Magazine

Latest Issues

Current Issue

Economic Headwinds

This issue takes stock of the current economic outlook and how companies are using current conditions to move themselves through technological evolutions, workforce shifts, and financial changes. Even with these headwinds, there's forward progress to be made.

Attracting New Talent

To get different results in staffing, you must change how you define, promote and recruit your job opportunities. How do you become magnetic to high-quality early-career candidates?

Test and Inspection

Test and inspection methods are undergoing rapid change. In this issue, we consider the influence of AOI, AI, and human eyes. How exactly are these pieces of the puzzle changing the role of test and inspection?

Columns

Latest Columns

||| MENU
A Look at Saki's Approach to 2D, 3D and X-ray Technology
May 20, 2015 | Barry Matties, I-Connect007
Estimated reading time: 10 minutes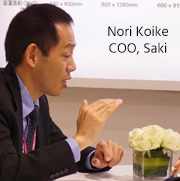 While attending NEPCON 2015, I had the chance to sit down at with Nori Koike, COO of Saki Japan, to discuss the latest demands for 3D and their approach to inspection. With more than 20 years of experience, they have built a line-up of tools that covers the inspection spectrum. Koike also stresses the importance of using inspection data as a tool to improve and automate the process.
Barry Matties: Nori, start by telling me a little bit about your company.
Nori Koike: SAKI was founded in 1994, so it has 21 years of history producing and developing inspection machines. We started with the 2D AOI, and then in 2007 we started the development of 3D AOI and also the X-ray. Right now we have a full lineup of 2D AOI, 3D AOI and AXI. Using the 3D AOI technology, we now have the 3D SPI as well. So starting from the printer, and after the printer and the reflow, we have a full lineup of any kind of inspection one would need.
Matties: It's a pretty competitive marketplace, isn't it?
Koike: Yes, it is. When we were founded in 1994, 2D AOI was kind of a bottleneck in the SMT line. What we did then was develop a line-scan technology, which had the benefit of higher speed. This was quite a success in the market. We grew rapidly after that. Gradually, the 2D AOI market itself is getting competitive. Right now you can see a lot of manufacturers doing 2D AOI. Based on that, six or seven years ago we started to develop more added-value inspection to cope with all the demands that were coming from our customers.
Matties: What sort of added value would you do?
Koike: Our customers were the first ones, about 10 years ago, who started thinking about the next solution for 2D AOI. The biggest issue was that they wanted it to be simpler. They wanted to reduce the number of engineers and reduce their programming. To cope with that, we needed to use some kind of simpler inspection. At the same time, they knew that parts were getting smaller and smaller, and it was definitely getting to the extent that it could not be seen by 2D AOI. We began to think about the height. We were one of the first to start the development of 3D AOI. Now we have a height measurement along with a 2D AOI technology.
We combined these two technologies and made a better inspection as well as an easier inspection, which added value. The X-ray is kind of the same concept, but you can see through, which means that it's more accurate, especially in the BGAs. Right now everyone is suffering with the head-in-pillow problem. To solve this, we offer X-ray inspection.
Matties: When customers use X-ray for this particular problem, what information do they learn that can be used to go back and fix their process? How do they correct the problem?
Koike: This problem isn't found in the manufacturing process. It's always found after they release the product. The failure comes back to their production, and then they analyze it and find that it's a head-in-pillow. Head-in-pillow is able to get through the inspection process at the end because it's electrically connected. But once you start using the product it starts coming apart, which is the biggest problem. So you need to prevent that from getting out of the factory.
Right now, our biggest selling point of the AXI is that we can find any kind of head-in-pillow defect. The difference in our technology is that we capture so many slices of image that we can create a complete 3D image of all solder joints. Therefore, our customers can be assured that we will never release the defect from the factory.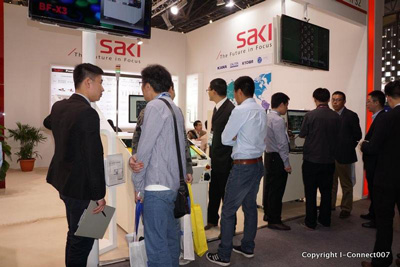 Matties: So they go through your process and it's error-free—guaranteed.
Koike: It's that simple.
Matties: With all the 3D units that you're doing, and 3D printing, and all the talk of 3D today, it seems like 3D is a really explosive market.
Koike: Yes, everyone is talking about 3D right now. We have a whole lineup of 2D AOI, 3D AOI, and X-ray, but the 3D AOI is the biggest emerging market that we have right now. In the old days, of course, 2D AOI was 100% of our sales. Right now, 3D AOI is about 30–40%, which is quite a bit of progress.
Matties: Where do you see the primary market for this?
Koike: The automotive customers especially are looking for this technology. From the start, of course, they look at both 2D and 3D, but at the end they go after the 3D AOI. When the automotive customers contact us, they always ask about 3D AOI.
Matties: So you're based in Japan with Toyota and the other car companies. How many have adopted your systems already?
Koike: From the 3D AOI technology point of view, many of these customers are still taking their time. Right now we have about five customers that have installed our 3D AOI, but no more than that.
Matties: Why are they so conservative?
Koike: It's because of efficiency. Most are still not certain about this brand of the technology. It's still a new technology and people need to fully understand it before starting to use it.
Matties: What period of time do you think they need, or is it really when all their competitors take it that they'll say, "Yes! That's what we want."
Koike: I think it will take another two or three years. As I said, the first installment is beginning, and they will know the result within another year or two. Then the rumor will start going around and they will really start to change their machines.
Matties: How is the Japanese market overall?
Koike: It's getting better because of the currency issue and the competitiveness that Japan didn't have in the past. Right now, they are starting to move production back to Japan in the very high-end product. That's a good sign for Japan. However, the downside is that our customer base is not only in Japan; only 20–30% of our customers are based in Japan. When we started 20 years ago, our customers were already globally based with Chinese, European, and American customers. Japan is, of course, one of our important markets, but that's not our only market now.
Matties: How do you service or sell your units in North America or in Europe?
Koike: We have a direct network, but we also cooperate with our distributors. Of course, our relationship with our distributors is very strong, but still, customers rely on direct support sometimes, so we prepare our support in every continent and we cover many parts.
Matties: I know some manufacturers require service contracts when they sell their equipment. Is that a requirement with your equipment as well?Page 1 of 2
---
Suggested Items
12/08/2023 | Indium Corporation
Indium Corporation Senior Area Technical Manager for East China Leo Hu is scheduled to deliver a presentation on the application of new soldering thermal interface materials (TIMs) in advanced packaging at SiP China Conference 2023 on December 13 in Shanghai.
12/08/2023 | Hentec Industries/RPS Automation
Hentec Industries/RPS Automation, a leading manufacturer of selective soldering, lead tinning and solderability test equipment, is pleased to announce that Agility Manufacturing Inc. has finalized the purchase of their second Hentec/RPS Vector 460 selective soldering system.
12/06/2023 | Indium Corporation
Indium Corporation is proud to announce the addition of Sales Engineer Meik Fratzel to its European team.
12/04/2023 | Transition Automation
Transition Automation, Inc. recently received a large order for Advanced Holder and Blade Assemblies compatible with DEK printers from Rotec BV in Belgium.
11/30/2023 | AIM
AIM Solder, a leading global manufacturer of solder assembly materials for the electronics industry, is pleased to announce its new NC259FPA Ultrafine No Clean Solder Paste, which it revealed recently during the Productronica Germany trade show.