Books

Featured Books

smt007 Magazine

Latest Issues

Current Issue

Test and Inspection

Test and inspection methods are undergoing rapid change. In this issue, we consider the influence of AOI, AI, and human eyes. How exactly are these pieces of the puzzle changing the role of test and inspection?

Chips Don't Float

In Europe and the U.S., legislation is under way to revitalize PCB fabrication and packaging. What is the status of this work, and how specifically does this change the industry landscape for EMS companies? What will help keep us afloat?

Flying High With Digital Twin

The opportunity to use manufacturing simulation as a test bed for job planning and process optimization brings continuous improvement into the modern age. This may be an all-or-nothing type of project, but it's worth the investment.

Columns

Latest Columns

||| MENU
Engineered Materials Systems Debuts New Conductive Adhesive
June 1, 2015 | Engineered Materials Systems
Estimated reading time: Less than a minute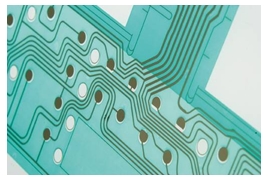 Engineered Materials Systems, a leading global supplier of conductive interconnect materials for circuit assembly applications, announces the introduction of its new EMS 618-15 Adhesive. The room temperature cure two-part conductive adhesive has been designed for circuit assembly applications.
EMS 618-15 is designed to cure in 24-hours at room temperature or rapidly at elevated temperatures. The material has a ten-to-one mix ratio and is available in a two syringe packaging system designed for use with static mix heads. EMS 618-15 forms high strength, high reliability conductive interconnects.
The EMS 618-15 conductive adhesive is the latest addition to Engineered Conductive Materials' full line of conductive adhesives for circuit assembly applications.
For more information about the EMS 618-15 Room Temperature Cure Conductive Adhesive or to learn how Engineered Material Systems can define, develop and create an engineered material solution that is right for your company, visit www.emsadhesives.com.
About Engineered Material Systems
Engineered Materials Systems, Inc. (EMS) technology focus is on electronic materials for semiconductor, circuit assembly, photovoltaic, printer head, camera module, disk drive and photonics assembly product lines. The company creates continual improvements that will guide its customers into the future. For more information, visit www.emsadhesives.com.
---
Suggested Items
09/29/2023 | Indium Corporation
Indium Corporation Regional Product Manager Wisdom Qu will present at the SMTA China South Technical Conference, held in conjunction with NEPCON Asia, on October 11 in Shenzhen, China.
09/28/2023 | Nolan Johnson, I-Connect007
The practical question around CHIPS Act development and electronics assembly is, "Will this change how we do business?" Indium Corporation's Dr. Andy Mackie sat down with Nolan Johnson to share what he sees as emerging answers to that question from his perspective as an expert in electronics assembly and packaging, and as a participant in standards development through IPC, JEDEC, and SEMI.
09/28/2023 | ZESTRON
ZESTRON is happy to announce that Senior Application Engineer, Ravi Parthasarathy, will be presenting "Revolutionizing PCB Assembly Cleaning:
09/28/2023 | IPC
IPC continues to collaborate with the electronics manufacturing industry to meet their current and future workforce training needs.
09/19/2023 | Andy Shaughnessy, Design007
Rigid-flex assembly brings its own set of issues, but designers can do quite a bit to make things easier on their downstream brethren. We asked IPC instructor Kris Moyer to give us the lowdown on DFA for rigid-flex circuitry.