Books

Featured Books

smt007 Magazine

Latest Issues

Current Issue

Attracting New Talent

To get different results in staffing, you must change how you define, promote and recruit your job opportunities. How do you become magnetic to high-quality early-career candidates?

Test and Inspection

Test and inspection methods are undergoing rapid change. In this issue, we consider the influence of AOI, AI, and human eyes. How exactly are these pieces of the puzzle changing the role of test and inspection?

Chips Don't Float

In Europe and the U.S., legislation is under way to revitalize PCB fabrication and packaging. What is the status of this work, and how specifically does this change the industry landscape for EMS companies? What will help keep us afloat?

Columns

Latest Columns

||| MENU
USI de Mexico S. A. de C.V. Selects VERSAFLOW 3/66 Dual Track
June 3, 2015 | Kurtz Ersa North America
Estimated reading time: 1 minute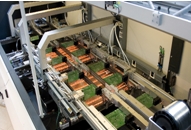 Kurtz Ersa North America, a leading supplier of electronics production equipment, announces that it recently sold a new VERSAFLOW 3/66 selective soldering machine to Universal Scientific Industrial de Mexico (USI) S. A. de C.V. The system was installed and is in use at USI's plant in Jalisco, Mexico.
USI purchased a dual conveyor unit with two fluxers and segmented top and bottom preheaters. Additionally, it has two solder modules and a total of four solder pots within the machine.  Enrique Diaz, Industrial Manager, stated, "We chose ERSA because they are the only supplier in the market that offers dual conveyors. In addition to our excellent relationship with the ERSA team, they offer low maintenance costs, high performance and high quality yields close to 100 percent."
The VERSAFLOW 3/66 is the world's leading platform for selective soldering.  The proven third generation technology offers the highest flexibility and highest volume throughput for PCBs sized up to 24" x 24".  The use of high-precision servo gantry systems, electromagnetic pumping systems, dual solder pot capability, top- and bottom-side preheating capability, and modularity make ERSA the leader in selective soldering.
For more information about Universal Scientific Industrial de Mexico (USI) S. A. de C.V., visit www.usi.com.tw.
For more information about Kurtz Ersa North America, visit www.ersa.com.
---
Suggested Items
11/30/2023 | AIM
AIM Solder, a leading global manufacturer of solder assembly materials for the electronics industry, is pleased to announce its new NC259FPA Ultrafine No Clean Solder Paste, which it revealed recently during the Productronica Germany trade show.
11/27/2023 | Real Time with...productronica
Koh Young's Harald Eppinger talks about the company's technology for the semiconductor and advanced packaging market and how they address the challenges introduced by reflective components and micro solder deposits.
11/27/2023 | HyRel
HyRel Technologies, a global provider of quick turn semiconductor modification solutions, announces the achievement of International Traffic in Arms Regulations (ITAR) registration.
11/24/2023 | Mek (Marantz Electronics)
Mek (Marantz Electronics), a leader in Automated Optical Inspection (AOI) solutions, used last weeks' Productronica show in Munich to proudly introduce the SpectorBOX X series, a modular full 3D AOI system for THT solder joints and THT components.
11/21/2023 | Pete Starkey, I-Connect007
Productronica 2023 played host to the IPC World Hand Soldering Competition, bringing talented regional solder champions from all over the globe to compete for the title of World Champion. Each competitor was given sixty minutes to assemble a complex printed circuit board with their performance judged in accordance with IPC-A-610 Class 3 criteria. Each competitor's efforts were rated on the merits of the results achieved, scored on the quality of the assembly process, the electrical functionality of the assembly and the speed at which the assembly was produced.