Books

Featured Books

smt007 Magazine

Latest Issues

Current Issue

Chips Don't Float

In Europe and the U.S., legislation is under way to revitalize PCB fabrication and packaging. What is the status of this work, and how specifically does this change the industry landscape for EMS companies? What will help keep us afloat?

Flying High With Digital Twin

The opportunity to use manufacturing simulation as a test bed for job planning and process optimization brings continuous improvement into the modern age. This may be an all-or-nothing type of project, but it's worth the investment.

Artificial Intelligence

In this issue, we (and AI) explored how and when artificial intelligence plays a role in manufacturing today. Whether on the factory floor, or in the front office, AI applications are emerging and changing how we approach planning, processes and problem solving.

Columns

Latest Columns

||| MENU
Mouser Expands to Japan with Local Customer Service Center
June 4, 2015 | Business Wire
Estimated reading time: 3 minutes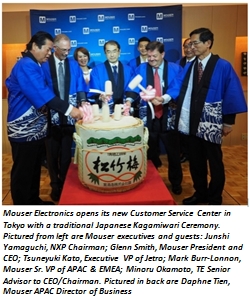 Mouser Electronics, Inc., the global authorized distributor with the newest semiconductors and electronic components, today announced the opening of a Japan Customer Service Center, located in Tokyo. Mouser will provide customer service and local technical support as it establishes a deeper collaboration with its local manufacturer partners. Mouser now has 21 offices worldwide, with eight locations in Asia Pacific.
Mouser views Japan as a strong market for innovative technologies, and the significant growth of design engineers and small- to medium-sized production business fits perfectly with Mouser's model. The global distributor has been offering services to customers in Japan through its comprehensive website at Mouser.com, and through its other offices across Asia. It is prepared to strengthen its brand and presence in this key market.
"In Japan, our business grew 36% last year, and our customer base grew 23%," stated Mr. Glenn Smith, Mouser Electronics' President and CEO. "Japan has always been a pioneer in robotics and automotive technologies, and we look forward to being able to serve engineers in Japan with the world's newest semiconductors and electronic components from our vast lineup of the world's leading manufacturers. We will provide one-stop shopping with a fast delivery time of about three days."
"Unlike many distributors that focus on volume, Mouser focuses on new technology and new design," stated Mr. Smith. "As volume production shifts to China, Japan has seen increasing numbers of design engineers with innovation-driven projects. Small- to medium-production quantities and leading-edge designs are becoming the core of Japan's electronics market, and it is important for us to have a local presence here in Japan."
Mouser stocks the newest semiconductors and electronic components authorized by more than 500 brands, including the leading Japanese manufacturers Murata, Panasonic, Toshiba, Taiyo Yuden, TDK, ROHM, OMRON, and the top global brands like Intel, Texas Instruments, Analog Devices, Altera, NXP, On Semiconductor and more. "When it comes to new technologies, new products and faster time to market, we want customers to think Mouser," said Mr. Smith. "We also are seeking to establish closer cooperation with Japanese brands to penetrate their products into more designs globally via our platform."
Mouser has seen solid customer growth in Japan with customers purchasing online through its website, Mouser.com. An incredible annual growth year-on-year validates the need for a local office in the region. The new office will better support existing customers while at the same time enhancing Mouser's overall marketing efforts to serve new customers in the area.
With its broad product line and unsurpassed customer service, Mouser caters to design engineers and buyers by delivering What's Next in advanced technologies. Mouser offers customers 21 global support locations and stocks the world's widest selection of the latest semiconductors and electronic components for the newest design projects. Mouser Electronics' website is updated daily and searches more than 10 million products to locate over 4 million orderable part numbers available for easy online purchase. Mouser.com also houses an industry-first interactive catalog, data sheets, supplier-specific reference designs, application notes, technical design information, and engineering tools.

About Mouser Electronics
Mouser Electronics, a subsidiary of TTI, Inc., is part of Warren Buffett's Berkshire Hathaway family of companies. Mouser is an award-winning, authorized semiconductor and electronic component distributor, focused on the rapid introduction of new products and technologies to electronic design engineers and buyers. Mouser.com features more than 4 million products online from more than 500 manufacturers. Mouser publishes multiple catalogs per year providing designers with up-to-date data on the components now available for the next generation of electronic devices. Mouser ships globally to over 500,000 customers in 170 countries from its 492,000 sq. ft. state-of-the-art facility south of Dallas, Texas. For more information, visit http://www.mouser.com.
---
Suggested Items
09/29/2023 | Dixon
Dixon wholly owned subsidiary- Padget Electronics Private Limited enters into an Agreement with Xiaomi to carry out manufacturing of smart phones and other related products for Xiaomi.
09/29/2023 | USPAE
In a major initiative to innovate how the Department of Defense (DoD) spurs commercial technology development, the U.S. Partnership for Assured Electronics (USPAE) and DoD launched a Defense Business Accelerator (DBX) to open doors for industrial base growth and stimulate private investment.
09/28/2023 | KYZEN'
KYZEN, the global leader in innovative environmentally friendly cleaning chemistries, is proud to announce that it is sponsoring the Women's Leadership Program Connection Reception to be held at SMTA International.
09/28/2023 | Nolan Johnson, I-Connect007
The practical question around CHIPS Act development and electronics assembly is, "Will this change how we do business?" Indium Corporation's Dr. Andy Mackie sat down with Nolan Johnson to share what he sees as emerging answers to that question from his perspective as an expert in electronics assembly and packaging, and as a participant in standards development through IPC, JEDEC, and SEMI.
09/28/2023 | ZESTRON
ZESTRON is happy to announce that Senior Application Engineer, Ravi Parthasarathy, will be presenting "Revolutionizing PCB Assembly Cleaning: