Books

Featured Books

smt007 Magazine

Latest Issues

Current Issue

Chips Don't Float

In Europe and the U.S., legislation is under way to revitalize PCB fabrication and packaging. What is the status of this work, and how specifically does this change the industry landscape for EMS companies? What will help keep us afloat?

Flying High With Digital Twin

The opportunity to use manufacturing simulation as a test bed for job planning and process optimization brings continuous improvement into the modern age. This may be an all-or-nothing type of project, but it's worth the investment.

Artificial Intelligence

In this issue, we (and AI) explored how and when artificial intelligence plays a role in manufacturing today. Whether on the factory floor, or in the front office, AI applications are emerging and changing how we approach planning, processes and problem solving.

Columns

Latest Columns

||| MENU
Indium Launches Newly-patented BiAgX Solder Paste Technology
June 25, 2015 | Indium Corporation
Estimated reading time: 1 minute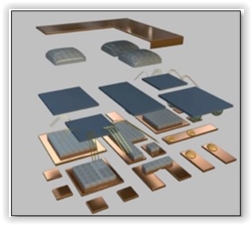 Indium Corporation's newly-patented BiAgX solder paste technology is the only low-cost, lead-free replacement solder paste that is customer-proven to survive JEDEC/IPC J-STD-020  MSL1 preconditioning in specific devices without delamination.
BiAgX is a high-melting, lead-free (Pb-free) solder paste technology that serves as a drop-in replacement for the high-Pb solder pastes used in many high-reliability die-attach and electronics assembly applications.
BiAgX survives junction temperatures and high-temperature environments in excess of 175 °C, with minimal degradation of the mechanical structure and joint strength.
Environmental and legislative concerns are driving consumers away from products using solders that contain lead, including solders used in die-attach applications for analog semiconductor assembly. Customers have proven that BiAgX addresses these applications in a Pb-Free configuration.
"Our U.S. Patent has been approved. This and the other global patent applications ensure that BiAgX is the only low-cost solder solution for those ODM, OSAT, and other electronics assembly customers looking to replace high-lead containing solders," said Indium Corporation's Andy C. Mackie, PhD, MSc, Senior Product Manager for Semiconductor and Advanced Assembly Materials.
BiAgX is suited for small, low-voltage QFN packages that are used in portable electronics (smartphones/tablets), automotive electronics, and industrial applications. It requires minimal process adjustments and no capital expenditures for customers converting from a standard high Pb-containing solder paste-based process. It is both Pb-free and Sb-free (antimony-free) and does not contain costly specialty materials, such as nanosilver or sintering aids.
BiAgX reflows, solders, wets, and solidifies just like any other solder paste, and is available in both dispense and printing forms. Flux residues are easily cleanable with standard cleaning chemistries and processes.
For more information about BiAgX, including technical papers and other technical information, visit www.indium.com/BiAgX.   
About Indium Corporation
Indium Corporation is a premier materials manufacturer and supplier to the global electronics, semiconductor, solar, thin-film, and thermal management markets. Products include solders and fluxes; brazes; thermal interface materials; sputtering targets; indium, gallium, germanium, and tin metals and inorganic compounds; and NanoFoil®. Founded in 1934, Indium has global technical support and factories located in China, Malaysia, Singapore, South Korea, the United Kingdom, and the USA.
---
Suggested Items
09/21/2023 | Thermaltronics USA, Inc.
Thermaltronics USA, Inc., a globally acclaimed manufacturer of Precision Soldering Robots and innovative Curie point soldering systems, is excited to announce its participation in the highly anticipated SMTA Guadalajara Expo & Tech Forum, scheduled to take place from October 25-26, 2023.
09/20/2023 | ULT AG
At this year's productronica, the world's leading trade show for electronics manufacturing, ULT will present a brand new extraction solution for solder fumes and vapor.
09/20/2023 | Hentec Industries/RPS Automation
Hentec Industries/RPS Automation, a leading manufacturer of selective soldering, component lead tinning and solderability test equipment, announces that it has added assembly and production staff members to its team to accommodate its recent increase in sales and order demand.
09/19/2023 | SMTA
SMTA is honored to announce Qais Qasaimeh, a graduate student at Auburn University, has been selected as the winner of the 2023 Charles Hutchins Educational Grant.
09/14/2023 | SHENMAO
SHENMAO America, Inc. is proud to introduce its latest innovation in response to the growing demand for ultra-thin packages in the electronics industry.