Books

Featured Books

smt007 Magazine

Latest Issues

Current Issue

Economic Headwinds

This issue takes stock of the current economic outlook and how companies are using current conditions to move themselves through technological evolutions, workforce shifts, and financial changes. Even with these headwinds, there's forward progress to be made.

Attracting New Talent

To get different results in staffing, you must change how you define, promote and recruit your job opportunities. How do you become magnetic to high-quality early-career candidates?

Test and Inspection

Test and inspection methods are undergoing rapid change. In this issue, we consider the influence of AOI, AI, and human eyes. How exactly are these pieces of the puzzle changing the role of test and inspection?

Columns

Latest Columns

||| MENU
Manncorp Installs SMT Assembly Line in Guadalajara
June 30, 2015 | Manncorp
Estimated reading time: 1 minute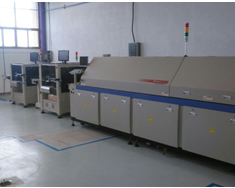 Manncorp, a U.S.-based supplier of PCB assembly equipment, has installed an SMT assembly line for Continental Automotive as part of a rapid prototyping laboratory at the Instituto Tecnológico Superior de Zapopan (ITSZ) in Guadalajara.
Continental Automotive Guadalajara México, S.A. de C.V., part of German-based Continental Corporation partnered with the ITSZ campus to extend its innovation and development activities. The new production line from Manncorp is key to developing the products that come out of this partnership. The line includes two MC-385V1V pick and place machines, an PB2300 stencil printer, and a CR-6000 reflow oven.
Flexibility and fast job changes are key to this line. Manncorp's high-precision MC-385V1V pick and place machines feature a high feeder capacity (128 slots each) and the ability to place a wide range of SMDs, from 01005 chip components to BGAs and 15 mil ultra-fine-pitch devices up to 150 x 150 mm. The PB2300 stencil printer offers quick stencil changes and tool-less squeegee changes for quick changeovers while providing excellent repeatability and print results. The CR-6000, one of Manncorp's best-selling reflow ovens, is a full-convection, lead-free oven with a footprint smaller than you'd expect for its capability. It comes standard with a pin conveyor installed over a mesh belt, maximizing its flexibility on the production line.
Sabino De La O, Sales and Technical Support Manager for Manncorp's Juarez, Mexico office, installed the equipment at the ITSZ campus and was present when the National Director of the Institute visited for a demonstration of the new line. An open house will be held in early July, during which Aristóteles Sandoval, Governor of the State of Jalisco, will tour the institute and the new production line.
About Manncorp
For nearly five decades, Manncorp has supplied electronics manufacturers with the world's best values in PCB assembly equipment, direct to the customer, at the industry's most competitive prices, and with full service and support.  Offices in three locations: East (Huntingdon Valley, PA), West (San Diego, CA) and Mexico.  
---
Suggested Items
11/30/2023 | Chris Young, Young Engineering Services
There are many ways, dozens to be sure, and most likely many more, to streamline a PCB design. My goal here is to pick a single-digit number of rules to abide by, that can be reasonably adhered to, and provide some bang for the buck. These rules are meant to reduce design scope creep, avoid PCB respins, and improve production yields.
11/30/2023 | Hirose
Hirose has expanded its low-profile DF51K wire-to-board connector series to include a surface mount technology (SMT) version. Compatible with automated assembly processes, including pick-and-place machines, the DF51K SMT Series simplifies the assembly process and saves significant manufacturing time and cost. 
11/21/2023 | Pete Starkey, I-Connect007
Productronica 2023 played host to the IPC World Hand Soldering Competition, bringing talented regional solder champions from all over the globe to compete for the title of World Champion. Each competitor was given sixty minutes to assemble a complex printed circuit board with their performance judged in accordance with IPC-A-610 Class 3 criteria. Each competitor's efforts were rated on the merits of the results achieved, scored on the quality of the assembly process, the electrical functionality of the assembly and the speed at which the assembly was produced.
11/16/2023 | CIL
In early November 2023, CIL completed the installation of its first volume SMT PCBA assembly line at its BP2 Semiconductor packaging facility
11/15/2023 | PIT Equipment
PIT – Equipment Services, LLC is pleased to announce Don Dennison, founder and CEO of PIT Equipment Services, has been honored with the prestigious 2023 GLOBAL Technology Award in the category of Best Manufacturers Representative - USA. The award ceremony took place during productronica in Munich on November 14, 2023.