Books

Featured Books

pcb007 Magazine

Latest Issues

Current Issue

Finding Ultra

New demands on PCB fabrication, namely advanced packaging, ultra high density interconnect (UHDI), and new specialty materials, are converging, changing the landscape of our business. Is it time to start paying close attention to this convergence?

Developing a Strategy

A solid strategy is a critical part of success. This month, we asked some of the top industry leaders and business strategy "gurus" to share their thoughts on developing strategies.

Winning With TQM

In this issue, we explore how TQM has entered the DNA of continuous improvement disciplines, and the role leadership transformation plays in this. If you've ever competed against a TQM company, you understand their winning advantage.

Columns

Latest Columns

||| MENU
EIPC Summer Conference, Berlin: Day 1
July 1, 2015 | Pete Starkey, I-Connect007
Estimated reading time: 16 minutes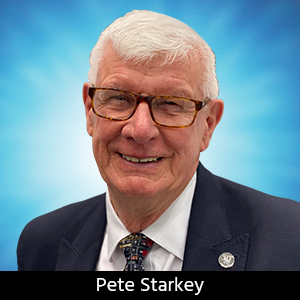 Berlin, capital of Germany and a world city of culture, politics, media and science, was the venue for the 2015 EIPC Summer Conference, which attracted delegates from sixteen countries, including Russia, Hong Kong, Japan, Israel, USA and Canada, as well as the European Union, to experience a programme of 21 technical presentations over two days. Also included was a visit to the Berlin laboratories of Fraunhofer Institute, Europe's largest application-oriented research organisation.
EIPC Chairman Alun Morgan extended a warm welcome to delegates, but was sad to report the passing of Brian Haken, whose name had been synonymous with the foundation and direction of UK and European printed circuit trade associations for many years.
Morgan followed his opening remarks with a keynote market overview and business outlook for the global electronics industry, presented on behalf of industry analyst and EIPC board member Walt Custer.
Custer, noted for the alacrity of delivery of his statistics and trend lines, has a worthy deputy in Morgan. A mesmerising blur of information of the highest calibre, delivered at Custer-pace-plus!
Market Overview Highlights
Global and Eurozone purchasing managers' indices remained marginally on the side of growth, and world electronic equipment revenues were showing year-on-year revenue growth of about 1.7%, with a similar trend in Europe. Of a world PCB sales total of $60 billion, Europe represented about 4% and North America 5%.
With acknowledgement to Michael Gasch for source material, Morgan reported that the European PCB industry had an acceptable year in 2014 though with only about 0.7% growth, and this was counter-balanced by losses due to the closure of some manufacturers, and stagnation in overall volume was seen as a consequence of ongoing transfer of high-volume business to Asia. A group of five countries (Austria, Switzerland, Germany, France and UK) accounted for almost 80% of total European production volume. The automotive industry was sourcing only innovative products in Europe, more than 90% of its needs coming from outside Europe, and the increasing share of electronics per vehicle did not result in higher revenues for the PCB industry. In fact, there had been a net decline since 2010. The European production value of the highly competitive consumer, communication, and computer industry market sectors had dropped by more than a third since 2010 and supplies of PCBs for industrial electronics had declined year-on-year by1.4%. The UK and France remained very active in supplying the defence, aeronautic and space industries, which had achieved strong growth in sales. The total number of manufacturers declined again in 2014, and in most cases the companies going out of business had been small, whilst others had joined larger groups to secure their survival. The manufacture of standard technology PCBs was falling at a slower rate than expected, and HDI, flex and flex-rigid had shown substantial growth.
Custer's World PCB model forecast 2.5% growth for the current year, and leading indicators suggested 1% growth in Europe.
Having concluded the market overview, Morgan called forward EIPC board member Oldrich Simek of Pragoboard (Czech Republic) and presented him with a plaque acknowledging his enormous contribution over many years and bestowing upon him Honorary Fellowship of the Institute.
Technical Sessions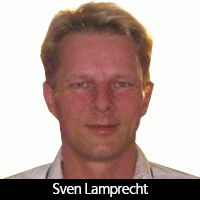 'New Technology' was the theme for the first technical session, which began with a presentation from Sven Lamprecht, director for technology and market assessment in the Electronics Division of Atotech Deutschland, entitled "Smart manufacturing systems pave the way for embedded technologies." He considered the implications of the "More Moore" and "More than Moore" extensions of Moore's Law in terms of the challenges they presented in the manufacture of package substrates. Over the coming five years, microvia diameters were forecast to trend to 20 microns, solder resist openings to 30 microns, and lines and spaces to three microns. Two major issues were the warpage and modulus of organic-based substrate materials, and glass was seen as a potential solution. Two major research groups were working on glass-based developments, Georgia-Tech Package Research Centre and Fraunhofer-Corning, and the first glass-core demonstrators had been produced, although there were still concerns about the effects of thickness and height variation on yield. "PowerPoint Engineering" did not accurately reflect the realities of surface topography on manufacturing yields. An alternative manufacturing proposition was to embed conductor features into the substrate, by direct laser structuring and panel plating without photoresist. The Laser-Embedded-Conductor Substrate had already been demonstrated. Lamprecht considered that many solutions to tomorrow's challenges could be entirely new and disruptive, rather than modifications to existing methods.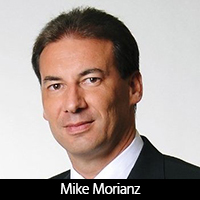 Mike Morianz, manager of technology and innovation in advanced packaging at AT&S in Austria, announced that embedded power electronics was on the way to be launched in serial production. Embedded components had a long history in AT&S, and the HERMES project, which ran from 2008–2011 had involved the whole supply chain in developing a technology for embedding active and passive components in PCBs, allowing more functional integration and higher density. The technology was based on established PCB manufacturing and assembly procedures and standard available silicon dies.
A major project currently in progress was EmPower, which aimed at developing an innovative packaging concept for the drive electronics of engines in electric vehicles, where the power components—IGBTs, MOSFETs and diodes—were embedded as thinned chips into glass-reinforced epoxy-resin multilayer builds to enable large-area interconnections and form conductor structures with the lowest possible electrical impedance and optimum heat removal by embedding the power semiconductors in a module offering heat removal by the shortest possible heat conduction paths. The EmPower consortium had benchmarked reference designs against existing packaging solutions and were carrying out thermo-mechanical simulation and reliability testing, and a 500-Watt test vehicle was proposed as the second demonstrator on their power roadmap where a longer-term target was a 50kW DC to AC converter.
The EmPower project set out to develop processes to enable a large manufacturing organisation to produce boards with embedded devices in high-volume production. But what scope was there for the smaller PCB fabricator to become engaged in embedded technology? François Lechleiter from Cimulec Group in France gave a presentation on the development and validation of PCBs with embedded passive components for low-volume, high-end applications. He outlined the Euripides "Board-On-Board Technology" project, which aimed at achieving increased density by embedding 0402 de-coupling resistors and capacitors in high Tg glass-epoxy substrates using the capabilities of a small PCB fabrication shop. Reliability was required to be to the long-term, harsh-environment standards demanded by civil avionics and telecommunications applications, and repairability was a further requirement. There were nine partners in the project, with a strong interaction between PCB fabricators, OEMs and EMS companies. The focus of this work package was the development of the PCB core containing the embedded passives. First step was to place the components on a carrier substrate, then create the core with this carrier and components, and build a rigid multilayer structure on it, resulting in a 10-layer multilayer with embedded 0402 components sandwiched between layers 5 and 6. Co-development between manufacturer and OEM had enabled robust design-for-manufacture rules to be established. Standard off-the-shelf passive chips with copper terminations were used, and interconnections between chips and copper tracks were made by laser drilling and copper plating. This basic structure gave the opportunity to optimise most of the critical procedures involved in the embedding operation, particularly in the complete filling around the components with resin, without voids or cracks. Initial reliability assessments on test vehicles had given good results, and long term tests were ongoing. The project was currently at the stage of final demonstrator manufacture, most of technical development work had been completed and here was an optimistic expectation that the embedding technology would fulfil the OEM requirements.
Whenever new technologies are developed, standardisation is needed to support development and industrial progress. Walter Huck, general manager of quality and environment at Murata Electronics Europe gave an update with reference to IEC and made a convincing argument for involving standards organisations at the earliest stage of the project. He commented that international standards bodies, national bodies, consortia and private bodies coexisted but rarely cooperated, and that standardisation organisations were not really integrated. When innovation involved the development of complex new system technologies, embedding technology being a prime example, long-term cooperation of the various industries, standardisation bodies and interest groups was required, along the whole value chain and aligned with technology roadmaps. And a strategic approach was necessary if the innovation was to become a market success, with standardisation as one of the priorities.
Huck described the approach taken by the IEC TC 91 Assembly Technology committee, and the standardisation strategy adopted by JISSO, from technology roadmap, through standardisation roadmap and publication plan, to the work programmes of the cooperating committees, resulting in the IEC 62878 Device Embedded Substrate series, four parts of which were already published, two were at draft stage, and a new generic specification was in preparation.
But what of embedding for high-power applications? No safety standards were yet in existence, and it could take several years to generate them. "If you want the technology available to the mass market in 2020, you've got to start developing standards and test methods now!"
Theme for the second technical session was the status of inkjet in PCB fabrication, with presentations from three industry experts and this author as moderator.
Being cost-effective with imaging technology was the subject of the presentation by Gregory Stoeckli, managing director of First EIE in Switzerland. "What do European PCB shops look for when investing in manufacturing equipment?" he asked, and with amusing but meaningful illustrations, he demonstrated how perception, awareness and intuitive understanding varied depending on people's positions and points of view, those of the managing director and the production manager being typically contrasting examples. He clarified the difference between efficient and effective, stressed the importance of flexibility, and observed that the most effective solution need not be the most expensive. In the case of PCB fabrication, the typical SME was looking to produce complex PCBs as quickly and cost-effectively as possible, and was always eager to increase his margin without raising his price, by working more effectively and flexibly and maximising his yield. First EIE's background was in film imaging and they had been in the business of developing and supplying photoplotters for over three decades. They had produced their first inkjet legend printer in 2002 and were now in their third generation of drop-on-demand equipment. Their emphasis was on flexibility, simplicity in operation and low-cost maintenance, and at 80% duty cycle their equipment could print 60 panels per hour at 600 dpi resolution with on-the-fly UV curing and a power consumption of only 400 watts. "Don't believe all you read on data sheets!" was Stoeckli's advice when making equipment choices.
Page 1 of 3
---
Suggested Items
10/03/2023 | Indium Corporation
Indium Corporation, an international electronics materials refiner, smelter, manufacturer, and supplier, is proud to announce the acquisition of SAFI-Tech, a metal microcapsule technology innovator specializing in supercooling technology.
10/02/2023 | Indium Corporation
Indium Corporation Regional Product Manager Wisdom Qu will present at the iNEMI Workshop on Automotive Electronics on October 13, in Shenzhen, China.
09/29/2023 | Indium Corporation
Indium Corporation Regional Product Manager Wisdom Qu will present at the SMTA China South Technical Conference, held in conjunction with NEPCON Asia, on October 11 in Shenzhen, China.
09/28/2023 | Nolan Johnson, I-Connect007
The practical question around CHIPS Act development and electronics assembly is, "Will this change how we do business?" Indium Corporation's Dr. Andy Mackie sat down with Nolan Johnson to share what he sees as emerging answers to that question from his perspective as an expert in electronics assembly and packaging, and as a participant in standards development through IPC, JEDEC, and SEMI.
09/27/2023 | Nihon Superior Co. Ltd.
Nihon Superior Co. Ltd. is pleased to announce that Keith Sweatman, the company's Senior Technical Advisor, will deliver a presentation titled "A Path to Ductile Low-Temperature Solders for Mass Production of Electronic Assemblies" at the upcoming SMTA International conference and exposition.