Books

Featured Books

smt007 Magazine

Latest Issues

Current Issue

Economic Headwinds

This issue takes stock of the current economic outlook and how companies are using current conditions to move themselves through technological evolutions, workforce shifts, and financial changes. Even with these headwinds, there's forward progress to be made.

Attracting New Talent

To get different results in staffing, you must change how you define, promote and recruit your job opportunities. How do you become magnetic to high-quality early-career candidates?

Test and Inspection

Test and inspection methods are undergoing rapid change. In this issue, we consider the influence of AOI, AI, and human eyes. How exactly are these pieces of the puzzle changing the role of test and inspection?

Columns

Latest Columns

||| MENU
Seika Machinery Now Carries MALCOM RDT-250C Reflow Simulator
July 7, 2015 | Seika Machinery, Inc.
Estimated reading time: 1 minute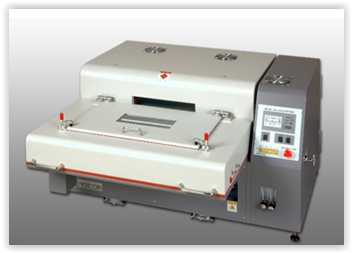 Seika Machinery, Inc., a leading provider of advanced machinery, materials and engineering services, now carries the MALCOM RDT-250C Reflow Simulator. The system can reproduce the temperature profile of a reflow oven while allowing operators to observe the melting state of solder paste and record the process.
The local matrix control system of the upper heater enables reflow soldering of the PCB in which the thermal capacity is balanced with the best heating temperature. Low power consumption provides excellent cost/performance benefits. Additionally, the RDT-250C can accommodate full size PCB boards for testing (250 x 330mm).
Each heating stage sets the temperature as well as the time. This makes it possible to change the time that keeps the reflow peak temperature free. The operator can observe the state of soldering through wide glass windows from the rear of the unit.  An optional video camera capture system can be purchased to record the reflow process with profiles. 
The system reproduces nearly the same conditions as an actual reflow oven by using the hot air of the upper-heater and the extreme infrared radiation of the lower heater together.
The MALCOM RDT-250C can heat in N2 atmospheres and control the N2 concentration with the O2 Oxygen Analyzer, OAS-1, and N2 flow adjustable function (OAS-1 is optional). For more information, contact Michelle Ogihara at michelle@seikausa.com or visit www.seikausa.com.
About Seika Machinery, Inc.
Seika Machinery, Inc. (SMI) is a subsidiary of Seika Corporation, Japan and member of the Mitsubishi Global Group. SMI provides electronics manufacturers with advanced machinery, superior materials and engineering services.
---
Suggested Items
12/04/2023 | Transition Automation
Transition Automation, Inc. recently received a large order for Advanced Holder and Blade Assemblies compatible with DEK printers from Rotec BV in Belgium.
11/30/2023 | AIM
AIM Solder, a leading global manufacturer of solder assembly materials for the electronics industry, is pleased to announce its new NC259FPA Ultrafine No Clean Solder Paste, which it revealed recently during the Productronica Germany trade show.
11/27/2023 | Real Time with...productronica
Koh Young's Harald Eppinger talks about the company's technology for the semiconductor and advanced packaging market and how they address the challenges introduced by reflective components and micro solder deposits.
11/27/2023 | HyRel
HyRel Technologies, a global provider of quick turn semiconductor modification solutions, announces the achievement of International Traffic in Arms Regulations (ITAR) registration.
11/24/2023 | Mek (Marantz Electronics)
Mek (Marantz Electronics), a leader in Automated Optical Inspection (AOI) solutions, used last weeks' Productronica show in Munich to proudly introduce the SpectorBOX X series, a modular full 3D AOI system for THT solder joints and THT components.