Books

Featured Books

smt007 Magazine

Latest Issues

Current Issue

Chips Don't Float

In Europe and the U.S., legislation is under way to revitalize PCB fabrication and packaging. What is the status of this work, and how specifically does this change the industry landscape for EMS companies? What will help keep us afloat?

Flying High With Digital Twin

The opportunity to use manufacturing simulation as a test bed for job planning and process optimization brings continuous improvement into the modern age. This may be an all-or-nothing type of project, but it's worth the investment.

Artificial Intelligence

In this issue, we (and AI) explored how and when artificial intelligence plays a role in manufacturing today. Whether on the factory floor, or in the front office, AI applications are emerging and changing how we approach planning, processes and problem solving.

Columns

Latest Columns

||| MENU
Seika Machinery Now Carries MALCOM RDT-250C Reflow Simulator
July 7, 2015 | Seika Machinery, Inc.
Estimated reading time: 1 minute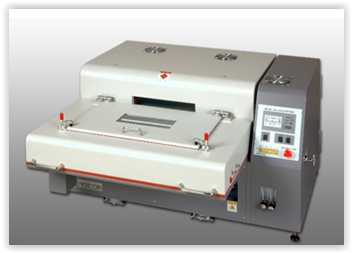 Seika Machinery, Inc., a leading provider of advanced machinery, materials and engineering services, now carries the MALCOM RDT-250C Reflow Simulator. The system can reproduce the temperature profile of a reflow oven while allowing operators to observe the melting state of solder paste and record the process.
The local matrix control system of the upper heater enables reflow soldering of the PCB in which the thermal capacity is balanced with the best heating temperature. Low power consumption provides excellent cost/performance benefits. Additionally, the RDT-250C can accommodate full size PCB boards for testing (250 x 330mm).
Each heating stage sets the temperature as well as the time. This makes it possible to change the time that keeps the reflow peak temperature free. The operator can observe the state of soldering through wide glass windows from the rear of the unit.  An optional video camera capture system can be purchased to record the reflow process with profiles. 
The system reproduces nearly the same conditions as an actual reflow oven by using the hot air of the upper-heater and the extreme infrared radiation of the lower heater together.
The MALCOM RDT-250C can heat in N2 atmospheres and control the N2 concentration with the O2 Oxygen Analyzer, OAS-1, and N2 flow adjustable function (OAS-1 is optional). For more information, contact Michelle Ogihara at michelle@seikausa.com or visit www.seikausa.com.
About Seika Machinery, Inc.
Seika Machinery, Inc. (SMI) is a subsidiary of Seika Corporation, Japan and member of the Mitsubishi Global Group. SMI provides electronics manufacturers with advanced machinery, superior materials and engineering services.
---
Suggested Items
09/27/2023 | Nihon Superior Co. Ltd.
Nihon Superior Co. Ltd. is pleased to announce that Keith Sweatman, the company's Senior Technical Advisor, will deliver a presentation titled "A Path to Ductile Low-Temperature Solders for Mass Production of Electronic Assemblies" at the upcoming SMTA International conference and exposition.
09/27/2023 | Hentec Industries/RPS Automation
Hentec Industries/RPS Automation, a leading manufacturer of selective soldering, lead tinning and solderability test equipment, is pleased to announce that Kyocera International has finalized the purchase of a Hentec/RPS Odyssey 1325 robotic hot solder dip component lead tinning machine. 
09/26/2023 | Conecsus Metals México
Conecsus Metals México, an innovative environmental technology and recycling company, will exhibit at the SMTA Foro Tecnico & Expo, Guadalajara, Jalisco, México, on Wednesday, October 25, 2023, beginning at 11:00 a.m.
09/21/2023 | Thermaltronics USA, Inc.
Thermaltronics USA, Inc., a globally acclaimed manufacturer of Precision Soldering Robots and innovative Curie point soldering systems, is excited to announce its participation in the highly anticipated SMTA Guadalajara Expo & Tech Forum, scheduled to take place from October 25-26, 2023.
09/20/2023 | ULT AG
At this year's productronica, the world's leading trade show for electronics manufacturing, ULT will present a brand new extraction solution for solder fumes and vapor.