N.A. Semiconductor Equipment Industry Posts June 2015 Book-to-Bill Ratio of 0.98
July 22, 2015 | SEMI
Estimated reading time: 1 minute
North America-based manufacturers of semiconductor equipment posted $1.51 billion in orders worldwide in June 2015 (three-month average basis) and a book-to-bill ratio of 0.98, according to the June EMDS Book-to-Bill Report published today by SEMI.  A book-to-bill of 0.98 means that $98 worth of orders were received for every $100 of product billed for the month.
SEMI reports that the three-month average of worldwide bookings in June 2015 was $1.51 billion. The bookings figure is 2.6 percent lower than the final May 2015 level of $1.55 billion, and is 3.5 percent higher than the June 2014 order level of $1.46 billion.
The three-month average of worldwide billings in June 2015 was $1.54 billion. The billings figure is 1.0 percent lower than the final May 2015 level of $1.56 billion, and is 16.2 percent higher than the June 2014 billings level of $1.33 billion.
"The June book-to-bill saw slight declines in the three-month averages for both booking and billings compared to May," said Denny McGuirk, president and CEO of SEMI.  "Both figures, however, are above the trends reported one year ago and the first half of the year has been one of positive growth."
The SEMI book-to-bill is a ratio of three-month moving averages of worldwide bookings and billings for North American-based semiconductor equipment manufacturers. Billings and bookings figures are in millions of U.S. dollars.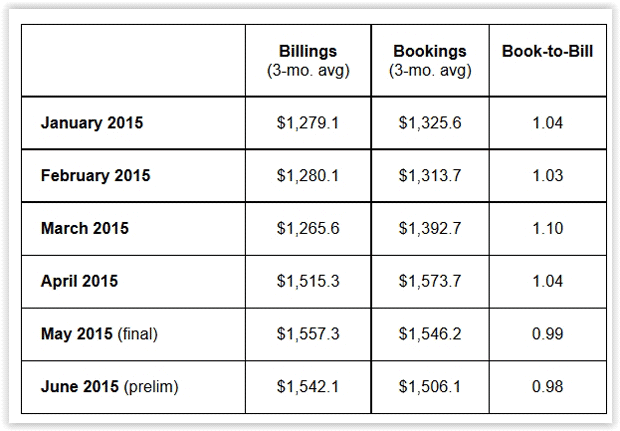 About SEMI
SEMI is the global industry association serving the nano- and micro-electronic manufacturing supply chains. Our 1,900 member companies are the engine of the future, enabling smarter, faster and more economical products that improve our lives. Since 1970, SEMI has been committed to helping members grow more profitably, create new markets and meet common industry challenges. SEMI maintains offices in Bangalore, Beijing, Berlin, Brussels, Grenoble, Hsinchu, Moscow, San Jose, Seoul, Shanghai, Singapore, Tokyo, and Washington, D.C.   For more information, visit www.semi.org.
---
Suggested Items
12/06/2023 | TrendForce
TrendForce's research indicates a dynamic third quarter for the global foundry industry, marked by an uptick in urgent orders for smartphone and notebook components.
12/05/2023 | TrendForce
TrendForce reports a pivotal shift in the NAND Flash market for 3Q23, primarily driven by Samsung's strategic decision to reduce production.
12/04/2023 | Gartner, Inc.
Global semiconductor revenue is projected to grow 16.8% in 2024 to total $624 billion, according to the latest forecast from Gartner, Inc. In 2023, the market is forecast to decline 10.9% and reach $534 billion.
11/29/2023 | Jabil
Jabil expects this inventory rebalancing to continue into its second fiscal quarter and as a result anticipates revenue for the second quarter to be in the range of $7.0 billion - $7.6 billion.
11/16/2023 | IDC
International Data Corporation (IDC) has upgraded its Semiconductor Market Outlook by calling a bottom and return to growth that accelerates next year.