Books

Featured Books

smt007 Magazine

Latest Issues

Current Issue

Test and Inspection

Test and inspection methods are undergoing rapid change. In this issue, we consider the influence of AOI, AI, and human eyes. How exactly are these pieces of the puzzle changing the role of test and inspection?

Chips Don't Float

In Europe and the U.S., legislation is under way to revitalize PCB fabrication and packaging. What is the status of this work, and how specifically does this change the industry landscape for EMS companies? What will help keep us afloat?

Flying High With Digital Twin

The opportunity to use manufacturing simulation as a test bed for job planning and process optimization brings continuous improvement into the modern age. This may be an all-or-nothing type of project, but it's worth the investment.

Columns

Latest Columns

||| MENU
Koh Young's 3D AOI, SPI Solutions in Two-day Seminar, Demos at Technica USA
August 14, 2015 | Koh Young America
Estimated reading time: 2 minutes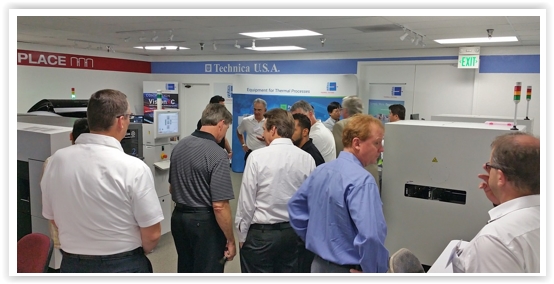 Koh Young America recently participated in a two-day technology seminar with other industry-leading equipment suppliers.  The event was hosted by Technica USA of San Jose, California. The seminar featured technology presentations from Koh Young Technology, ASM-DEK, ASM-Siplace, and Rehm Thermal Systems, focusing on high-yield SMT production and how to utilize the latest technologies to minimize defects and improve yields. Classroom presentations were followed by live hands-on equipment demos that showed the power of true 3D inspection with Koh Young's SPI and AOI inspection systems.  Koh Young's team of technical experts was able to demonstrate both their 3D SPI and 3D AOI solutions at Technica's Demonstration and Training Center. Koh Young demonstrated industry-leading defect detection through 100% 3D measurement and full color inspection.  Innovative features included full board foreign material inspection and results traceability from SPI to AOI through KSmart Link software.
Following the seminar, Frank Medina, President of Technica USA, stated, "We were very pleased with the turnout for our annual event. As I have mentioned in the past, Technica believes in adding value to our relationships with our customers. Sponsoring our event every year is one of the many ways in which we demonstrate this commitment." He added, "Our Technology Forum provides us with an opportunity to expose our customers to the latest technologies available in the market.  Our ability to deliver knowledge that is interesting and valuable to our customers is possible thanks to the partnerships we have established with industry-leading companies including Koh Young."
Koh Young's KY8030-3 true 3D SPI measurement system provides full patented 3D measurement for the complete range of solder paste measurement and inspection across a wide range while ensuring accuracy without sacrificing resolution.
With its authentic 3D measurement capability, Koh Young's Zenith AOI system can detect all types of defects with real measurement values, allowing much easier defect evaluation and process control.

About Koh Young Technology
Koh Young Technology specializes in the design and manufacturing of 3D measurement and inspection equipment for the global circuit board assembly and semiconductor markets. Direct sales and support centers are located in the United States, Europe, Japan, Singapore, China (Shenzhen) and Korea.
About Technica USA
Since 1985, Technica USA has been providing the fast paced, ever-changing electronics marketplace with the highest quality solutions available.  Whether it is equipment for electronic assembly, selective solder and welding or cleaning, Technica enables its customers to maintain a competitive edge by providing state-of-the-art tools while also offering, improved quality and cost-efficient solutions.
---
Suggested Items
09/29/2023 | Indium Corporation
Indium Corporation Regional Product Manager Wisdom Qu will present at the SMTA China South Technical Conference, held in conjunction with NEPCON Asia, on October 11 in Shenzhen, China.
09/28/2023 | Nolan Johnson, I-Connect007
The practical question around CHIPS Act development and electronics assembly is, "Will this change how we do business?" Indium Corporation's Dr. Andy Mackie sat down with Nolan Johnson to share what he sees as emerging answers to that question from his perspective as an expert in electronics assembly and packaging, and as a participant in standards development through IPC, JEDEC, and SEMI.
09/27/2023 | Nihon Superior Co. Ltd.
Nihon Superior Co. Ltd. is pleased to announce that Keith Sweatman, the company's Senior Technical Advisor, will deliver a presentation titled "A Path to Ductile Low-Temperature Solders for Mass Production of Electronic Assemblies" at the upcoming SMTA International conference and exposition.
09/27/2023 | Hentec Industries/RPS Automation
Hentec Industries/RPS Automation, a leading manufacturer of selective soldering, lead tinning and solderability test equipment, is pleased to announce that Kyocera International has finalized the purchase of a Hentec/RPS Odyssey 1325 robotic hot solder dip component lead tinning machine. 
09/26/2023 | Conecsus Metals México
Conecsus Metals México, an innovative environmental technology and recycling company, will exhibit at the SMTA Foro Tecnico & Expo, Guadalajara, Jalisco, México, on Wednesday, October 25, 2023, beginning at 11:00 a.m.