Books

Featured Books

pcb007 Magazine

Latest Issues

Current Issue

Finding Ultra

New demands on PCB fabrication, namely advanced packaging, ultra high density interconnect (UHDI), and new specialty materials, are converging, changing the landscape of our business. Is it time to start paying close attention to this convergence?

Developing a Strategy

A solid strategy is a critical part of success. This month, we asked some of the top industry leaders and business strategy "gurus" to share their thoughts on developing strategies.

Winning With TQM

In this issue, we explore how TQM has entered the DNA of continuous improvement disciplines, and the role leadership transformation plays in this. If you've ever competed against a TQM company, you understand their winning advantage.

Columns

Latest Columns

||| MENU
LPKF Strengthens Strategic Structures for LDS and Rapid PCB Prototyping
August 31, 2015 | LPKF Laser and Electronics
Estimated reading time: 1 minute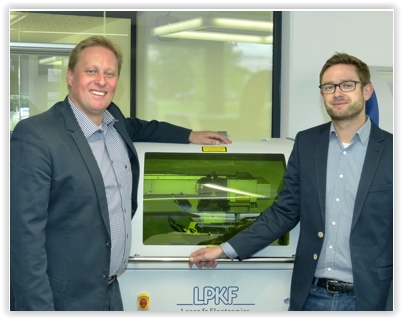 LPKF Laser & Electronics AG enhances its structures in two relevant divisions. Two experienced engineers take over new positions of im-portant interfaces with customers.
Malte Fengler graduated from Hannover University earning a degree in electrical engineering and radio frequency technology. Since 2011 he has worked for the laser equipment manufacturer LPKF in the field of Molded Interconnect Device (MID) technology. This technology enables the production and placement of circuit layouts on complex three-dimensional carrier structures. More than half of the 3D components are produced with the LPKF LDS process (Laser Direct Structuring). Fengler is concerned with process engineering, feasibility studies, global cus-tomer support, and applications. In addition, he is in charge of existing as well as newly developed LDS substrate materials, and process con-sulting.
In August 2015, he succeeds Stephan Krause as the new Strategic Product Manager MID and takes over the responsibility for current and future markets as well as new applications in the field of LDS MID tech-nology
Stephan Krause has acted as a Sales Engineer since 2002 and support-ed the LPKF team as Strategic Product Manager LDS since August 2012. In October 2015, he moves to the Rapid PCB Prototyping division and takes charge of the worldwide RP sales activities. Moreover, he manages the contacts with the RP distributors.
Stephan Krause (left side) and Malte Fengler (right side) will work closely together in their new roles.
About LPKF
LPKF Laser & Electronics AG manufactures machines and laser sys-tems used in electronics fabrication, medical technology, the automotive sector, and the production of solar cells. Around 20 percent of the work-force is engaged in research and development.
---
Suggested Items
09/25/2023 | Purdue University
Purdue University continues building momentum as America's leading university in semiconductors, with a broad range of updates this fall semester.
09/25/2023 | Alison James
"Electronics systems are at the heart of almost all modern technology. The performance and functionality of these systems have increased at breathtaking speed, chiefly as a result of advancements in semiconductor technology. Semiconductors do not function in isolation," writes Alison James, IPC senior director of government relations, in a 2023 report for the European Commission's Directorate General for Internal Market, Industry, Entrepreneurship. "These electronics systems feature prominently in key sectors like defence, aerospace, space, automotive, medical, and high-performance computing, but electronics are vital to every industry and are central to a variety of EU priorities, including the twin digital and green transitions and Europe's technological sovereignty."
09/25/2023 | APCT
APCT, a leading name in the PCB and electronics industry, is delighted to announce the appointment of Peter Austin as its President and CEO, effective September 1. Peter takes the reins from former CEO, Steve Robinson, who has retired after years of dedicated service to the company.
09/21/2023 | KIC
KIC, a renowned pioneer in thermal process and temperature measurement solutions for electronics manufacturing, is thrilled to announce its participation in the upcoming SMTA Guadalajara Expo & Tech Forum.
09/21/2023 | Dymax
Dymax, a leading manufacturer of light-curing materials and equipment, will exhibit in booth 1526 at SMTA International 2023 in Minneapolis, MN, from October 10-11.