Pure-Play Foundry Sales Forecast to Top $12B in 4Q15
August 31, 2015 | IC Insights
Estimated reading time: 1 minute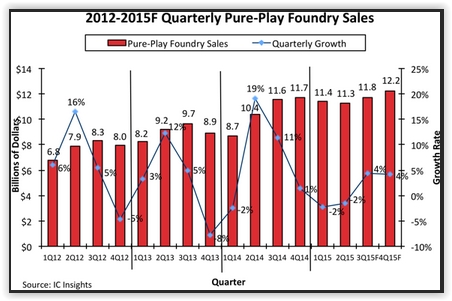 The pure-play foundry market is forecast to grow to an all-time high of $12.2 billion in 4Q15, following several quarters in which sales remained between $11.3 and $11.8 billion, based on IC Insights' updated foundry forecast presented in the August Update to The McClean Report 2015. IC Insights defines a pure-play foundry as a company that does not offer a significant amount of IC products of its own design, but instead focuses on producing ICs for other companies (e.g., TSMC, GlobalFoundries, UMC, SMIC, etc.).
The quarterly pure-play IC foundry market has recently displayed a seasonal pattern in which the best growth rate takes place in the second quarter of the year and a sales downturn occurs in the fourth quarter.  Given that about 98% of pure-play foundries' sales are to IDMs and fabless companies that will re-sell the devices they purchase from the foundry, it makes sense that the pure-play foundries' strongest seasonal quarter (second quarter) is one quarter earlier than the total IC industry's strongest seasonal quarter (third quarter).
However, as shown in the figure, 2015 is not expected to display the typical pure-play foundry quarterly revenue pattern.  Although 1Q15 registered its usual weakness, 2Q15 showed a sequential decline, rather than an increase. In 2012, 2013, and 2014, second quarter pure-paly foundry revenue showed strong double-digit growth.  In 2Q15, results were decidedly atypical with a 2% decline in pure-paly foundry sales.  The primary reason behind the 2Q15 sales decline was the 5% 2Q15/1Q15 revenue decline by foundry giant TSMC.  TSMC's 5% sequential decline was equivalent to a $366 million drop in its revenue.
For 4Q15, IC Insights forecasts that the quarterly pure-play foundry market will show a higher than normal growth rate of 4%.  With most of the inventory adjustments that held back growth in the first half of the year expected to be completed by the end of 3Q15, 4Q15 is forecast to register enough growth to boost the quarterly pure-play foundry market to over $12.0 billion for the first time.
---
Suggested Items
09/28/2023 | Technica USA
Technica USA announced it has reached a Master Distribution Agreement with SAA to promote and support automation systems & technology offered by SAA.
09/28/2023 | TrendForce
TrendForce projects that shipments of smartphone display panels (smartphone panels) will reach approximately 1.85 billion pieces in 2023, reflecting a YoY increase of 8.7%.
09/27/2023 | IFR
The new World Robotics report recorded 553,052 industrial robot installations in factories around the world – a growth rate of 5% in 2022, year-on-year.
09/26/2023 | Kirk Thompson, Isola Group
Despite being a leader in R&D investment in semiconductors and packaging with greater than $50 billion per year, the U.S. has seen its market share decrease to less than 3% in areas like advanced packaging and advanced substrates. The cause for this market share erosion was a laser focus in Asian countries to attract semiconductors and advanced packaging investment through ecosystem development and incentives. If the U.S. is serious about changing the momentum to onshore advanced packaging and advanced substrates, an ecosystem approach to innovation and manufacturing incentives must be employed. It is not enough to have the most innovative technology if the supply chain and manufacturing economics do not deliver competitive commercial opportunities.
09/26/2023 | IDC
The global PC monitor market remained steadfast in its efforts to manage inventory levels amidst a significant drop in demand during the second quarter of 2023 (2Q23).