Books

Featured Books

pcb007 Magazine

Latest Issues

Current Issue

The Registration Sweet Spot

Registration is underrated and underappreciated. The key is to ensure proper registration from layer to layer across the entire printed circuit board. It's a holistic process requiring anticipation, prediction, precise attention at each step, and detailed data tracking and monitoring.

High-reliability Fabrication

In this month's issue, our expert contributors discuss the latest in technologies, trends, complexities and resources regarding high-reliability fabrication.

Finding Ultra

New demands on PCB fabrication, namely advanced packaging, ultra high density interconnect (UHDI), and new specialty materials, are converging, changing the landscape of our business. Is it time to start paying close attention to this convergence?

Columns

Latest Columns

||| MENU
Georgia Tech Joins Manufacturing Innovation Institute for Flexible Hybrid Electronics
September 2, 2015 | Georgia Tech
Estimated reading time: 5 minutes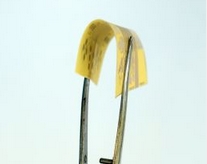 The Georgia Institute of Technology has become a founding member of the new Flexible Hybrid Electronics Manufacturing Innovation Institute (FHE-MII) established by the U.S. Department of Defense. The Institute will receive up to $75 million in federal support over a five-year period, funding that will be matched by more than $96 million in cost sharing from private companies, universities, several U.S. states, not-for-profit organizations and the city of San Jose, Calif.
On August 28, U.S. Secretary of Defense Ashton Carter announced the award, which will go to the San Jose-based FlexTech Alliance, a research consortium and trade association that will create and manage the FHE-MII, which includes companies, laboratories and non-profit organizations, universities and state and regional organizations from across the United States.
While the Manufacturing Innovation Institute will be headquartered in San Jose, existing nodes around the country already have in place an infrastructure ready to solve some of the known manufacturing challenges. The Institute will distribute R&D funds via competitively bid project calls. Industry-generated technology roadmaps will drive project calls, timelines and investments.
"The strength of the Institute will stem from the strong support and previous work of our partner organizations," said Malcolm Thompson, executive director of the FHE MII. "Georgia Tech's advanced work and broad understanding in so many of the Institute's key manufacturing thrusts – including electronic systems modeling and design, printed electronics, and packaging, assembly, test, and reliability assessment – will provide great benefits to both of our organizations."
Georgia Tech's FHE MII activities will be led by Suresh Sitaraman, a professor in the George W. Woodruff School of Mechanical Engineering. The effort will include faculty from the School of Electrical and Computer Engineering, School of Mechanical Engineering, School of Materials Science and Engineering, and School of Industrial and Systems Engineering. Support will also come from the Institute of Electronics and Nanotechnology, the Georgia Tech Manufacturing Institute, the Institute of Materials and the Office of Industry Collaboration.
"Georgia Tech brings to the FHE MII a depth of expertise, outstanding innovation, and excellent infrastructure to address a wide range of technology challenges associated with flexible hybrid electronics," said Sitaraman. "At the FHE MII, the ongoing research at Georgia Tech will be integrated into technology demonstrator platforms and scaled up into the early-stage manufacturing prototype line. Thus, the FHE MII will facilitate the transition of the technologies developed at Georgia Tech and elsewhere around the country into real-world and use-inspired applications."
Flexible electronics are circuits and systems that can be bent, folded, stretched or conformed without losing their functionality. Hybrid electronics involves a mix of elements such as logic, memory, sensors, batteries, antennas, and various passives which may be printed or assembled on flexible substrates. Combined with low-cost manufacturing processes, flexible hybrid electronics will present an entirely new paradigm for a wide range of electronics used in health care, consumer, automotive, aerospace, energy, defense, as well as other applications. Thus, flexible hybrid electronics will provide a pervasive and powerful technology platform to address some of society's greatest challenges associated with food supply, clean water, clean energy, education, information, and safety and security.
"Imagine skin-like electronic patches with sensors that can wirelessly alert when a pilot is fatigued, smart and flexible wrappers that can monitor the quality of food, and tablets that can be folded and kept in your pocket," said Sitaraman. "Many of these ideas are in various stages of research today, and only through an effective manufacturing pathway will these innovative research pursuits be transitioned into viable products."
The new initiative leverages Georgia Tech's broad expertise in manufacturing and electronics technologies, said Stephen E. Cross, Georgia Tech's executive vice president for research.
"There is a recognized need to bolster the U.S. manufacturing sector. We will exploit our research base in flexible hybrid electronics and work with industry in a collaborative way to create new domestic jobs in Georgia and the U.S.," Cross said. "We look forward to working with the FlexTech Alliance to leverage our unique resources and attributes in this field to spur technology development and innovation leading to economic and workforce development in Georgia and the Southeast."
The new institute is part of the National Network for Manufacturing Innovation program (NNMI). The FHE MII is the seventh MII announced—the fifth under Department of Defense management. The NNMI program is an initiative of the Obama Administration to support advanced manufacturing in the U.S. Each institute is part of a growing network dedicated to securing U.S. leadership in the emerging technologies required to win the next generation of advanced manufacturing. Bridging the gap between applied research and large-scale product manufacturing, the institutes bring together companies, universities, other academic and training institutions, and federal agencies to co-invest in technology areas that benefit the nation's commercial and national defense interests.
According to Thompson, the MII will bring together the country's best scientists, engineers, manufacturing experts and business development professionals in the field of flexible hybrid electronics. Under the FlexTech initiative, the San Jose hub provides overall program direction, is the integrator of components, creates prototypes, and matures manufacturing readiness levels. "Fast start" projects for equipment, materials, devices and other vital components will make use of existing node facilities and key personnel from around the country.
To complement the San Jose hub, key technology nodes will be linked and include IC thinning, system design and fabrication, integration and assembly, and flexible hybrid electronics applications. Several regional nodes have been recognized and more are expected. Those currently aligned to the Institute are centers and educational institutions throughout California, along with Alabama, Arizona, Arkansas, Connecticut, Georgia, Indiana, Massachusetts, Michigan, New York, North Dakota, Ohio and Texas. The academic lead organizations for the System Design and Fabrication Node are Georgia Tech and the University of Texas, Austin.
The FlexTech Alliance is a leading industry association focused on growth, profitability and success throughout the manufacturing and distribution chain of flexible, printed electronics and displays. By facilitating collaboration between and among industry, government, and academia, the FlexTech Alliance develops solutions for advancing these technologies from R&D to commercialization.
---
Suggested Items
12/07/2023 | VDL Groep
VDL Groep has strengthened its position in the high-quality electronics market. The industrial family business with its head office in Eindhoven has acquired Rena Electronica from Zundert.
12/05/2023 | HANZA
HANZA AB has signed an agreement to acquire all shares in Orbit One AB, a Swedish company that offers contract manufacturing of electronics and electromechanics. Orbit One has annual sales of approximately SEK 1.1 billion with an operating profit (EBITA) of approximately SEK 70 million.
12/05/2023 | IPC
Electronics industry sentiment improved during November with demand sentiment also taking a solid step up over the last 30 days per IPC's November 2023 Global Sentiment of the Electronics Supply Chain Report.
12/05/2023 | Robert Erickson and Lorena Villanueva, IPC
About 200 kilometers (125 miles) north of Mexico City lies Queretaro, an area rich in history, with stone streets and public squares, and which twice has been the country's capital. But it's also quickly becoming a global capital of electronics manufacturing, especially aeronautics, and was the location for the first IPC Day Mexico this past June.
12/04/2023 | USPAE
Seven microelectronics firms received nearly $10 million in combined funding to commercialize technologies of interest to the U.S. military services as winners of the Defense Business Accelerator (DBX) Microelectronics Challenge. This groundbreaking initiative is funded by the Department of Defense (DoD) and led by the U.S. Partnership for Assured Electronics (USPAE).