Books

Featured Books

pcb007 Magazine

Latest Issues

Current Issue

Finding Ultra

New demands on PCB fabrication, namely advanced packaging, ultra high density interconnect (UHDI), and new specialty materials, are converging, changing the landscape of our business. Is it time to start paying close attention to this convergence?

Developing a Strategy

A solid strategy is a critical part of success. This month, we asked some of the top industry leaders and business strategy "gurus" to share their thoughts on developing strategies.

Winning With TQM

In this issue, we explore how TQM has entered the DNA of continuous improvement disciplines, and the role leadership transformation plays in this. If you've ever competed against a TQM company, you understand their winning advantage.

Columns

Latest Columns

||| MENU
Multilayer Technology Invests in Orbotech Sprint 120 Inkjet Printer
September 22, 2015 | Multilayer Technology
Estimated reading time: 2 minutes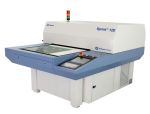 Multilayer Technology (MLT), located in Irving, Texas has added new Orbotech Sprint™ 120 Inkjet Printer to its growing list of equipment upgrades. This Orbotech is the current state-of-the-art in the area of high-viscosity ink jet printing. Marvin Potter, operations manager, stated, "This recent addition will make the task of individual serialization on military products a much simpler operation."
"Multilayer had looked at a number of ways to accomplish this critical task as the majority of our current business is in the area of QTA with lead times less than five days. This task of individual serialization was very cumbersome and time consuming. The ink jet process proved to be the best process and allowed us to keep with the same materials utilized to make the other marking's on the circuit board as well," Potter added.
"We have utilized a number of inkjet printing systems in the past and this is the first system that allows for printing of high viscosity inks and also include an inline nozzle cleaning system to ensure the product will always be ready for use no matter the level in inactivity," said President Viny Mulani.
"This is the first system I have seen that allows us to go down to a .5mm feature and still have the nomenclature legible. With the current densification of products we are seeing it has become almost impossible to continue to utilize the conventional screen print or UV exposure process," noted QA Director Rick Conden.
In the inkjet process, users only utilize the amount of ink that is needed, so there is a reduction in the amount of ink used and the loading in the developer is no longer an issue. Waste treatment has also benefited as the amount of Zinc in the waste water stream has been drastically reduced.
About Multilayer Technology
Multilayer Technology is a domestic leader providing the nation with cutting-edge capabilities. The company understands the urgency of first-to-market and helps customers deliver it. The company offers a one-stop solution to PCB needs, including prototype, production and high-volume quantities. Its success is based on confidence and integrity company-wide. The company strives for perfection and delivers it.
Multilayer Technology International has been providing PCBs for Fortune 500 companies and start-ups since 1986. It manufactures a wide range of technology, utilizing unique materials and processes fora broad range of customers ranging from Telecom, Medical, Instrumentation, Pipeline and Oil, Logging, Military Defense, Automated Test Equipment (ATE) and Aerospace. For more information, visit www.multilayer.com.
---
Suggested Items
09/22/2023 | Boeing
Boeing has announced a $10 million investment in the George W. Bush Presidential Center to support its museum and Veterans and Military Families programs. 
09/15/2023 | Northrop Grumman
Northrop Grumman Corporation's multi-intelligence MQ-4C Triton uncrewed aircraft achieved a declaration of initial operating capability (IOC) by the U.S. Navy.
09/14/2023 |
BAE Systems signed a contract with the Swedish Defence Materiel Administration (FMV) worth approximately $500 million for 48 new ARCHER artillery systems for the Swedish Army.
09/14/2023 | John Watson -- Column: Elementary, Mr. Watson
Electronics are continually evolving, driven by innovations in printed circuit board technology. Flexible PCBs have emerged as a revolutionary force, reshaping the PCB industry and influencing the design and functionality of countless electronic devices. Some believe that flexible PCBs are a relatively newer technology, but as we will see, that is not true. Since I'm an instructor, here's a short history lesson on how we got here and what we can expect.
09/13/2023 | Hentec Industries/RPS Automation
Hentec Industries/RPS Automation, a leading manufacturer of selective soldering, lead tinning and solderability test equipment, is pleased to announce that Sinclair Manufacturing has purchased Pulsar solderability testing and Photon steam aging systems for installation in their Chartley, Massachusetts facility.