Chinese Handset OEMs to Increase Demand for Smartphone Sensors
September 24, 2015 | IHS
Estimated reading time: 2 minutes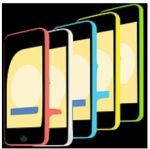 Apple and Samsung will remain the dominant buyers of sensors for smartphones through 2019; however, their share of sensor spending will fall. Bolstered by its fingerprint sensor, Apple represented nearly half (47 percent) of smartphone sensors in 2014, but the company's share is expected to fall to 34 percent in 2019. At the same time Samsung's share will decline from 23 percent to 15 percent, according to IHS Inc. (NYSE: IHS), the leading global source of critical information and insight. Chinese original equipment manufacturers (OEMs) comprise an ever-larger share of revenues from sensors sold to the smartphone market, increasing from 20 percent of the market in 2014 to 38 percent in 2019.
According to the IHS Sensors for Mobile Devices Intelligent Service, Apple's declining share is due to the growth of the overall smartphone market, even though its smartphone unit shipments are on the rise. Samsung's share decline is due not only to the overall growth in the market, but also because of falling unit shipments. The South Korean company suffers from both Apple's competition in high-end smartphones, as well as competition from Xiaomi and other Chinese providers of low-end and mid-range smartphones.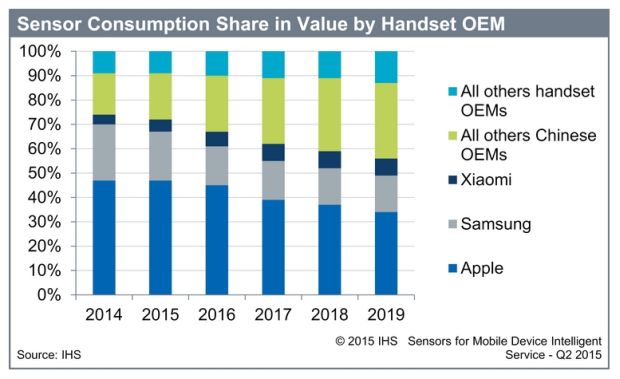 "The smartphone market is healthy, dynamic and extremely competitive," said Marwan Boustany, senior analyst for IHS Technology. "Chinese OEMs have proved willing to try any new technology that allows them to compete more successfully.  Of the many Chinese handset manufacturers, Xiaomi will consume the greatest number of sensors in 2019."
China is proving to be an ideal environment for sensor suppliers seeking to enter the competitive smartphone market, and for smartphone OEMs hoping to differentiate their models with innovative features. The country is generally viewed as the place to test out new ideas and to fine-tune supply chains. Beyond the adoption of new and emerging sensors, more standard sensors are being adopted in very high volumes, thanks to the rapid growth in sales of mid-range and high-end smartphones.
The Chinese government's decision to support local companies has led to an increase in local manufacturing and sourcing of electronic components. However today there are only a handful of suppliers with a relatively narrow portfolio. These companies include AAC Technologies and GoerTek, for microphones; MEMSIC, for accelerometers and magnetometers; and QST and other emerging start-up companies, for motion sensors.
"With the Chinese government's strategic goal to increase the share of domestic suppliers, there is an opportunity for Chinese suppliers to expand their portfolios and become the preferred suppliers for Chinese OEMs," Boustany said. "At the moment, though, it seems that Chinese OEMs are happy to use any supplier that fulfills their volume, performance and price requirements."
About IHS
IHS is the leading source of insight, analytics and expertise in critical areas that shape today's business landscape. Businesses and governments in more than 150 countries around the globe rely on the comprehensive content, expert independent analysis and flexible delivery methods of IHS to make high-impact decisions and develop strategies with speed and confidence. IHS has been in business since 1959 and became a publicly traded company on the New York Stock Exchange in 2005. Headquartered in Englewood, Colorado, USA, IHS is committed to sustainable, profitable growth and employs about 8,800 people in 32 countries around the world.
---
Suggested Items
11/28/2023 | Preeya Kuray -- Column: Material Insight
On May 11, 2023, Reps. Blake Moore (R-UT) and Anna Eshoo (D-CA) introduced the Protecting Circuit Boards and Substrates (PCB) Act to Congress. In October, I had the great pleasure of discussing the bipartisan Protecting Circuit Boards and Substrates Act with Congressman Moore, who represents Utah's First Congressional District. He shared his thoughts on how supporting and investing in the domestic PCB industry can help bolster American security.
11/27/2023 | Real Time with...productronica
Koh Young's Harald Eppinger talks about the company's technology for the semiconductor and advanced packaging market and how they address the challenges introduced by reflective components and micro solder deposits.
11/27/2023 | PRNewswire
Since its isolation in 2004, graphene has received widespread attention as a 'wonder' material, with the reported potential to enable a whole host of next-generation technologies, some of which would not be out of place in the latest sci-fi blockbuster.
11/27/2023 | GOEPEL Electronics
The US branch of GÖPEL electronic is proud to announce the addition of David Kalaidjian as the new National Sales Development Manager.
11/24/2023 | Messe München
Messe München's electronics network with the world's leading trade fairs electronica and productronica is expanding its partnership with SEMI, the global semiconductor industry association, in India.