Books

Featured Books

pcb007 Magazine

Latest Issues

Current Issue

The Registration Sweet Spot

Registration is underrated and underappreciated. The key is to ensure proper registration from layer to layer across the entire printed circuit board. It's a holistic process requiring anticipation, prediction, precise attention at each step, and detailed data tracking and monitoring.

High-reliability Fabrication

In this month's issue, our expert contributors discuss the latest in technologies, trends, complexities and resources regarding high-reliability fabrication.

Finding Ultra

New demands on PCB fabrication, namely advanced packaging, ultra high density interconnect (UHDI), and new specialty materials, are converging, changing the landscape of our business. Is it time to start paying close attention to this convergence?

Columns

Latest Columns

||| MENU
Matrix USA Holds Open House at Santa Clara Facility
September 25, 2015 | Matrix USA Inc.
Estimated reading time: 1 minute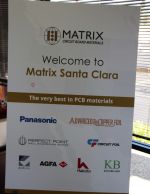 Matrix USA featured an Open House at their Santa Clara, California Warehouse on September 15, 2015. This event was held in conjunction with the PCB West Technical Conference and Exhibition at the Santa Clara Convention Center. Over 90 customers, OEMs and suppliers attended the catered event.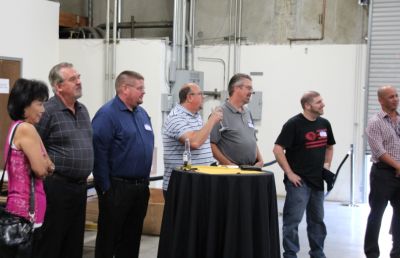 The year-old facility proudly displayed the state of the art Panasonic prepreg storage and clean room converting and tooling area. Also on display were the high speed saw for cutting Panasonic materials and the ink jet marking system that marks lot and part numbers on all materials with indelible ink.
Maybe the most impressive room displayed was the clean room dedicated to cutting rolls of Panasonic Felios flexible laminates and Matrix Plus coverlays and adhesives. These capabilities provide the flex fabricators custom widths and lengths and very quick response times.
Along with racks of Megtron 6 and 6G and Megtron 4 products visitors were able to see substantial inventory levels of Jinzhou drills and routers. On display was the dedicated temperature controlled room for AGFA films and chemistry.
New Matrix associate, Advanced Copper Foils (ACF), had a display on hand to show attendees samples of their ACF2/ACF3 bonded aluminum copper products as well as sheeted and tooled copper foils exclusively using Circuit Foils copper foil.
Thanks to everyone who attended and to all the Matrix staff who created this very clean and efficient facility.
---
Suggested Items
11/13/2023 | Global Newswire
The "Global Copper Clad Laminates Market (by Type, Application, Reinforcement Material, & Region): Insights and Forecast with Potential Impact of COVID-19 (2023-2028)" report has been added to ResearchAndMarkets.com's offering.
11/07/2023 | SCHMID Group
The SCHMID Group, a global solution provider for the high-tech electronics, photovoltaics, glass and energy systems industries, will be exhibiting at productronica in Munich from November 14 – 17, 2023.
11/01/2023 | Alex Stepinski, Stepinski Group
The topic of intrinsic copper structure has been largely neglected in discussions regarding the PCB fabrication quality control process. At face value, this seems especially strange considering that copper has been the primary conductor in all wiring boards and substrates since they were first invented. IPC and other standards almost exclusively address copper thickness with some mild attention being paid to surface structure for signal loss-mitigation/coarse properties. 
10/26/2023 | Andy Shaughnessy, Design007
At PCB West, I sat down for an interview with John Andresakis, the director of business development for Quantic Ohmega. I asked John to update us on the company's newest materials, trends in advanced materials, and the integration of Ticer Technologies, which Quantic acquired in 2021. As John explains, much of the excitement in materials focuses on laminates with lower and lower dielectric constants.
10/25/2023 | Preeya Kuray -- Column: Material Insight
Printed circuit board (PCB) reliability testing is generally performed by exposing the board to various mechanical, electrical, and/or thermal stimuli delineated by IPC standards, and then evaluating any resulting failure modes. Thermal shock testing is one type of reliability test that involves repeatedly exposing the PCB test board to a 288°C pot of molten solder for a specific time (typically 10 seconds) and measuring the number of cycles it takes for a board's copper layer to separate from the organic dielectric layer. If there is no delamination, fabricators can rest assured that the board will perform within expected temperature tolerances in the real world.