Books

Featured Books

pcb007 Magazine

Latest Issues

Current Issue

The Registration Sweet Spot

Registration is underrated and underappreciated. The key is to ensure proper registration from layer to layer across the entire printed circuit board. It's a holistic process requiring anticipation, prediction, precise attention at each step, and detailed data tracking and monitoring.

High-reliability Fabrication

In this month's issue, our expert contributors discuss the latest in technologies, trends, complexities and resources regarding high-reliability fabrication.

Finding Ultra

New demands on PCB fabrication, namely advanced packaging, ultra high density interconnect (UHDI), and new specialty materials, are converging, changing the landscape of our business. Is it time to start paying close attention to this convergence?

Columns

Latest Columns

||| MENU
Cirexx Installs Second Excellon Laser
September 25, 2015 | Cirexx International
Estimated reading time: 1 minute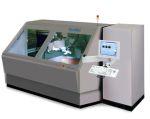 Cirexx International announced today that they have acquired and installed a second Excellon laser.  The new machine is the Cobra-II Hybrid Laser equipped with Excellon's latest laser technology.  It will drill holes, rout boards and micro-machine fine features. The Cobra-II Hybrid comes with the upgraded A3200 controller (with PC+ Cobra 4.0 software), High Speed Intelligent Scanners (RTC5 Scanner Control) and variable power (5W - 15W) high pulse energy laser which is fully upgradable to CO2 (IR).
Philipp Menges, Cirexx President & CEO commented, "With the new Cobra-II we can reduce typical laser time by 70% to 80%. That's huge given the numerous advanced PWB designs that we are taking on that require a great deal of laser work."
The machine will complement Cirexx's current Cobra Laser – a workhorse which has produced many fine features in RF/Microwave PCBs and Flex and Rigid-Flex Circuit Boards.  From micro-via drilling, die cavity ablating and Flex Circuit profiling, Cirexx's original Cobra laser ran some months 24/7.
"As board technologies increase we are finding more and more uses for our laser equipment." added Menges.  "With the addition of this equipment we will not only have greater technical capability but we significantly increase our capacity for it.  Our customers appreciate that we align our technology road map with theirs and invest in equipment needed to produce the designs they need, when they need them."
About Cirexx International
Founded in 1980, Cirexx International, Inc. is an electronic solutions company offering PCB Design, PCB Fabrication and PCB Assembly of high-reliability Printed Circuit Boards, RF/Microwave Circuit Boards, Flexible Printed Circuits and Rigid-Flex Circuit Boards. Recognized as a time-technology leader, the company offers a genuine Quick Turn service and provides a one stop shop and all in-house solution known as Seamless Integration. Cirexx has expertise fabricating high layer count Printed Circuit Boards using a variety of substrates including a wide array of high-frequency RF-based materials in mixed (hybrid) constructions. Cirexx delivers unsurpassed quality and support to a large array of customers in the high-reliability markets of defense/aerospace, industrial, and medical instrumentation. www.cirexx.com.
---
Suggested Items
11/29/2023 | TT Electronics
TT Electronics, a global provider of custom power solutions and engineered technologies, has announced that its Power and Control business has officially opened its new state-of-the-art research, development and manufacturing facility.
11/27/2023 | HyRel
HyRel Technologies, a global provider of quick turn semiconductor modification solutions, announces the achievement of International Traffic in Arms Regulations (ITAR) registration.
11/20/2023 | MIT
MIT's Department of Aeronautics and Astronautics (AeroAstro) recently hosted the 2023 Future Leaders in Aerospace Symposium, inviting women and underrepresented minorities in aerospace fields to campus for a two-day program.
11/14/2023 | NEO Tech
NEOTech, a leading provider of electronic manufacturing services (EMS), design engineering, and supply chain solutions in the high-tech industrial, medical device, and aerospace/defense markets, is thrilled to welcome James Doyle to the team as Chief Executive Officer of NEOTech's Aerospace & Defense division, effective immediately.
11/06/2023 | PRNewswire
Vuzix Corporation, a leading supplier of smart glasses and Augmented Reality (AR) technology and products, announced it has completed delivery against a follow-on order from a Tier-1 aerospace and defense contractors with which it has been working with.