Electronic Interconnect Improves Customer Service with Addition of TS16949 and AS9100 Certifications
September 29, 2015 | Electronic Interconnect
Estimated reading time: 1 minute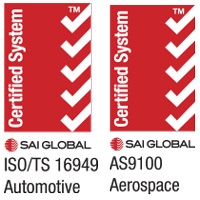 In an effort to bring a more stringent system into place, PCB fabricator Electronic Interconnect has received both their TS16949 and AS9100 certifications. 
TS 16949 is the International Standard for Automotive Quality Management Systems. Developed by the International Automotive Task Force (IATF) members, ISO/TS 16949 emphasizes the development of a process-oriented quality management system.
AS9100 series is the industry-recognized set of standards for quality assurance and risk management for those organizations involved with design, development, production, installation and servicing in the Aerospace industry.
These certifications will help Electronic Interconnect to:
Increase supply chain sustainability and traceability  
Improve customer focus through product delivery and reliability
Improve total supply chain quality management monitoring from offshore to onshore  
Improve the engineering process
Produce PCBs with the best practices of the automotive and aerospace industries.
With the above benefits, these certifications will increase EI's customer's end product credibility and reliability. As a complex component in the complete product, PCBs rely on numerous materials which can highly affect the overall product reliability and success in the market. EI's addition of the AS and TS certifications will give their customers a complete and reliable supply chain.
For more information about Electronic Interconnect, contact sales@eiconnect.com or visit www.eiconnect.com.
---
Suggested Items
11/29/2023 | TT Electronics
TT Electronics, a global provider of custom power solutions and engineered technologies, has announced that its Power and Control business has officially opened its new state-of-the-art research, development and manufacturing facility.
11/27/2023 | HyRel
HyRel Technologies, a global provider of quick turn semiconductor modification solutions, announces the achievement of International Traffic in Arms Regulations (ITAR) registration.
11/20/2023 | MIT
MIT's Department of Aeronautics and Astronautics (AeroAstro) recently hosted the 2023 Future Leaders in Aerospace Symposium, inviting women and underrepresented minorities in aerospace fields to campus for a two-day program.
11/14/2023 | NEO Tech
NEOTech, a leading provider of electronic manufacturing services (EMS), design engineering, and supply chain solutions in the high-tech industrial, medical device, and aerospace/defense markets, is thrilled to welcome James Doyle to the team as Chief Executive Officer of NEOTech's Aerospace & Defense division, effective immediately.
11/06/2023 | PRNewswire
Vuzix Corporation, a leading supplier of smart glasses and Augmented Reality (AR) technology and products, announced it has completed delivery against a follow-on order from a Tier-1 aerospace and defense contractors with which it has been working with.