Books

Featured Books

pcb007 Magazine

Latest Issues

Current Issue

The Registration Sweet Spot

Registration is underrated and underappreciated. The key is to ensure proper registration from layer to layer across the entire printed circuit board. It's a holistic process requiring anticipation, prediction, precise attention at each step, and detailed data tracking and monitoring.

High-reliability Fabrication

In this month's issue, our expert contributors discuss the latest in technologies, trends, complexities and resources regarding high-reliability fabrication.

Finding Ultra

New demands on PCB fabrication, namely advanced packaging, ultra high density interconnect (UHDI), and new specialty materials, are converging, changing the landscape of our business. Is it time to start paying close attention to this convergence?

Columns

Latest Columns

||| MENU
N.A. PCB Book-to-Bill Ratio Reaches Five-year High in August
October 1, 2015 | IPC
Estimated reading time: 2 minutes

IPC — Association Connecting Electronics Industries® announced today the August findings from its monthly North American Printed Circuit Board (PCB) Statistical Program. Year-over-year sales and order growth continued in August and the book-to-bill ratio climbed to 1.13, its highest level in more than five years.
Total North American PCB shipments increased 1.5 percent in August 2015 compared to August 2014. Year-to-date shipment growth stood at -0.1, reflecting the negative sales growth rates seen earlier this year. Compared to the previous month, PCB shipments were up 3.6 percent.
PCB bookings grew 24.1 percent compared to August 2014, increasing year-to-date order growth to 6.2 percent. Orders were up 11.3 percent in August compared to the previous month.
"Growth in North American PCB sales and orders continued in August and orders were especially strong," said Sharon Starr, IPC's director of market research. "The book-to-bill ratio reached its highest level since May 2010," she added, "which is a strong indicator of positive sales growth in the fourth quarter of this year and into next year."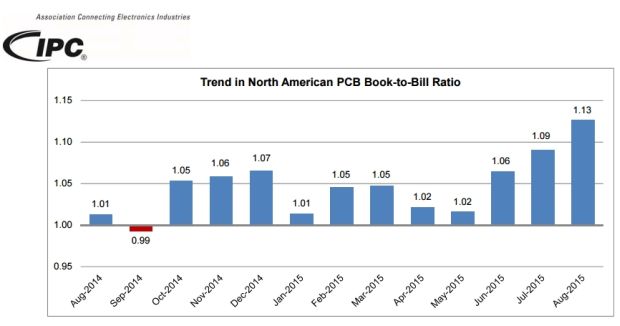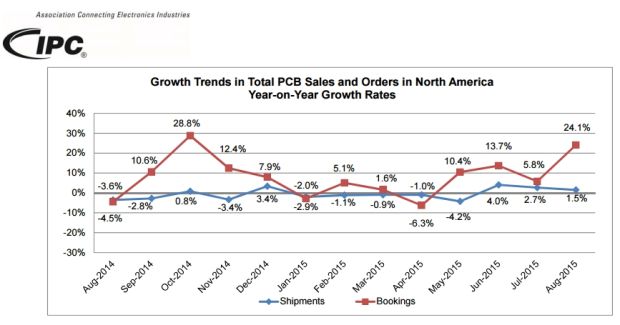 Detailed Data Available
The next edition of IPC's North American PCB Market Report, containing detailed August data from IPC's PCB Statistical Program, will be available within the next week. The monthly report presents detailed findings on rigid PCB and flexible circuit sales and orders, including separate rigid and flex book-to-bill ratios, military and medical market growth, demand for prototypes, and other timely data. This report is available free to current participants in IPC's PCB Statistical Program and by subscription to others. More information about this report can be found at www.ipc.org/market-research-reports.
Interpreting the Data
The book-to-bill ratios are calculated by dividing the value of orders booked over the past three months by the value of sales billed during the same period from companies in IPC's survey sample. A ratio of more than 1.00 suggests that current demand is ahead of supply, which is a positive indicator for sales growth over the next three to six months. A ratio of less than 1.00 indicates the reverse.
Year-on-year and year-to-date growth rates provide the most meaningful view of industry growth. Month-to-month comparisons should be made with caution as they reflect seasonal effects and short-term volatility. Because bookings tend to be more volatile than shipments, changes in the book-to-bill ratios from month to month might not be significant unless a trend of more than three consecutive months is apparent. It is also important to consider changes in both bookings and shipments to understand what is driving changes in the book-to-bill ratio.
IPC's monthly PCB industry statistics are based on data provided by a representative sample of both rigid PCB and flexible circuit manufacturers selling in the USA and Canada. IPC publishes the PCB book-to-bill ratio at the end of each month. Statistics for the current month are available in the last week of the following month.
About IPC
IPC (www.IPC.org) is a global industry association based in Bannockburn, Ill., dedicated to the competitive excellence and financial success of its 3,700 member companies which represent all facets of the electronics industry, including design, printed board manufacturing, electronics assembly and test. As a member-driven organization and leading source for industry standards, training, market research and public policy advocacy, IPC supports programs to meet the needs of an estimated $2 trillion global electronics industry. IPC maintains additional offices in Taos, N.M.; Washington, D.C.; Atlanta, Ga.; Stockholm, Sweden; Moscow, Russia; Bangalore and New Delhi, India; Bangkok, Thailand; and Qingdao, Shanghai, Shenzhen, Chengdu, Suzhou and Beijing, China.
---
Suggested Items
09/20/2023 | I-Connect007 Editorial Team
Panasonic's Darren Hitchcock spoke with the I-Connect007 Editorial Team on the complexities of moving toward ultra HDI manufacturing. As we learn in this conversation, the number of shifting constraints relative to traditional PCB fabrication is quite large and can sometimes conflict with each other.
09/19/2023 | Anaya Vardya -- Column: Standard of Excellence
In my last column, I discussed cutting-edge innovations in printed circuit board technology, focusing on innovative trends in ultra HDI, embedded passives and components, green PCBs, and advanced substrate materials. This month, I'm following up with the products these new PCB technologies are destined for. Why do we need all these new technologies?
09/18/2023 | ViTrox
ViTrox, which aims to be the world's most trusted technology company, is excited to announce that our trusted Sales Channel Partner (SCP) in Mexico, SMTo Engineering, S.A. de C.V., will be participating in SMTA Guadalajara Expo & Tech Forum. They will be exhibiting in Booth #911 from the 25th  to the 26th of October 2023,  at the Expo Guadalajara in Jalisco, Mexico.
09/18/2023 | Intel
Intel announced one of the industry's first glass substrates for next-generation advanced packaging, planned for the latter part of this decade.
09/18/2023 | Aidan Salvi -- Column: Facing the Future
I have been in and around circuit boards most of my life. I started 20 years ago in my family's PCB shop, leaving after a couple of years to start my own software company. About a year ago, I returned to the family business, and the first thing I noticed was that nothing had really changed. We were doing the same things in the same way as the day I left. After talking to several experts in the industry, I realized it was worse than that: The manufacturing of PCBs had not changed in 70 years.