Books

Featured Books

smt007 Magazine

Latest Issues

Current Issue

Economic Headwinds

This issue takes stock of the current economic outlook and how companies are using current conditions to move themselves through technological evolutions, workforce shifts, and financial changes. Even with these headwinds, there's forward progress to be made.

Attracting New Talent

To get different results in staffing, you must change how you define, promote and recruit your job opportunities. How do you become magnetic to high-quality early-career candidates?

Test and Inspection

Test and inspection methods are undergoing rapid change. In this issue, we consider the influence of AOI, AI, and human eyes. How exactly are these pieces of the puzzle changing the role of test and inspection?

Columns

Latest Columns

||| MENU
ULT AG Introduces Adsorption Dryer ULT Dry-Tec
October 2, 2015 | ULT AG
Estimated reading time: 1 minute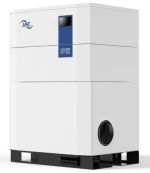 ULT AG recently introduced a completely new device for air-drying. The adsorption dryer ULT-Dry-Tec was developed for process air dehumidification at dew point temperatures of down to -60°C (-76° F).  It is based on the rotation dehumidification principle, designed to be utilised in sensitive areas of electronics production.
The compactly designed ULT Dry-Tec® requires little floor space and the system was developed specifically for extremely dry process air atmospheres, providing an extraordinary extraction rate at very low air humidity level.  Optimised high-performance sorption rotors guarantee a high efficiency level during low maintenance operation and the unit incorporates an integrated heat exchanger to help recover energy. In addition, the ULT Dry-Tec is easy to transport.
The applied capillary rotor condensation principle continuously and efficiently removes humidity from process air to be dried.  A constant and simultaneously controlled adsorption and a parallel running regeneration ensure an ideal dehumidification performance for process airflow.
ULT Dry-Tec suits a wide variety of operations in the following fields:
In electronics and electronic component manufacturing, as the unit provides constant drying conditions.
In the chemical industry, e.g. for clumping prevention and protection from moisture damage.
In the pharmaceutical industry, e.g. for pill packaging into blister strips or coating processes.
In the food industry, e.g. in tunnel freezers or for spray drying of convenience products.
About ULT AG
Founded in 1994, ULT AG is a leading manufacturer of high efficiency industrial air filtration systems and dust collectors.  The broad range of equipment has been designed for use in many industries such as machine construction, electronic production and general manufacturing, as well as medical, covering a wide range of applications.  In addition to the standard product range ULT AG offers custom-built units for special applications.  ULT AG provides customers in Europe, Asia, North America and Australia with extraction and filtration systems for material processing by means of laser, soldering, welding etc. as well as offering onsite services.  The company has been DIN EN ISO 9001 certified for more than 15 years.
---
Suggested Items
12/11/2023 | STI Electronics, Inc.
STI Electronics, Inc., a full-service organization providing training services, training materials, analytical/failure analysis, prototyping and electronics contract manufacturing, proudly announces the latest addition to its Training Team, Ms. Jenny Taymon.
12/11/2023 | SEMI
SEMI, the industry association serving the global electronics design and manufacturing supply chain, applauded the first award of U.S. CHIPS and Science Act incentives to strengthen the United States semiconductor industry ecosystem.
12/07/2023 | ESIA
The General Assembly of the European Semiconductor Industry Association (ESIA), representing the European semiconductor industry and broader ecosystem, unanimously confirmed Jochen Hanebeck, Chief Executive Officer of Infineon Technologies, as the new ESIA President for a two-year mandate. Mr Hanebeck is succeeding NXP Semiconductors' President and CEO Kurt Sievers.
12/06/2023 | Indium Corporation
Indium Corporation is proud to announce the addition of Sales Engineer Meik Fratzel to its European team.
12/06/2023 | SEMI
SEMI announced the SEMI Leadership Accelerator to foster industry growth by assisting organizations in cultivating the next generation of leaders.