Books

Featured Books

pcb007 Magazine

Latest Issues

Current Issue

The Registration Sweet Spot

Registration is underrated and underappreciated. The key is to ensure proper registration from layer to layer across the entire printed circuit board. It's a holistic process requiring anticipation, prediction, precise attention at each step, and detailed data tracking and monitoring.

High-reliability Fabrication

In this month's issue, our expert contributors discuss the latest in technologies, trends, complexities and resources regarding high-reliability fabrication.

Finding Ultra

New demands on PCB fabrication, namely advanced packaging, ultra high density interconnect (UHDI), and new specialty materials, are converging, changing the landscape of our business. Is it time to start paying close attention to this convergence?

Columns

Latest Columns

||| MENU
AirBorn Flexible Circuits Names Matrix Electronics a Preferred Partner in Success
October 9, 2015 | Matrix Electronics
Estimated reading time: 1 minute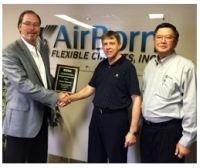 AirBorn Flexible Circuits, Inc. has named Matrix Electronics Limited as a Preferred Supplier and a Partner in Success. Each year, this award is granted to the Supplier who demonstrates an excellent track record for on-time delivery, quality and technical support.
"Matrix is an integral part of our Flexible Circuits business," stated Wayne Arsenault, Purchasing Manager at AirBorn Flexible Circuits, Inc. "Matrix is providing the best-in-class Panasonic Felios and flexible circuit raw materials. I should thank Philippe Yee and the Matrix Team for their flawless execution and commitment to quality and service."
"Matrix is delighted to be one of AirBorn's strategic partners, and this award will motivate our Team to continue demonstrating its excellent level of support to the customer," says Kieran Healy, president of Matrix Electronics Limited.
About Matrix Electronics
Matrix was established in 1977 with the objective of providing quality raw materials to the North American Printed Circuit Board industry. With over 110 associates, the company is ready to meet its customers' JIT requirements. The Technical Support Team have experience in every PCB manufacturing process and are ready to serve. Our motto is simple, "Quality Products, Dependable People".
For more information, visit www.matrixelectronics.com.
About AirBorn Flexible Circuits, Inc.
AirBorn Flexible Circuits, Inc. designs and manufactures a broad range of innovative flexible printed circuit board products for high reliability interconnect applications.   The company has over 25 years of operating history and has supplied more than 1,000 different products to customers around the world.  Markets served by the company include defense, aerospace, medical, instrumentation, and industrial electronics.   The company also offers a full range of integrated services comprising design, DFm, DFt, prototypes, production manufacturing, hand and automated assembly, and testing. Visit the Company's website at http://www.airborn.com/about.
---
Suggested Items
12/05/2023 | HANZA
HANZA AB has signed an agreement to acquire all shares in Orbit One AB, a Swedish company that offers contract manufacturing of electronics and electromechanics. Orbit One has annual sales of approximately SEK 1.1 billion with an operating profit (EBITA) of approximately SEK 70 million.
12/05/2023 | IPC
Electronics industry sentiment improved during November with demand sentiment also taking a solid step up over the last 30 days per IPC's November 2023 Global Sentiment of the Electronics Supply Chain Report.
12/05/2023 | Robert Erickson and Lorena Villanueva, IPC
About 200 kilometers (125 miles) north of Mexico City lies Queretaro, an area rich in history, with stone streets and public squares, and which twice has been the country's capital. But it's also quickly becoming a global capital of electronics manufacturing, especially aeronautics, and was the location for the first IPC Day Mexico this past June.
12/04/2023 | USPAE
Seven microelectronics firms received nearly $10 million in combined funding to commercialize technologies of interest to the U.S. military services as winners of the Defense Business Accelerator (DBX) Microelectronics Challenge. This groundbreaking initiative is funded by the Department of Defense (DoD) and led by the U.S. Partnership for Assured Electronics (USPAE).
11/30/2023 | BUSINESS WIRE
Nordson Electronics Solutions, a global leader in electronics manufacturing technologies, is pleased to announce the release of the new ASYMTEK Select Coat® SL-1040 conformal coating system.