The Application of Advanced Ultrasonics in Metal Plating Processes
October 12, 2015 | Stuart Dalrymple, C-Tech Innovation
Estimated reading time: 3 minutes
Most surface modification chemical treatments by their very nature contain hazardous and oxidising chemicals; there is a major concern that these chemicals are used maliciously with the intent to manufacture explosives or formulate poisons to harm the public. Cyanide-based plating solutions and high concentrations of hydrogen peroxide used in current techniques are a significant use of these materials in industry.
The use of cyanide and hydrogen peroxide is concentrated in a few industries: large polymer manufacturers, chemical manufacturers, and surface finishing companies. Surface finishing/PCB manufacturing is a particular risk as in general the sites where these processes are run are small, distributed and less secure than large chemical plants. Consequently, amounts of these dangerous substances are found across the UK with varying and sometimes limited control over their use, representing a significant risk.
Barriers to implementation of cyanide-free plating solutions are related to quality of product and operational requirements. Introduction of the novel ultrasound technology can overcome these barriers, but must be validated on full scale processes and over a range of plating systems.
The introduction of ultrasound to current industrial protocols has been demonstrated in the first phase of the Reprime project to allow the removal of cyanide from metal plating processes, and significantly reduce the amount of hydrogen peroxide use. A small test plating line was set up featuring an ultrasound tank in which barrel plating, vat plating or PCB etching could be performed.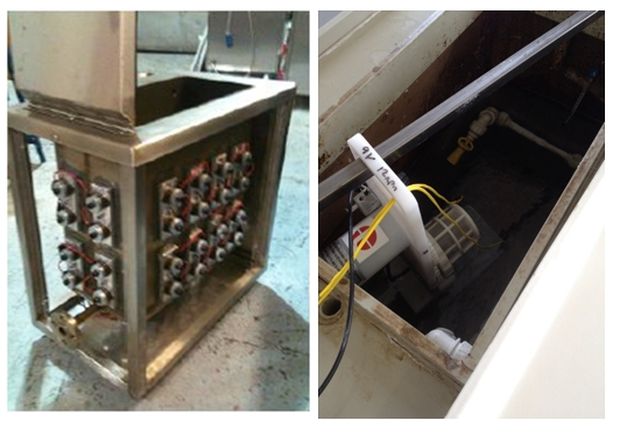 Figure 1: Ultrasound reactor showing ultrasound transducers (left) and barrel plating (right).
Results from zinc plating trials on fixings, showed that cyanide free solutions could be improved in terms of the weight addition and the coverage consistency with appropriate application of ultrasound. The technique particularly aids coverage when used on unusual shapes and through holes which are typically problematic with cyanide free solutions.

Figure 2: Improved plating rate on hex-nuts in acid based zinc plating solutions when ultrasound is applied.
Ultrasound was shown to reduce the levels of hydrogen peroxide required in etchant solutions used in PCB manufacturing. However, the biggest improvements were seen when considering bath life. Baths treated with a particular configuration of ultrasound could perform for significantly longer timescales without performance degradation. Therefore, bath chemistry can be replenished at a less frequent rate, reducing chemical use and handling requirements.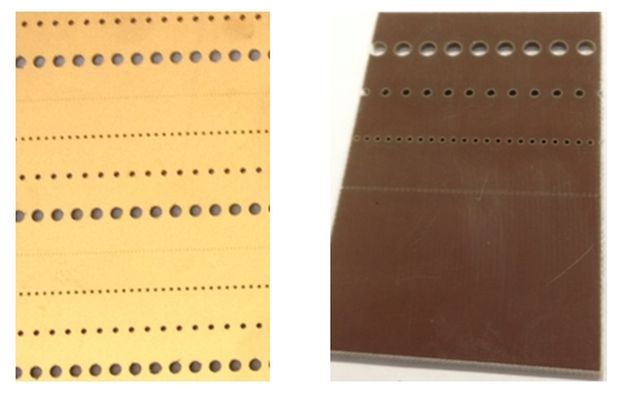 Figure 3: PCB test materials untreated (left) and treated (right) with a hydrogen peroxide based etchant.
To go beyond the current process development and achieve impact in industry, the scope of work must be increased to test at an industrially relevant scale and to broaden the range of processes covered. Work is currently focussed on making cyanide free technology more attractive on performance grounds to overcome barriers to implementation. Overall aims of the project are as follows:
Demonstrate that zinc plating can be achieved at a scale relevant to industrial systems
Ensure technology can be easily used with existing equipment
Extend plating trials to other cyanide plating systems such as copper, gold and silver to cover the bulk of the industrial processes
Carry out hydrogen peroxide etch at full PCB manufacturing scale and prolonged bath life trials
Work with industry bodies such as the Surface Engineering Association (SEA) and ICT (institute of Circuit Technology) to engage and inform industry
There is huge potential for this technology to make a positive impact on the reduction of dangerous chemicals with over 1000 factories in the UK operating surface finishing or PCB manufacturing processes. The output from these industries are cross-sectoral, including vast markets within the automotive, aerospace, and electronics sectors. It is hoped that through this research work, a viable technical solution can be applied through this industry.
Stuart Dalrymple is a project manager at C-Tech Innovation with experience running research projects in the areas of process engineering, surface finishing and environmental assessment.
---
Suggested Items
11/13/2023 | Global Newswire
The "Global Copper Clad Laminates Market (by Type, Application, Reinforcement Material, & Region): Insights and Forecast with Potential Impact of COVID-19 (2023-2028)" report has been added to ResearchAndMarkets.com's offering.
11/07/2023 | SCHMID Group
The SCHMID Group, a global solution provider for the high-tech electronics, photovoltaics, glass and energy systems industries, will be exhibiting at productronica in Munich from November 14 – 17, 2023.
11/01/2023 | Alex Stepinski, Stepinski Group
The topic of intrinsic copper structure has been largely neglected in discussions regarding the PCB fabrication quality control process. At face value, this seems especially strange considering that copper has been the primary conductor in all wiring boards and substrates since they were first invented. IPC and other standards almost exclusively address copper thickness with some mild attention being paid to surface structure for signal loss-mitigation/coarse properties. 
10/26/2023 | Andy Shaughnessy, Design007
At PCB West, I sat down for an interview with John Andresakis, the director of business development for Quantic Ohmega. I asked John to update us on the company's newest materials, trends in advanced materials, and the integration of Ticer Technologies, which Quantic acquired in 2021. As John explains, much of the excitement in materials focuses on laminates with lower and lower dielectric constants.
10/25/2023 | Preeya Kuray -- Column: Material Insight
Printed circuit board (PCB) reliability testing is generally performed by exposing the board to various mechanical, electrical, and/or thermal stimuli delineated by IPC standards, and then evaluating any resulting failure modes. Thermal shock testing is one type of reliability test that involves repeatedly exposing the PCB test board to a 288°C pot of molten solder for a specific time (typically 10 seconds) and measuring the number of cycles it takes for a board's copper layer to separate from the organic dielectric layer. If there is no delamination, fabricators can rest assured that the board will perform within expected temperature tolerances in the real world.