Books

Featured Books

pcb007 Magazine

Latest Issues

Current Issue

Finding Ultra

New demands on PCB fabrication, namely advanced packaging, ultra high density interconnect (UHDI), and new specialty materials, are converging, changing the landscape of our business. Is it time to start paying close attention to this convergence?

Developing a Strategy

A solid strategy is a critical part of success. This month, we asked some of the top industry leaders and business strategy "gurus" to share their thoughts on developing strategies.

Winning With TQM

In this issue, we explore how TQM has entered the DNA of continuous improvement disciplines, and the role leadership transformation plays in this. If you've ever competed against a TQM company, you understand their winning advantage.

Columns

Latest Columns

||| MENU
Printed Electronics USA 2015 Hits Record High with Over 200 Exhibitors
October 14, 2015 | Printed Electronics World
Estimated reading time: 2 minutes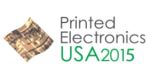 Printed Electronics USA 2015, the world's largest event on printed, flexible and organic electronics, has confirmed over 200 exhibitors, more than any previous show to date – leaving only two percent of exhibition space available.
Printed Electronics USA is part of the IDTechEx Show! being held Nov. 18-19 in the heart of Silicon Valley at the Santa Clara Convention Center in Santa Clara, Calif. Featuring exhibitors from over 20 countries, the show is expected to host 3,000 attendees who will enjoy a first-hand look at today's most exciting emerging technologies, including commercialization and the newest advances in printed electronics.
"The response we received following the launch of our stretchable electronic inks for wearable electronics at IDTechEx last year was outstanding," says Michael Burrows of DuPont Microcircuit Wearables, a leader in the wearables segment. "This year, we look forward to sharing our newest innovations in stretchable electronics and showcasing some examples of smart clothing enabled by our technology."
Lead sponsor NovaCentrix will showcase its printed electronics equipment and material solutions. Presenting companies include industry giants and innovators, such as Coca-Cola, HP, United Technologies Research Center, Jabil, DuPont and Bayer Healthcare.
Printed Electronics USA features several new, exciting attractions that highlight the emerging technologies in this rapidly expanding arena. "Demonstration Street," for instance, will give attendees the chance to see printed electronics-based products they have only read about such as flexible LCD displays; and "Manufacturing Street' will take attendees through a hands-on journey into the world of equipment that makes these devices. These demonstration areas will be running on the exhibition floor, with industry experts on hand to answer questions.
Ten winners of the prestigious IDTechEx Launchpad competition, sponsored by Qualcomm, will also demonstrate – for the first time - unique prototypes and products from early stage companies. The event will also feature the "Internet of Things Bus," from Atmel – an actual motor bus on the exhibition floor showcasing the many diverse technologies and use cases of IoT.
Hosted by global emerging technology research and technology scouting firm IDTechEx, the IDTechEx Show! is a unique event that brings together multiple inter-related emerging technologies in one place, with eight parallel conference tracks on the topics of printed and flexible electronics; wearable technology; 3D printing; sensors; graphene; Internet of Things; energy harvesting and storage; and electric vehicles. The conference events also include optional masterclasses and tours to select companies in Silicon Valley on Nov. 17 and 20. For more information, visit www.PrintedElectronicsUSA.com.
Established in 1999, IDTechEx provides independent market research, business intelligence and events on emerging technology to clients in more than 80 countries. IDTechEx is headquartered in Cambridge UK, with bases in Boston, Massachusetts (USA), San Jose, California (USA), Berlin, Germany, Tokyo, Japan and Seoul, Korea.
---
Suggested Items
10/02/2023 | Gen3
Gen3, Global leader in SIR, CAF, Solderability, Ionic Contamination & process optimisation equipment, is pleased to announce the appointment of John Barraclough as the Head of Business Development.
10/02/2023 | KYZEN'
KYZEN, the global leader in innovative environmentally friendly cleaning chemistries, announced that Debbie Carboni, Global Product Line Manager - Electronics, will present as part of the Electric Vehicle (EV) panel during the IPC High Reliability Forum.
10/02/2023 | Mycronic AB
Mycronic AB has received the first order for upgrades of already installed display mask writers from gas laser to solid state laser from SK Electronics in Japan.
09/29/2023 | Dixon
Dixon wholly owned subsidiary- Padget Electronics Private Limited enters into an Agreement with Xiaomi to carry out manufacturing of smart phones and other related products for Xiaomi.
09/29/2023 | USPAE
In a major initiative to innovate how the Department of Defense (DoD) spurs commercial technology development, the U.S. Partnership for Assured Electronics (USPAE) and DoD launched a Defense Business Accelerator (DBX) to open doors for industrial base growth and stimulate private investment.