Books

Featured Books

design007 Magazine

Latest Issues

Current Issue

Rigid-flex: Designing in 3D

In this month's issue, our expert contributors share their best tips, tricks and techniques for designing rigid-flex circuits. If you're a rigid board designer considering moving into the 3D world of rigid-flex, this issue is just what the doctor ordered!

Simulation, Analysis, and AI

Getting today's designs "right the first time" is critical, especially with costly advanced PCBs. Simulation and analysis software tools can help you in the fight to eliminate respins. They're not magical, but they can predict the future of your design.

Advanced, Complex & Emerging Designs

This month, our contributors focus on designing PCBs with advanced, complex and emerging technologies. We investigate design strategies for boards that are on the cutting edge of technology, or crazily complex, or so new that designers are still writing the rules as they go.

Columns

Latest Columns

||| MENU
Insulectro Hosts Silicon Valley Designers Council Meeting
October 21, 2015 | Barry Matties, I-Connect007
Estimated reading time: 1 minute

On October 15, about 25 people gathered for the IPC Designers Council Silicon Valley Chapter meeting at Insulectro's facility in Mountain View, California. The 1.5-hour meeting opened with a warm welcome from Chapter President Bob McCreight, CID, a PCBA designer at Tesla Motors, and Jason Marsh, VP of product management at Insulectro.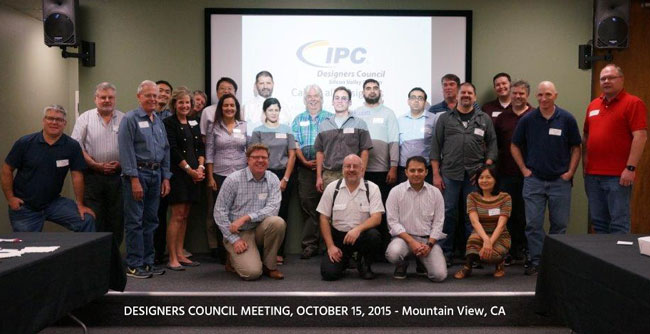 The meeting focused on solder joints, and how circuit design can contribute to the success or failure of a solder joint.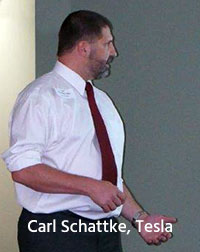 Carl Schattke, senior PCB design engineer at Tesla, was the main speaker. Carl's presentation covered a variety of facets of PCB design, from shadowing to the location of component based on weight and surface finishes. The presentation was filled with great images that supported Schattke's thoughtful coverage of these topics.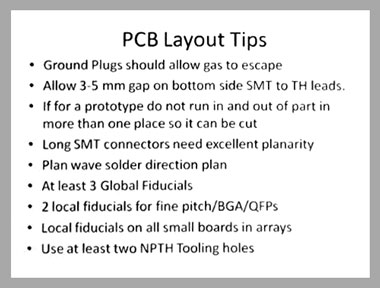 The room was filled primarily with well-seasoned circuit designers, a couple of suppliers, and a few people from Shenmao Technology Group, who provided some of the PowerPoint images for Schatte's presentation.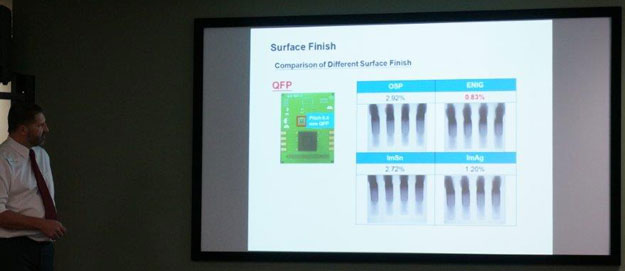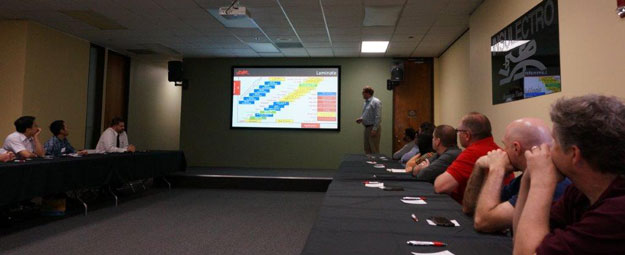 About the IPC Designers Council
The IPC Designer's council was formed in 1991 to provide continuing education of the PCB designer. There is no cost to join the Designers Council. While regular IPC membership is reserved for companies, the Designers Council is a separate professional society for individuals, with its own separate benefits. These include discounts on design-related events and IPC standards, as well as the chance for designers to advance their technical education and network with other PCB designers and technologists at local chapter meetings.
Local chapters host roundtable discussions, facility tours, and "lunch & learn" presentations on critical design and manufacturing issues. Chapters also form study groups to help members study for the CID (Certified Interconnect Designer-Basic) and CID+ advanced exams.
There are Designers Council chapters around the world, but there might not be a local DC chapter near you. Don't despair. If you have at least 12 designers who can meet at least four times a year, why not start your own chapter?     
If you would like to learn more about the IPC Designers Council, or even start your own local chapter, send an e-mail to design@ipc.org, or visit http://dc.ipc.org. 
---
Suggested Items
09/27/2023 | Hentec Industries/RPS Automation
Hentec Industries/RPS Automation, a leading manufacturer of selective soldering, lead tinning and solderability test equipment, is pleased to announce that Kyocera International has finalized the purchase of a Hentec/RPS Odyssey 1325 robotic hot solder dip component lead tinning machine. 
09/26/2023 | Conecsus Metals México
Conecsus Metals México, an innovative environmental technology and recycling company, will exhibit at the SMTA Foro Tecnico & Expo, Guadalajara, Jalisco, México, on Wednesday, October 25, 2023, beginning at 11:00 a.m.
09/21/2023 | Thermaltronics USA, Inc.
Thermaltronics USA, Inc., a globally acclaimed manufacturer of Precision Soldering Robots and innovative Curie point soldering systems, is excited to announce its participation in the highly anticipated SMTA Guadalajara Expo & Tech Forum, scheduled to take place from October 25-26, 2023.
09/20/2023 | ULT AG
At this year's productronica, the world's leading trade show for electronics manufacturing, ULT will present a brand new extraction solution for solder fumes and vapor.
09/20/2023 | Hentec Industries/RPS Automation
Hentec Industries/RPS Automation, a leading manufacturer of selective soldering, component lead tinning and solderability test equipment, announces that it has added assembly and production staff members to its team to accommodate its recent increase in sales and order demand.