Reading time ( words)
IPC — Association Connecting Electronics Industries® announced today the September findings from its monthly North American Printed Circuit Board (PCB) Statistical Program. Sales growth continued in September and the book-to-bill ratio fell back to a more normal but still positive 1.05.
Total North American PCB shipments increased 3.3 percent in September 2015 compared to September 2014. Year-to-date shipment growth finally reached positive territory at 0.3 percent, after struggling to overcome negative sales growth rates seen earlier this year. Compared to the previous month, PCB shipments were up 12.1 percent.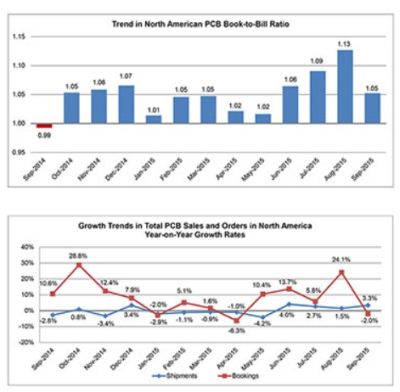 PCB bookings decreased 2.0 percent compared to September 2014, reducing year-to-date order growth to 5.2 percent. Orders were down 7.4 percent in September compared to the previous month.
"The North American PCB industry continues to see modest but positive sales growth, the result of strong order growth in most months of 2015. Orders contracted in September bringing the book-to-bill ratio down from a 5-year high in August to a more moderate level," said Sharon Starr, IPC's director of market research. "The book-to-bill ratio remains positive for the 12th consecutive month," she added, "which is a strong indicator of positive sales growth in the fourth quarter of this year and into next year."
Detailed Data Available
The next edition of IPC's North American PCB Market Report,containing detailed September data from IPC's PCB Statistical Program, will be available within the next week. The monthly report presents detailed findings on rigid PCB and flexible circuit sales and orders, including separate rigid and flex book-to-bill ratios, military and medical market growth, demand for prototypes, and other timely data. This report is available free to current participants in IPC's PCB Statistical Program and by subscription to others. More information about this report can be found at www.ipc.org/market-research-reports.
Interpreting the Data
The book-to-bill ratios are calculated by dividing the value of orders booked over the past three months by the value of sales billed during the same period from companies in IPC's survey sample. A ratio of more than 1.00 suggests that current demand is ahead of supply, which is a positive indicator for sales growth over the next three to six months. A ratio of less than 1.00 indicates the reverse.
Year-on-year and year-to-date growth rates provide the most meaningful view of industry growth. Month-to-month comparisons should be made with caution as they reflect seasonal effects and short-term volatility. Because bookings tend to be more volatile than shipments, changes in the book-to-bill ratios from month to month might not be significant unless a trend of more than three consecutive months is apparent. It is also important to consider changes in both bookings and shipments to understand what is driving changes in the book-to-bill ratio.
IPC's monthly PCB industry statistics are based on data provided by a representative sample of both rigid PCB and flexible circuit manufacturers selling in the USA and Canada. IPC publishes the PCB book-to-bill ratio at the end of each month. Statistics for the current month are available in the last week of the following month.
Share
Suggested Items
06/09/2023 | Andy Shaughnessy
It's summertime, but the industry is staying pretty busy. This week, we have news about our industry putting pressure on our elected officials to provide funding for U.S. companies under the CHIPS Act, and a counterfeit parts symposium presented by SMTA in Maryland next month. We also bring you articles about ultra HDI design and material selection, and our most recent On the Line with… podcast with Zac Elliott of Siemens.
06/06/2023 | Michelle Te, I-Connect007
We often hear words and phrases that naturally go together: Salt and pepper, touch and go, trace and space. When it comes to the work of IPC member Carol Handwerker, however, the collocations are much more nuanced, deeper, and have greater significance. You're more likely to think of phrases such as standards and technology, lead-free and solder, or advanced packaging and heterogeneous integration. These are just some examples of Carol's lifelong work in materials engineering, involvement with governing bodies, and a forward-thinking approach to electronics manufacturing that has spanned more than three decades.
06/02/2023 | Suhani Chitalia, IPC Environmental Regulatory Affairs Manager
Man-made chemicals known as PFAS have regulators busy trying to address previous releases and prevent future releases of this chemical into the environment from widespread uses in manufacturing processes and products used across the globe. PFAS chemicals tend to be persistent in the environment and they have been used long enough and in enough applications that their unwanted presence in the environment has public health policymakers concerned.