Books

Featured Books

pcb007 Magazine

Latest Issues

Current Issue

Finding Ultra

New demands on PCB fabrication, namely advanced packaging, ultra high density interconnect (UHDI), and new specialty materials, are converging, changing the landscape of our business. Is it time to start paying close attention to this convergence?

Developing a Strategy

A solid strategy is a critical part of success. This month, we asked some of the top industry leaders and business strategy "gurus" to share their thoughts on developing strategies.

Winning With TQM

In this issue, we explore how TQM has entered the DNA of continuous improvement disciplines, and the role leadership transformation plays in this. If you've ever competed against a TQM company, you understand their winning advantage.

Columns

Latest Columns

||| MENU
Schmoll Introduces New MDI Product at productronica 2015
November 20, 2015 | Burkle North America
Estimated reading time: 1 minute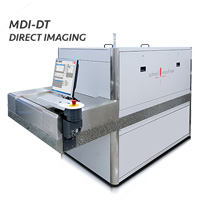 During the most recent Productronica show held in Munich, Germany, Schmoll Maschinen GmbH introduced the new Micromirror Digital Imaging System (MDI), a digital direct imaging system using Digital Micromirror Device (DMD) technology. This new technology transfers UV light images to the circuit board substrate using high resolution micromirror chips.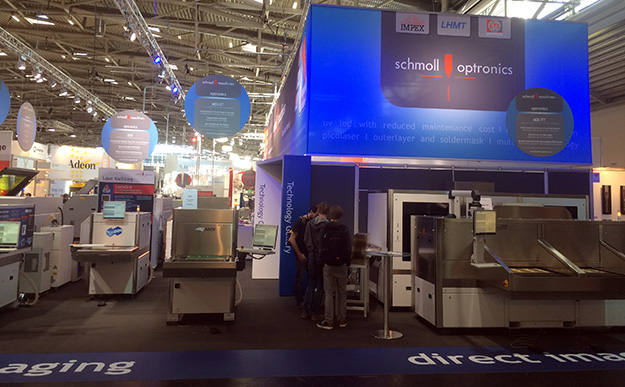 As a new technology, Schmoll brings to the industry a robust granite platform system ensuring image stability suitable for photoresist inner layer/outer layer and solder mask applications. Three systems are available including a single table system, a double table system for faster throughput and larger table surface for sizable panels. The system can be configured for one to as many as six heads for higher throughput.
The MDI-ST and the MDI-DT are assembled on a stable granite platform with a precision table based on Schmoll's extensive experience in both mechanical and laser drilling systems. The MDI Light Engine provides 2 million individually adjustable micromirrors for fine line imaging resolution. In addtion, the compact design and flexibility of these systems allow for economical use of floor space.
As the largest manufacturer of productive drilling and routing systems in the world, Schmoll Maschinen GmbH offers an economical approach with their extensive system and imaging technology to the PCB industry.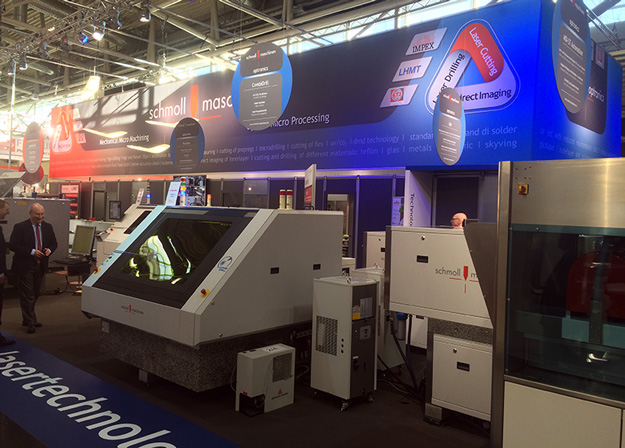 Bürkle North America has been the exclusive Schmoll distribution (parts, sales and service) partner in North America for over 10 years.
Contact Dave Howard 714-379-5090 for more information, or access www.burkleamerica.com for all up-to-date information on Schmoll product lines.
About Burkle North America -  Bürkle North America, Inc. is a wholly owned division of Robert Bürkle GmbH, of Freudenstadt, Germany. Bürkle is the leading manufacturer of productive manufacturing technologies serving a variety of manufacturing industries, including surfaces / woodworking technologies, photovoltaic module lamination and coating, printed wiring board fabrication and plastic card fabrication.
Schmoll Maschinen – Schmoll Maschinen is one of the leading suppliers of machine tool and mass production solutions for electronic and micro structuring applications with more than sixty years of engineering experience. Schmoll's solution portfolio covers all performance relevant steps for mechanical and laser micro machining and is complemented by automation technology.
---
Suggested Items
09/21/2023 | Thermaltronics USA, Inc.
Thermaltronics USA, Inc., a globally acclaimed manufacturer of Precision Soldering Robots and innovative Curie point soldering systems, is excited to announce its participation in the highly anticipated SMTA Guadalajara Expo & Tech Forum, scheduled to take place from October 25-26, 2023.
09/20/2023 | ULT AG
At this year's productronica, the world's leading trade show for electronics manufacturing, ULT will present a brand new extraction solution for solder fumes and vapor.
09/20/2023 | Hentec Industries/RPS Automation
Hentec Industries/RPS Automation, a leading manufacturer of selective soldering, component lead tinning and solderability test equipment, announces that it has added assembly and production staff members to its team to accommodate its recent increase in sales and order demand.
09/19/2023 | SMTA
SMTA is honored to announce Qais Qasaimeh, a graduate student at Auburn University, has been selected as the winner of the 2023 Charles Hutchins Educational Grant.
09/14/2023 | SHENMAO
SHENMAO America, Inc. is proud to introduce its latest innovation in response to the growing demand for ultra-thin packages in the electronics industry.