Books

Featured Books

smt007 Magazine

Latest Issues

Current Issue

Attracting New Talent

To get different results in staffing, you must change how you define, promote and recruit your job opportunities. How do you become magnetic to high-quality early-career candidates?

Test and Inspection

Test and inspection methods are undergoing rapid change. In this issue, we consider the influence of AOI, AI, and human eyes. How exactly are these pieces of the puzzle changing the role of test and inspection?

Chips Don't Float

In Europe and the U.S., legislation is under way to revitalize PCB fabrication and packaging. What is the status of this work, and how specifically does this change the industry landscape for EMS companies? What will help keep us afloat?

Columns

Latest Columns

||| MENU
The Key to Understanding Industry 4.0: Show, Don't Tell!
December 17, 2015 | Barry Matties, I-Connect007
Estimated reading time: 7 minutes

Can you better understand the challenges of Industry 4.0 by playing with toy cars? Mentor Graphics thinks so, which is why they set up a racecar track in their booth at productronica. Besides being fun to play with, Mentor Valor Division's Senior Marketing Development Manager Michael Ford explains why it's a perfect analogy for understanding Industry 4.0.
Barry Matties: Michael, tell us what's going on here.
Michael Ford: We wanted people to understand Industry 4.0. One way to illustrate the concept is with our car racing game. The cars that are racing around the track are self-contained automation. They can move left and right and turn around, accelerate, etc. They are analogous to the automated machines such as SMT that we see in production. Of course, the car by itself, where's it going to go? You need to be able to tell it what to do. Here, with this racing game, we have the racing going on where each of the cars is communicating with the racing intelligence app in real time, using Bluetooth. The whole of the racing logic can become very exciting. The cars each have their different personalities and compete against one other in the race.
In production, it's the same. We are taking information directly from the machines in real time, but instead of racing, we're actually trying to get work orders completed in the most efficient way to meet delivery deadlines. Illustrating Industry 4.0 is analogous to computerized racing; the controller of the race is that level of computerization that brings the intelligence to all of the individual processes.
We wanted people to get that Industry 4.0 is not something to be afraid of; it's not just a kind of marketing gimmick. Actually, we can show people what it really means by just playing the racing game.
Matties: And are they getting it?
Ford: Absolutely! It's a lot of fun. The cars normally try to avoid crashing into each other. Sometimes though, they get aggressive and they push each other off the track. It's just like the different and changing priorities that you see in manufacturing. You get a rush order coming in, and you have to meet the customer requirements. Things change as a consequence. It's quite a good illustration of how the whole thing works.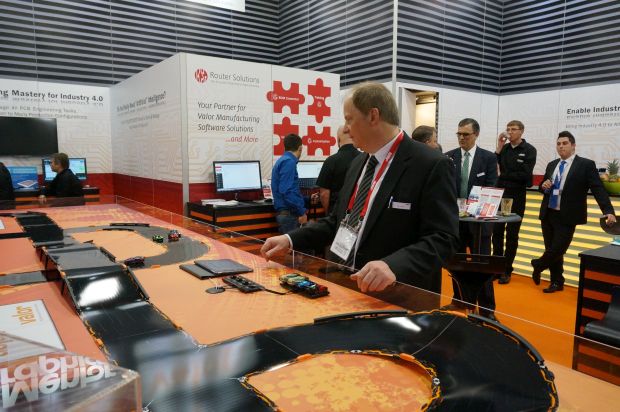 Matties: With big data, the challenge is not realizing that there's big data out there. The challenge, I think, is getting the data that you really need.
Ford: Exactly right. The data that we really need isn't so complicated. These cars, again, are a great example. They just need to know where they are on the track. Then the computerization takes over and provides the intelligence for the race. Automated SMT machines have PCBs to be made, and they have programs to be executed; but to meet the customer requirement today, what is the best way to get my work orders through this and every other process?
We, for example, have taken schedule data from customers where they have 30 days of scheduled production, put it through our Industry 4.0 finite planning solution, and it turns out that they reduce 10 days of that plan. At first, they didn't believe the result because their productivity levels were already 70 or 80%. They said, "How can you get 30% on top of that?" The problem was that their plan itself was inefficient. They were comparing what they were achieving against a flawed plan.
An effective plan has to follow the live customer demand. This is what Industry 4.0 is all about—to make an accurate, finite plan that has no risk of execution, and that's going to be able to make exactly what you want, when you want, in the way that you want it. You need the visibility from the machines. You need to understand what the goal is, in terms of delivery to the customer, and you need to know the resources and materials available. This is about what Industry 4.0 means.
Matties: It's all driven from the customer. That's the point.
Ford: Yeah, exactly right. We saw the example of Industry 4.0, I think, in terms of the soda cans being made and how they were just filled and labeled as the customers ordered them. That's the concept that we need to bring to surface mount manufacturing. The problem is, as the level of complexity increases, as we want to do more changes in surface mount, the productivity goes down big time because we have to change machines over more often. Even if we start to group products together from the engineering perspective, nobody's to say that that's the group of products that was wanted by the customer, so the approach was completely wrong; it actually ends up compromising machine efficiency.
What we are doing instead is sequencing the order of production at the same time as being able to optimize by the grouping of products for the machines. This is the kind of classic Industry 4.0 computerization that exists over the top of automated manufacturing and enables it to be efficient.
Page 1 of 2
---
Suggested Items
11/09/2023 | Brian Chislea, The Dow Chemical Company
My passion for STEM, mentoring, and our electronics industry is both professional and personal. I'm a scientist and application engineer at Dow Chemical, as well as an IPC standards committee leader and a mentor for burgeoning engineers. Most importantly, my personal life revolves around helping kids become involved in STEM activities, so when I saw an opportunity to be a mentor for my son's middle school robotics program, I couldn't pass it up.
11/06/2023 | Barry Matties, I-Connect007
I recently visited IPS in Cedar City, Utah, which has been manufacturing wet process equipment for printed circuit boards fabrication for more than 30 years. While there, I conducted candid one-on-one interviews with several of the team members. They shared their views on manufacturing, their roles and challenges, their burgeoning passion for what they do, and valuable advice for others looking at manufacturing as a career.
08/17/2023 | Business Wire
Arrow Electronics, Inc. announced that Rick Marano will be named president of the company's global components business, subject to formal Board appointment at the Board's next regularly scheduled meeting on Sept. 13, 2023.
07/14/2023 | SEMI
SEMI and the SEMI Foundation, the industry association representing the global electronics design and manufacturing supply chain, announced that KT Moore, Vice President of Corporate Marketing at Cadence Design Systems, has received the 2023 SEMI Foundation Excellence in Achievement Award for his outstanding leadership in promoting diversity, inclusion, equity and belonging (DEIB) and workforce development in the semiconductor industry.
06/28/2023 | Team NCAB -- Column: Fresh PCB Concepts
Which file format should I use? This is something I am asked frequently, and it reminds me of when I was in college and working for a PCB fabricator. I'd work my way to the sales department so I could support them with design for manufacture (DFM) analysis—a daunting task while also trying to remember all the information I was learning in my engineering classes. However, an engineer with many years of experience was a wonderful mentor to me. He not only taught me a plethora of information about PCBs, but he also taught me about the many different file formats we use for PCBs. He even shared painful legends of screen projectors and making screens.