Books

Featured Books

smt007 Magazine

Latest Issues

Current Issue

Economic Headwinds

This issue takes stock of the current economic outlook and how companies are using current conditions to move themselves through technological evolutions, workforce shifts, and financial changes. Even with these headwinds, there's forward progress to be made.

Attracting New Talent

To get different results in staffing, you must change how you define, promote and recruit your job opportunities. How do you become magnetic to high-quality early-career candidates?

Test and Inspection

Test and inspection methods are undergoing rapid change. In this issue, we consider the influence of AOI, AI, and human eyes. How exactly are these pieces of the puzzle changing the role of test and inspection?

Columns

Latest Columns

||| MENU
Mentor Graphics: The Past, Present and Future of Analytics
December 21, 2015 | Andy Shaughnessy, I-Connect007
Estimated reading time: 7 minutes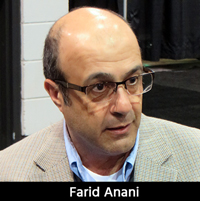 On the final day of SMTA International in Chicago, I sat down with Farid Anani, consulting manager with Mentor Graphics' Valor Division. We discussed a paper he presented at SMTAI that focused on analytics and how it can be used to increase business revenue. The conversation then explored how far analytics has come in the last 20 years and where it may be headed in the future.
Andy Shaughnessy: Farid, I understand you presented a paper this morning. Will you tell us about that?
Farid Anani: The paper's main topic was how to use analytics to create new business revenue. We are looking to the next two to three years, at the trends of how analytics has been used how analytics should be used, and proposing and suggesting ways for our customers to leverage this data to create more business. Basically, it involves building services around the data.
Shaughnessy: One would think that companies would just naturally be doing this, but that's not the case, obviously.
Anani: Some companies have been doing this, to a limited extent. In our view, the effort has been fragmented and focused on specific, continuous improvement projects. There has not been an effort to really spread across different data inputs and collect data from different platforms that are involved in the product life cycle, design, manufacturing, and servicing after it's released to the market. There is not a single platform that aggregates all of this data and makes sense out of the trends and creates actionable intelligence for the end user.
Shaughnessy: What is Valor's perspective? How can you all help?
Anani: We are collecting a large amount of data. All of today's factories are equipped to collect data on-the-fly from every piece of equipment imaginable on the production floor. The data is already there, and getting to the point of collecting data is challenging by itself. You have various equipment communicating using different protocols, and there really isn't a specific standard in the circuit board assembly industry for equipment to communicate with. I'm going to use some names here, just as examples. You have Fuji, Assembleon, Panasonic, DEK, and many others. Each piece of equipment collects and stores data in a different platform and different format. There is the challenge of data normalization, but then the bigger challenge is what comes next: How do you extract meaningful patterns for meaningful services for the customers?
I'll give you an example of what a meaningful service might look like that spans multiple areas of the product's realization. For instance, a designer may be in England. He will lay out the board, then he might send it to a company in Germany to perform the assembly. Meanwhile, somebody from the manufacturer might decide to run DFM analysis on the product and get data. Right now, the designer might see the DFM report, and he may or may not incorporate any changes in his design. Going further down the road, as the manufacturer begins to assemble the product, they are collecting data on the quality and performance of the product on the production floor, as they are building it. Data is available from inspection equipment; data is available from test equipment. That data never makes it back to the designer, number one. That data also never gets correlated with the DFM report. An issue may have been exposed in the DFM report that the designer purposely elected to ignore because he or she felt it was not relevant enough. Then, on the manufacturing floor, it's actually causing yield issues. We want to build that kind of service, so they can go to their customer and show them the entire history of what's happening on the product, between revisions and on the production floor.
Shaughnessy: So, if you're providing consulting services at an assembly facility, for example, you go in and get the lay of the land. Then, you can decide how Valor could best help them. You would then help set it up for them?
Anani: Absolutely, that's our approach. As you might expect, every customer is unique in their own way. Everybody is looking for something different, and everybody has different tools. This is what makes it nearly impossible to create an out-of-the-box solution that will fit everybody. That's why this kind of analytics is a better fit for a consulting organization than it is a fit for a product organization.
Shaughnessy: Sure, because it's customizable.
Anani: Mostly, it's customizable.
Shaughnessy: That's very cool. What kind of customers is it most popular with?Page 1 of 2
---
Suggested Items
11/09/2023 | Brian Chislea, The Dow Chemical Company
My passion for STEM, mentoring, and our electronics industry is both professional and personal. I'm a scientist and application engineer at Dow Chemical, as well as an IPC standards committee leader and a mentor for burgeoning engineers. Most importantly, my personal life revolves around helping kids become involved in STEM activities, so when I saw an opportunity to be a mentor for my son's middle school robotics program, I couldn't pass it up.
11/06/2023 | Barry Matties, I-Connect007
I recently visited IPS in Cedar City, Utah, which has been manufacturing wet process equipment for printed circuit boards fabrication for more than 30 years. While there, I conducted candid one-on-one interviews with several of the team members. They shared their views on manufacturing, their roles and challenges, their burgeoning passion for what they do, and valuable advice for others looking at manufacturing as a career.
08/17/2023 | Business Wire
Arrow Electronics, Inc. announced that Rick Marano will be named president of the company's global components business, subject to formal Board appointment at the Board's next regularly scheduled meeting on Sept. 13, 2023.
07/14/2023 | SEMI
SEMI and the SEMI Foundation, the industry association representing the global electronics design and manufacturing supply chain, announced that KT Moore, Vice President of Corporate Marketing at Cadence Design Systems, has received the 2023 SEMI Foundation Excellence in Achievement Award for his outstanding leadership in promoting diversity, inclusion, equity and belonging (DEIB) and workforce development in the semiconductor industry.
06/28/2023 | Team NCAB -- Column: Fresh PCB Concepts
Which file format should I use? This is something I am asked frequently, and it reminds me of when I was in college and working for a PCB fabricator. I'd work my way to the sales department so I could support them with design for manufacture (DFM) analysis—a daunting task while also trying to remember all the information I was learning in my engineering classes. However, an engineer with many years of experience was a wonderful mentor to me. He not only taught me a plethora of information about PCBs, but he also taught me about the many different file formats we use for PCBs. He even shared painful legends of screen projectors and making screens.