Innovative Designs, Smart Manufacturing Deliver Soldier Readiness
December 30, 2015 | U.S. Army
Estimated reading time: 4 minutes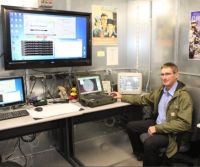 Army production and logistics is teaming with Army research and development to better streamline the rapid design and fielding of cutting-edge technologies to the Soldier.

"The Army has called for increased innovation, which is shining a spotlight on prototype designs," said Christopher Manning, Prototype Integration & Testing Division chief, under the Army's Communications-Electronics Research, Development and Engineering Center, or CERDEC. "However, it is imperative that our designs can be leveraged for mass production and sustainment."

CERDEC's Command, Control, Communications, Computers, Intelligence, Surveillance and Reconnaissance, or C4ISR, Prototype Integration Facility, or C4ISR PIF, designs, tests and builds prototypes using an iterative development process. It is teaming with Tobyhanna Army Depot, or TYAD, which is staffed and equipped as the full-rate production and logistics support facility for C4ISR technologies.

Both organizations are under the U.S. Army Materiel Command's, or AMC's, subordinate commands - CERDEC is part of the Research, Development and Engineering Command and TYAD is part of the Communications-Electronics Command. AMC provides materiel readiness across the spectrum of joint operations. Its research, development and engineering centers and depots are critical components of the Army's organic industrial base.

"We think that if we capitalize on the expertise and flexibility of both organizations, we better support the warfighter," said Robert Katulka, director of production engineering at TYAD. "Our engineers and technicians insert rapid manufacturing expertise, on multiple platforms, into the process to deliver these concepts to the field quicker."

The two organizations recently teamed to organically provide additional capabilities to the AN/TPQ-50 Lightweight-Counter Mortar Radar, or LCMR, which is a critical Army counterfire radar system that provides 3D, 360-degree warning capability against incoming artillery and mortar fire.
Page 1 of 3
---
Suggested Items
12/04/2023 | USPAE
Seven microelectronics firms received nearly $10 million in combined funding to commercialize technologies of interest to the U.S. military services as winners of the Defense Business Accelerator (DBX) Microelectronics Challenge. This groundbreaking initiative is funded by the Department of Defense (DoD) and led by the U.S. Partnership for Assured Electronics (USPAE).
11/20/2023 | PRNewswire
Raytheon, an RTX business, has been awarded a four-year, $15 million contract from DARPA to increase the electronic capability of radio frequency sensors with high-power-density Gallium Nitride transistors. Raytheon is the world's leading manufacturer of military-grade Gallium Nitride, a cutting-edge semiconductor technology that, when used in radar systems, improves range and radar resource management handling. This new prototyping work is being performed under DARPA's Technologies for Heat Removal in Electronics at the Device Scale program, known as THREADS.
11/17/2023 | Raytheon Company
Raytheon, an RTX business, has been awarded a four-year, $15 million contract from DARPA to increase the electronic capability of radio frequency sensors with high-power-density Gallium Nitride transistors which will have 16 times higher output than traditional GaN with no increase in operating temperature. Raytheon is partnering with the Naval Research Laboratory, Stanford University and Diamond Foundry to grow diamond, the world's best thermal conductor, for integration with military-grade GaN transistors and circuits. Cornell University, Michigan State University, the University of Maryland and Penn State University are also providing technology and performance analysis.
11/03/2023 | U.S. Circuit
U.S. Circuit, a premier supplier of commercial and mil/aero PCBs, has recently obtained their AS9100 certification. This certification will allow U.S. Circuit to further expand their military and aerospace offerings to further serve sectors requiring stricter regulation including the Department of Defense (DoD), National Aeronautics and Space Administration (NASA), and the Federal Aviation Administration (FAA).
10/17/2023 | BUSINESS WIRE
New research has found that 95% of military and defence industry decision-makers recognise that ongoing digitalisation has led to a more dynamic and complex 'information battlespace' and a further 93% agree defence will require increased integration across domains.