Graphene Proves a Perfect Fit for Wearable Devices
December 30, 2015 | University of Manchester
Estimated reading time: 2 minutes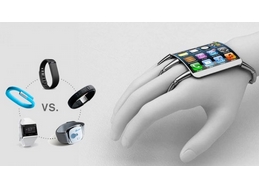 Cheap, flexible, wireless graphene communication devices such as mobile phones and healthcare monitors can be directly printed into clothing and even skin, University of Manchester academics have demonstrated.
In a breakthrough paper in Scientific Reports, the researchers show how graphene could be crucial to wearable electronic applications because it is highly-conductive and ultra-flexible.
The research could pave the way for smart, battery-free healthcare and fitness monitoring, phones, internet-ready devices and chargers to be incorporated into clothing and 'smart skin' applications – printed graphene sensors integrated with other 2D materials stuck onto a patient's skin to monitor temperature, strain and moisture levels.
Examples of communication devices include:
In a hospital, a patient wears a printed graphene RFID tag on his or her arm. The tag, integrated with other 2D materials, can sense the patient's body temperature and heartbeat and sends them back to the reader. The medical staff can monitor the patient's conditions wirelessly, greatly simplifying the patient's care.
In a care home, battery-free printed graphene sensors can be printed on elderly peoples' clothes. These sensors could detect and collect elderly people's health conditions and send them back to the monitoring access points when they are interrogated, enabling remote healthcare and improving quality of life.
Existing materials used in wearable devices are either too expensive, such as silver nanoparticles, or not adequately conductive to have an effect, such as conductive polymers.
Graphene, the world's thinnest, strongest and most conductive material, is perfect for the wearables market because of its broad range of superlative qualities. Graphene conductive ink can be cheaply mass produced and printed onto various materials, including clothing and paper.
The researchers, led by Dr Zhirun Hu, printed graphene to construct transmission lines and antennas and experimented with these in communication devices, such as mobile and Wifi connectivity.
Using a mannequin, they attached graphene-enabled antennas on each arm. The devices were able to 'talk' to each other, effectively creating an on-body communications system.
Page 1 of 2
---
Suggested Items
11/27/2023 | PRNewswire
Since its isolation in 2004, graphene has received widespread attention as a 'wonder' material, with the reported potential to enable a whole host of next-generation technologies, some of which would not be out of place in the latest sci-fi blockbuster.
11/24/2023 | PRNewswire
Superconductors are materials that offer no resistance to electrical current flowing through them. Combining their study with spintronics, which deals with the intrinsic spin of electrons and their use in electronics, has paved the way for the new field of superconducting spintronics.
11/21/2023 | ACN Newswire
Researchers of RIKEN at Japan's state-of-the-art synchrotron radiation facility, SPring-8, and their collaborators, have developed a faster and simpler way to carry out segmentation analysis, a vital process in materials science.
11/17/2023 | SHENMAO
SHENMAO Technology is proud to commemorate its 50th anniversary. Founded in 1973, SHENMAO has witnessed the evolution of Taiwan's electronics industry, playing a pivotal role in shaping the landscape of solder materials and setting new industry stanards.
11/16/2023 | ACN Newswire
The subtle adhesive forces that allow geckos to seemingly defy gravity, cling to walls and walk across ceilings have inspired a team of researchers in South Korea to build a robotic device that can pick up and release delicate materials without damage.