Books

Featured Books

pcb007 Magazine

Latest Issues

Current Issue

The Registration Sweet Spot

Registration is underrated and underappreciated. The key is to ensure proper registration from layer to layer across the entire printed circuit board. It's a holistic process requiring anticipation, prediction, precise attention at each step, and detailed data tracking and monitoring.

High-reliability Fabrication

In this month's issue, our expert contributors discuss the latest in technologies, trends, complexities and resources regarding high-reliability fabrication.

Finding Ultra

New demands on PCB fabrication, namely advanced packaging, ultra high density interconnect (UHDI), and new specialty materials, are converging, changing the landscape of our business. Is it time to start paying close attention to this convergence?

Columns

Latest Columns

||| MENU
OEM Applications: MacDermid's OEM Director Embraces Renewed Focus
January 5, 2016 | Patty Goldman, I-Connect007
Estimated reading time: 3 minutes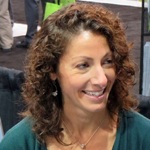 At the recent SMTA International conference in Chicago, I sat down with Lenora Toscano, OEM director for the company's electronics solutions division, based in Waterbury, Connecticut. Our conversation covered MacDermid's dedication to fully understanding the needs of the end-user market of PCBs, her own role at the company, which involves much interaction with OEMs, and the benefits that both she and MacDermid bring to SMTA and IPC meetings.
Patty Goldman: Lenora, tell me a little bit about your company and your role there.
Lenora Toscano: Our electronics division supplies chemicals and chemical processes to PCB manufacturers. In an effort to expand our customer base using our knowledge from PCB manufacturing, we recently introduced a photovoltaics and an electronic packaging segment to our portfolio. This allows us to take the knowledge and expertise we have from 90 years in metal finishing and 50 years in electrical interconnect, then expand that knowledge base to emerging markets. Exposure into these new markets also allows for more innovation.
My role is to understand the needs of my customers' customers, the end-users. We sell to the PCB manufacturer and they then sell to an OEM in any type of industry—consumer electronics, automotive, infrastructure, etc.—and it's my responsibility to understand what these end use markets require in their PCB performance. If we have an understanding of what their end use needs are, and what their performance criteria is, we can ensure that the chemical processes we have at the manufacturer are appropriate for today's technology, as well as provide a pipeline of products for use in future designs.
Goldman: How long have you been with MacDermid?
Toscano: It was my first job out of college; I'm starting my 18th year.
Goldman: That's impressive.
Toscano: Yes, it was the right decision for me and it has been a great opportunity. I've been able to travel the world, meet interesting people, and learn so much. I really enjoy interfacing with the OEMs because I get to learn what type of technology is coming. Understanding their challenges as technology changes is very interesting. One of the things that has surprised me the most about my job is that as a chemical supplier we are the bottom of the industry, right? It's really the low man on the totem pole and I thought, 'These OEMs aren't going to want to talk to me. They're not really going to have time to speak with the chemical supplier,' but the reception has been overwhelming. They really do want to understand all the steps within the manufacture of their products; they want to understand the supply chain and how the chemicals work. The reception and collaboration has been exciting.
Goldman: And now with the OEMs you get a very broad picture and overview, which is excellent. Speaking of your customers, who are they? And do you see the OEMs as your final customers, or do you go beyond working with the OEMs and bring that information back?
Toscano: Basically, I need to understand the entire supply chain. So I need to understand what the capabilities are at the fabrication level. I need to understand what's happening at the assembly level and then during final build for the OEM. Ultimately, I need to know what the final product will be exposed to, expected end use life, and performance requirements in end use. Really, I'm trying to make the electronics supply chain smaller and bridge communication at all levels.
Editor's Note: This article originally appeared in the December 2015 issue of SMT Magazine.
---
Suggested Items
12/05/2023 | Robert Erickson and Lorena Villanueva, IPC
About 200 kilometers (125 miles) north of Mexico City lies Queretaro, an area rich in history, with stone streets and public squares, and which twice has been the country's capital. But it's also quickly becoming a global capital of electronics manufacturing, especially aeronautics, and was the location for the first IPC Day Mexico this past June.
12/01/2023 | Nolan Johnson, I-Connect007
This week's news items taught me a few things I didn't know. For instance, there's news about the new equipment for THT work, governmental support for advanced packaging technologies, an upcoming webinar from iNEMI on counterfeits, an interview with U.S. Rep. Blake Moore, one of the sponsors of the bipartisan Protecting Circuit Boards and Substrates Act, and columnist Tim Haag, using Star Trek to illustrate why simplicity is, ahem, paramount.
11/30/2023 | PRNewswire
VPT, Inc., a HEICO company, VPT, Inc., a trusted provider of power conversion solutions for aerospace and defense, proudly announces its latest achievement of obtaining SAE AS9100 Revision D certification. SAE AS9100 Revision D enhances VPT's existing suite of certifications, including MIL-PRF-38534, MIL-STD-883, J-STD-001 (Space), IPC-A-610, and IPC-A-600, further cementing our commitment to excellence in quality and reliability.
11/29/2023 | TRI
Test Research, Inc. (TRI), the industry's leading provider of Test and Inspection systems for the electronics manufacturing industry, is pleased to announce the expansion of its Malaysian office, which opened in 2010.
11/29/2023 | Dana Korf -- Column: Dana on Data
November's issue of Design007 Magazine had an excellent theme that evolved around design simplification. There were exceptionally good articles about how to reduce over-constrained or needlessly complex designs. One significant time-consuming category is the creation of many design files and drawings which lead to lengthy creation and interpretation time along with the considerable time to resolve conflicting or erroneous information.