Books

Featured Books

pcb007 Magazine

Latest Issues

Current Issue

The Registration Sweet Spot

Registration is underrated and underappreciated. The key is to ensure proper registration from layer to layer across the entire printed circuit board. It's a holistic process requiring anticipation, prediction, precise attention at each step, and detailed data tracking and monitoring.

High-reliability Fabrication

In this month's issue, our expert contributors discuss the latest in technologies, trends, complexities and resources regarding high-reliability fabrication.

Finding Ultra

New demands on PCB fabrication, namely advanced packaging, ultra high density interconnect (UHDI), and new specialty materials, are converging, changing the landscape of our business. Is it time to start paying close attention to this convergence?

Columns

Latest Columns

||| MENU
Ventec to Unveil New 'tec-speed' Brand for High Speed/Low Loss Materials at DesignCon 2016
January 13, 2016 | Ventec International Group
Estimated reading time: 2 minutes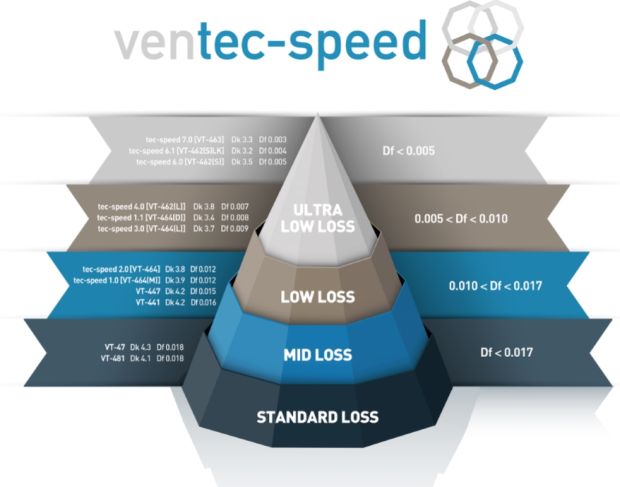 Ventec International Group, a world leader in the production of polyimide & high reliability epoxy laminates and prepregs, will exhibit in Booth 118 at DesignCon 2016 (January 20th to 21st 2016, Santa Clara, CA, USA) where the company will launch a new brand identity, tec-speed, for its high speed/low loss product line. With the launch, Ventec will unveil a new logo, marketing collateral and technical specifications.
The creation of the brand name 'tec-speed' is a move to unite Ventec's high speed/low loss product portfolio and better position the range under a single identity, connecting the products through a clear and cohesive visual presentation.
Martin Cotton, Director OEM Technology, commented: "The tec-speed brand now unites one of the most comprehensive range of products in high speed/low loss PCB material technology. Every tec-speed product provides technological innovation, high performance and quality to customers to perfectly meet their needs."
Ventec International Group's COO USA & EUROPE, Mark Goodwin added: "With the growing demand for high reliability and high speed computing & storage applications, and a pipeline of new innovative additions to our range, the timing is right to give our product line a clear identity. More than that, our unique approach to supply chain ownership, with a manufacturing and distribution network that covers the relevant markets globally, ensures fast delivery of quality materials".
A selection of products will be highlighted at the show, including:
tec-speed 6.1 (Dk 3.2, Df 0.004 RC 50%) - Ultra-Low Loss High Tg material available with all copper styles, including HVLP. Uses Low Dk spread glass to improve Skew and Jitter. Applications include Telecom, Router, Servers etc. Specifically, backplane and daughter card designs where good Signal Integrity is essential. This material has excellent Thermal properties.
tec-speed 4.0 (Dk 3.8, Df 0.007) - Low-Loss High Tg material available with all copper styles, including HVLP. Applications focus on High Frequency & High Speed designs, Automotive and Satellite communication, Navigation, GPS, etc. are typical applications. This material has excellent thermal properties.
tec-speed 1.0 (Dk 3.9, Df 0.012 @ 10GHz RC75%) - Mid-Loss Mid Tg Halogen Free material available with all copper styles. Applications include hand-held products, specifically those that require high frequency high speed materials. This material has excellent thermal properties.
For more information about Ventec's solutions and the company's wide variety of products, please visit www.venteclaminates.com or download to the Ventec APP.
About Ventec International
With volume manufacturing facilities and HQ in Suzhou China, Ventec International specializes in advanced copper clad glass reinforced and metal backed substrates for the PCB industry. With distribution locations and quick-turn CCL manufacturing sites in both the US and Europe, Ventec International is a premier supplier to the Global PCB industry. For more information, visit www.venteclaminates.com, www.ventec-usa.com or www.ventec-europe.com.
---
Suggested Items
11/13/2023 | Global Newswire
The "Global Copper Clad Laminates Market (by Type, Application, Reinforcement Material, & Region): Insights and Forecast with Potential Impact of COVID-19 (2023-2028)" report has been added to ResearchAndMarkets.com's offering.
11/07/2023 | SCHMID Group
The SCHMID Group, a global solution provider for the high-tech electronics, photovoltaics, glass and energy systems industries, will be exhibiting at productronica in Munich from November 14 – 17, 2023.
11/01/2023 | Alex Stepinski, Stepinski Group
The topic of intrinsic copper structure has been largely neglected in discussions regarding the PCB fabrication quality control process. At face value, this seems especially strange considering that copper has been the primary conductor in all wiring boards and substrates since they were first invented. IPC and other standards almost exclusively address copper thickness with some mild attention being paid to surface structure for signal loss-mitigation/coarse properties. 
10/26/2023 | Andy Shaughnessy, Design007
At PCB West, I sat down for an interview with John Andresakis, the director of business development for Quantic Ohmega. I asked John to update us on the company's newest materials, trends in advanced materials, and the integration of Ticer Technologies, which Quantic acquired in 2021. As John explains, much of the excitement in materials focuses on laminates with lower and lower dielectric constants.
10/25/2023 | Preeya Kuray -- Column: Material Insight
Printed circuit board (PCB) reliability testing is generally performed by exposing the board to various mechanical, electrical, and/or thermal stimuli delineated by IPC standards, and then evaluating any resulting failure modes. Thermal shock testing is one type of reliability test that involves repeatedly exposing the PCB test board to a 288°C pot of molten solder for a specific time (typically 10 seconds) and measuring the number of cycles it takes for a board's copper layer to separate from the organic dielectric layer. If there is no delamination, fabricators can rest assured that the board will perform within expected temperature tolerances in the real world.